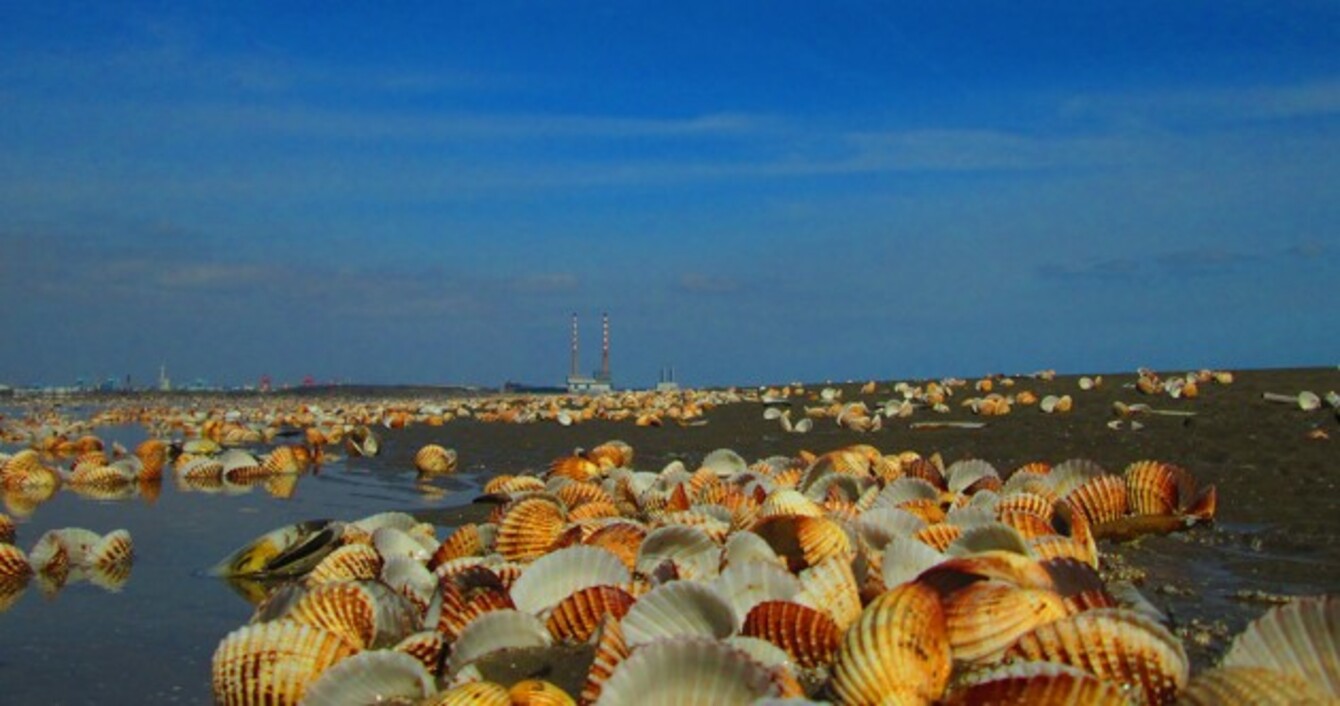 Dead cockles in Dublin Bay
Image: Bas Boots
Dead cockles in Dublin Bay
Image: Bas Boots
AN EXHIBITION FEATURING some of the most interesting images from Irish research ranging from pots on fire to dead cockles, opened this week.
The images which aim to show the depth and range of research taking place at University College Dublin and is running until Friday 7 March at the European Commission Representation in Dublin.
Entitled the UCD Images of Research Collection it shows images that convey some of the research that is being undertaken by researchers.
Each year, 12 images are short-listed by a panel of UCD staff and external judges from the arts and science.
Research
It offers researchers the opportunity to submit compelling digital images and awards those with the best visual portrayal of some aspect of their research across science, engineering, humanities, business and the arts
One finalist photo from this year's exhibition, taken at Booterstown DART station at high tide, shows the mass death of a huge number of cockles in Dublin Bay. The research behind this picture is related to clean water and how contaminated water can lead to sudden mass mortalities of animals such as the cockles.
Another image is a computer generated graph of the UCD repository publications. The research carried out by Kevin McCarthy aims to automatically profile the expertise of academics based on their publication output.
"We start by gathering publications, over 3,500 from academics from the UCD Research Repository. We then extract the authors and topic information and use this to build expert profiles. A major part of the expert profile of an academic is who have they co-authored publications with and the image presented here depicts a visualisation of the connections between academic staff in UCD based on their co-authorship across publications. The image was created using the Gephi graph visualisation tool," he said.
Studies
One image, seen through the eye of a zebrafish, comes from a study that created a model of a human disease that causes blindness due to loss of colour photoreceptors. It shows the neurons in the retina which enable us to see colour.
Once the event finishes in Dublin, Images of Research from Ireland will tour internationally and on invitation from the European Commission will then present the exhibition at the EU Innovation Convention 2014 in Brussels
Images of Research started in 2006 as an initiative of Research at UCD. Since then there have been over 1,650 entries to the competition from postdoctoral fellows, postgraduate students, final year undergraduate students, research technicians and the staff of UCD's affiliated teaching hospitals.
Here are this year's finalists:
UCD

Source: The photo was taken during activity within NEMOH, an EU project on Numerical, Experimental and stochastic Modelling of vOlcanic processes and Hazard.

UCD

Source: The photo shows a simulated astronaut that is waiting for a rover to deliver a pack (one of the competition tasks). This illustrates the idea of human-robot teams in space where a robot becomes a teammate rather than a mere tool.

UCD

Source: Pots in the fire! UCD Experimental archaeologists explore the craft and science of ancient pottery production and use.

UCD

Source: This image of the common green bottle fly is one of the first images to be shot on my home built optical microscope. The microscope was designed and constructed by myself as an affordable alternative to similar more expensive microscopes intended to image macro sized objects such as insects and flowers.

UCD

Source: This false colour image shows latex microspheres decorated with silver nanoprisims. These particeles have potential applications in catalysis, cellular imaging, Surface Enhanced Raman Specrtoscopy (SERS) and plasmonics.

UCD

Source: Aficionado is a commercialisation project with the purpose of creating an academic expertise location system for the purposes of collaboration building. The project aims to automatically profile the expertise of academics based on their publication output.

UCD

Source: Haidar Cialekosun is a worker in a greenhouse in Kumluca, near Antalya,Turkey. Haidar is a wealthy man; he lives and works in rudimentary conditions but local sunshine and poly-tunnels allow him to grow capsicum at great speed. His green peppers are sold across Turkey and throughout Europe.

UCD

Source: This image captures a focus group discussion with female farmers in central Malawi. Focus group discussions are a qualitative research method employed in this study to better understand perceptions and attitudes towards tree planting.

UCD

Source: snapshot in time; one of 365 photographs taken to capture a shifting urban scape.

UCD

Source: Clean water is equally important for everyone. Contaminated water can lead to sudden mass mortalities of animals such as these cockles. My research involves developing a universally applicable microarray to detect waterborne pathogens and help ensure our waters are clean.

UCD

Source: This is an image through the eye of a zebrafish, showing the neurons in the retina which enable us to see colour.
(All images via UCD Research Images 2013)
The exhibition will be open to the public on weekdays from 9am to 5 pm between Monday 24 February and Friday 7 March at European Commission Representation 18 Dawson St Dublin 2.
For more information about the research behind the pictures, click here.