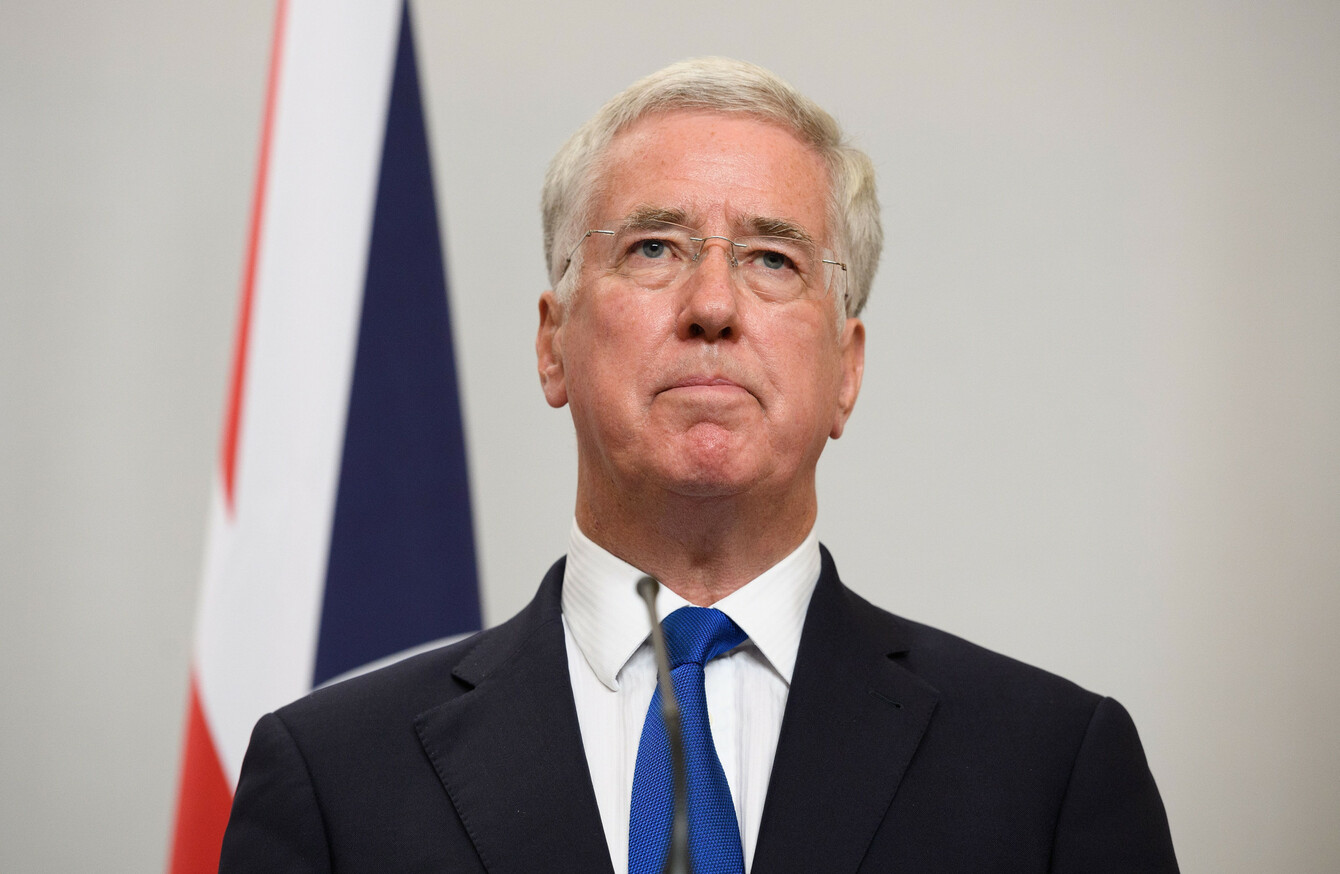 File photo dated 12/10/17 of Defence Secretary Sir Michael Fallon.
Image: Leon Neal/PA Wire/PA Images
File photo dated 12/10/17 of Defence Secretary Sir Michael Fallon.
Image: Leon Neal/PA Wire/PA Images
UK DEFENCE SECRETARY Michael Fallon has resigned this evening, after saying his past behavior may have fallen short.
Fallon has recently come under fire and apologised for putting his hand on a journalist's knee in 2002.
It was already reported that he would face no investigation for this as the woman in question laughed it off.
It is unclear if any further allegations may have prompted his resignation.
Fallon is the first government minister to step down following a growing scandal around sexual harassment at Westminster. A series of allegations have been levelled against a number of MPs and ministers in recent days.
In his resignation letter to UK prime minister Theresa May, Fallon said that he had "fallen below the high standards" expected of him.
"A number of allegations have surfaced about MPs in recent days, including some about my previous conduct," he said.
Many of these have been false but I accept in the past I have fallen below the high standards that we require of the armed forces that I have the honour to represent.
I have reflected on my position and I am now resigning as Defence Secretary.
In her response, May thanked him for his service.
"I appreciate the characteristically serious manner in which you have considered your position, and the particular example you wish to set to servicemen and women and others," she said.
Sexual harassment scandal 
Fallon's resignation comes as Westminster has been embroiled in a controversy over a widespread culture of sexual harassment.
May earlier told the House of Commons that members of all parties were "deeply concerned" about allegations of abuse that have rocked parliament in recent days, often involving MPs and junior staff members.
May ordered an investigation late Tuesday into allegations that her de facto deputy Damian Green touched the knee of a female journalist and later sent her a suggestive text message.
Green, a close ally who was at university with May, said it was "absolutely and completely untrue that I've ever made any sexual advances" towards Kate Maltby, a journalist and Conservative activist 30 years his junior.
Green and Fallon are just two of dozens of Tories listed on a spreadsheet circulated in Westminster, reportedly detailing ordinary relationships, sexual penchants and unspecified and unverified claims of inappropriate behaviour.
Another is junior trade minister Mark Garnier, who is also under investigation for breaches of the ministerial code for asking his then secretary to buy him sex toys in 2010.
With reporting from  © – AFP 2017