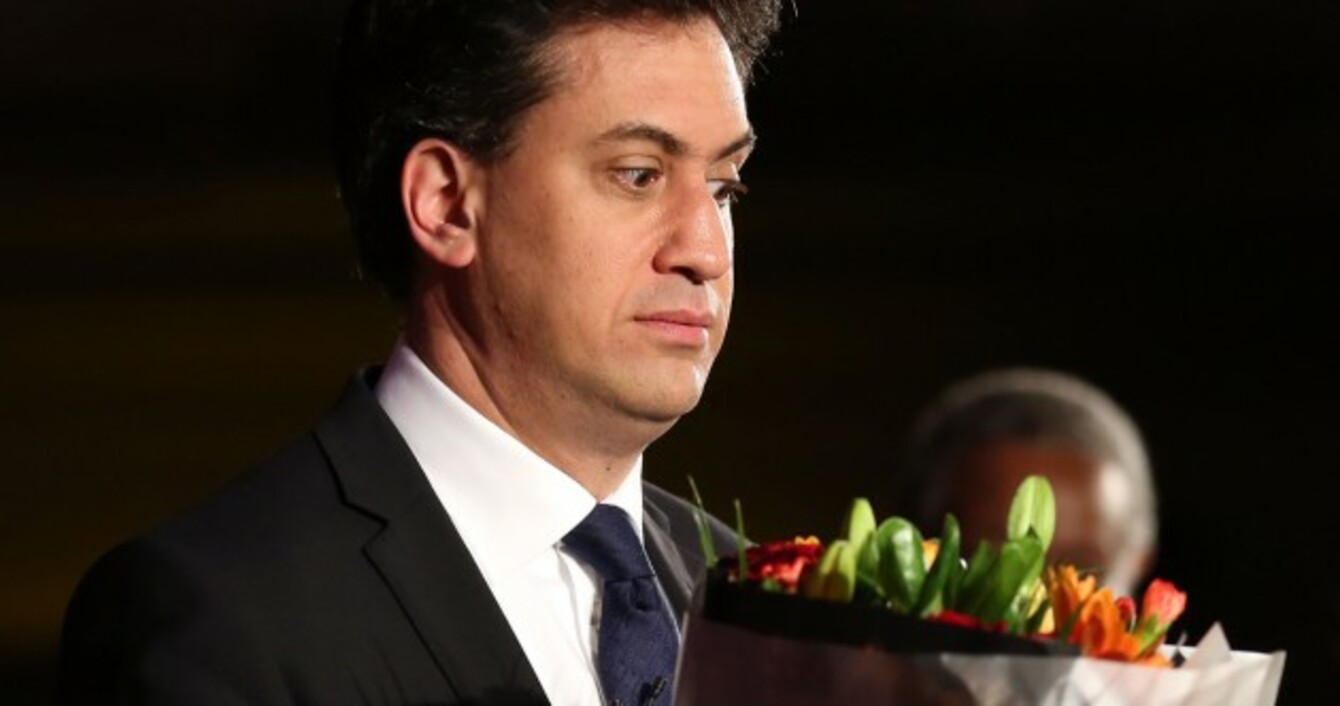 Ed Miliband appears slightly afraid of some flowers he received at an event in London on Monday
Image: PA Wire/Press Association Images
Ed Miliband appears slightly afraid of some flowers he received at an event in London on Monday
Image: PA Wire/Press Association Images
THE BANK HOLIDAY weekend and the birth of a second royal baby in two years has somewhat taken the attention away from the fact there is an election in the UK the day after tomorrow.
You don't really get the same sense that voting is imminent here as you would in Ireland. This is partly because lampposts aren't creaking with campaign posters like they do in towns and cities across Ireland at election time.
The most you might see is the odd house front window with a small rectangular sticker urging people to 'Vote Conservative' or 'Vote Labour'.  Over the long weekend it was only in Westminster that we got any real sense that an election is imminent as broadcasters erected large stands as close as possible to the now-deserted palace.
The construction of temporary TV facilities comes ahead of what is sure to be hours and possibly days of rolling live coverage. Even, the BBC News at Ten has switched its broadcasts to its purpose-built and extremely impressive election studio.
But as Tony Blair wrote in his memoirs, one of the hardest things for a politician to understand is the fact that most people don't give politics a first thought all day long.
Tuning in 
Even in the hours leading up to Thursday a lot of people will only begin to turn their attention to the election this week. Some undecided voters will leave their decision right up until the moment they step into the secrecy of the polling booth. This is as true in British politics as it is everywhere else.
Sam Rogers and Will McCann are a twentysomething couple who've just bought their first house together. Neither have really thought a huge amount about the election but they're both politically knowledgable and engaged.
"There isn't enough being done for first time buyers like ourselves," Sam says. She thinks Labour offers something in this space, but there's a problem. The problem is Ed Miliband.
In fact both Sam and Will identify a problem facing the Labour leader up and down the country. Voters just don't see him as prime ministerial material in the same way that David Cameron has demonstrated himself to be over the last five years. For example, a poll out yesterday showed the PM more trusted than Miliband on issues like national security and the economy.
We ask if immigration is a concern for them as it's an issue that all parties have had to grapple with in recent years thanks to UKIP's rise. Will says he isn't concerned about it at all.
"I think it's good for the country and is what makes London such a great city," he tells us. But his uncle plans to vote UKIP having voted Conservative all his life.
This is indicative of a problem the Tories have faced in recent years as Nigel Farage's party has risen in popularity and siphoned off support from traditional Conservatives, many of whom feel their party isn't tough enough on issues like immigration and standing up for Britain in the EU.
But it's worth remembering that despite UKIP polling better than the Lib Dems, the party does not pose as much of a threat seat-wise as, for example, the SNP do to Labour in Scotland. This is because of the UK's first-past-the-post electoral system. While the Lib Dems are likely to return between 20 and 30 MPs, UKIP will do well to get two or three elected.
The Diaspora 
Back in London and on a pleasant but windy Sunday evening in Wandsworth, we caught up with a few Irish people and found that many of them were less concerned about the election here – even though most of them have a vote – and more focussed on the same-sex marriage referendum at home.
Maire has lived in London since the late 80s and would vote Yes but laments the fact there is no option for a postal vote despite the fact she is back and forth to Ireland on a regular basis. She was peppering us with questions about the tone of the referendum debate back home. Another Irish woman, Judy, lamented the fact that she'll be back in Dublin at the end of the month but not in time to vote in the referendum. Again, she wants to vote yes.
John Ryan, who is over with "the lads" for the weekend, lives and works in Dublin, but is originally from Tipperary. He's going to vote Yes but is a bit worried that the referendum is not more focussed on children's rights.
But while that vote dominates Irish minds, attention here in London and across the UK will, in the coming days, turn to the general election. We'll be doing the same.
From Wednesday, we'll be in Liverpool to take the temperature up north. It's a Labour heartland with all five Westminster seats in the city and its surrounding areas solidly in the red.
Follow @TJ_Politics for further updates. 
More from the UK election…