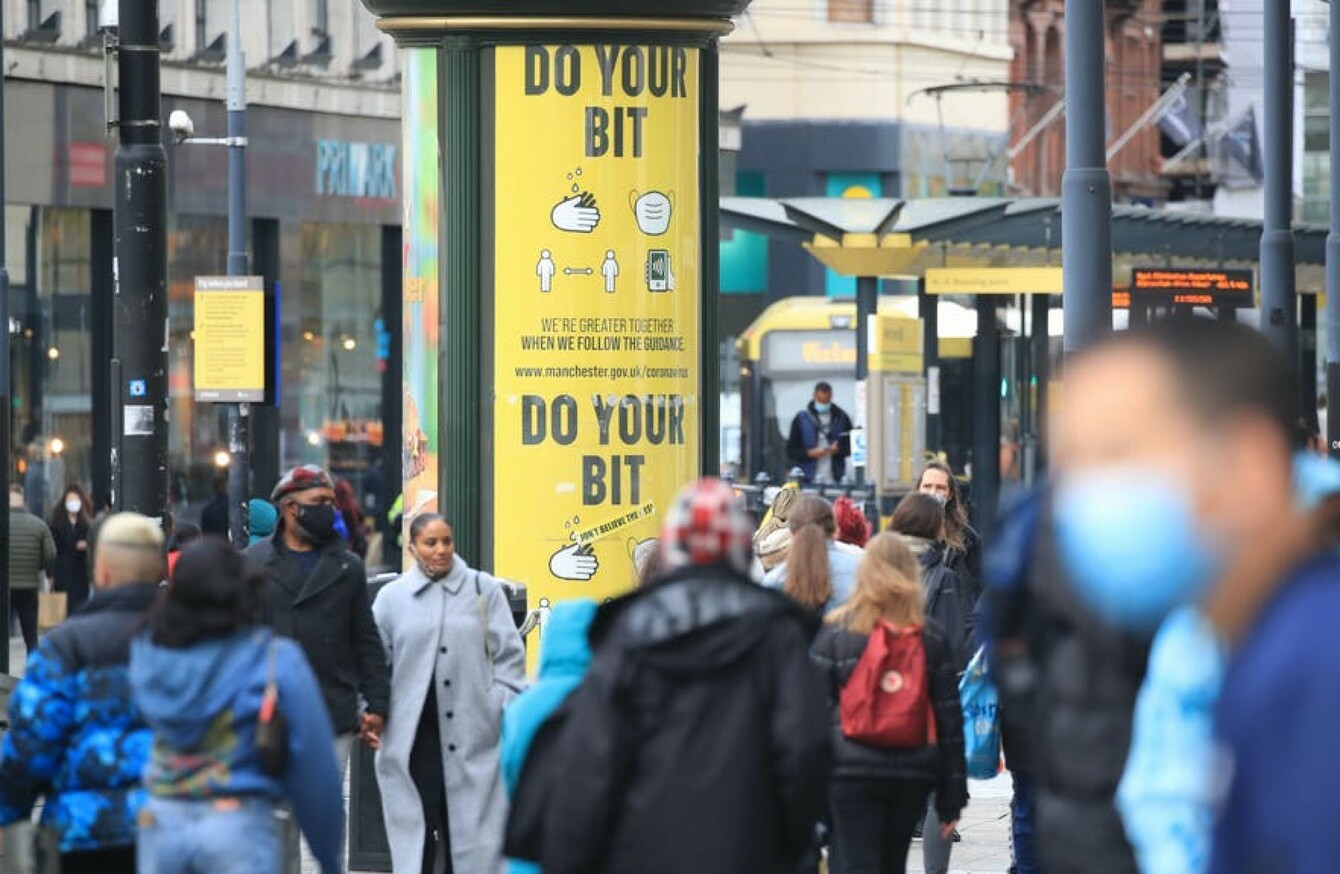 File photo. Manchester city centre.
Image: Danny Lawson/PA Images
File photo. Manchester city centre.
Image: Danny Lawson/PA Images
Updated Oct 12th 2020, 4:21 PM
UK PRIME MINISTER Boris Johnson announced the closure of pubs and bars across Merseyside as he battled to gain control over Britain's coronavirus outbreak.
The Prime Minister launched a three-tier system of local alert levels for England, with the Liverpool city region placed in the most serious "very high" risk category from Wednesday.
Addressing a Downing Street press conference, Johnson said cases nationally had gone up four times in four weeks, there are more Covid-19 patients in UK hospitals than on 23  March when the country went into lockdown, and deaths are rising.
"These figures are flashing at us like dashboard warnings in a passenger jet and we must act now," he said but stressed he was taking a "moderate" and "balanced" approach to saving lives while trying to protect the economy."
Under the new system:
The medium alert level will cover most of England and will consist of the current national measures, including the rule of six and the 10pm curfew.
The high alert level reflects interventions in many areas subject to local restrictions, preventing mixing between different households indoors.
Most areas which are already subject to local restrictions will automatically move into this category, as well as Nottinghamshire, East and West Cheshire and a small area of High Peak.
The very high alert level will mean, at a minimum, the closure of pubs and bars and a ban on social mixing indoors and in private gardens.
Areas in the top tier will be able to impose extra restrictions, and in the Liverpool city region this will mean the closure of leisure centres, gyms, betting shops and casinos.
Johnson pledged that "no one affected by this will be left to fend for themselves", with the Government having previously announced new financial assistance.
No one, least of all me, wants to impose these kinds of restrictions, erosions of our personal liberty, but I'm convinced as I've ever been that the British people have the resolve to beat this virus and that together we will do just that.
Earlier, the Prime Minister told MPs that the next few weeks would test the "mettle of this country", but he added: "I have no doubt at all that together we will succeed."
MPs will debate and vote on the measures tomorrow and the new tiered system will come into effect on Wednesday.
Outlining the three-level strategy, Johnson said he doesn't believe a nationwide lockdown would be the right course of action: 
There are those who say that on that logic, we should go back into a full national lockdown of indefinite duration, closing schools and businesses, telling people again to stay at home as we did in March. Once again shattering our lives and our society.I do not believe that would be the right course. We would not only be depriving our children of their education, we would do such damage to our economy as to erode our long-term ability to fund the NHS and other crucial public services.
He added: "And on the other side of the argument, there are those who think that the patience of the public is now exhausted, that we should abandon the fight against Covid, stand aside, let nature take her course and call a halt to these repressions of liberty."
There is still disagreement about the financial support package to be put in place in areas under the toughest restrictions. 
A statement from seven local leaders, including Mayor of the Liverpool City Region and Liverpool Mayor Joe Anderson, said: "We made it clear we do not feel that the Furlough scheme announced recently is adequate and that businesses in the Region especially those in the hospitality sector and those serving it will be damaged and many will suffer long term damage or close for good.
"[The British] government made it very, very clear they would not shift and improve the scheme."
Under the furlough scheme, the government paid 80% of workers' wages until August, with the scheme winding down until it is closed at the end of the month.
A separate Job Support Scheme, which launches on 1 November and lasts for six months, will involve the Government paying two thirds of each employee's salary – up to a maximum of £2,100 a month – if their employer is legally required to close their premises because of restrictions.
#Open journalism No news is bad news Support The Journal

Your contributions will help us continue to deliver the stories that are important to you

Support us now
Rotheram told Channel 4 News: "We have a huge number, a disproportionate number, working in the visitor economy who are on less than £9 an hour.
"If he (Chancellor Rishi Sunak) thinks that this is something that we will accept, well it's not."
Infection rates
Knowsley and Liverpool, two of the affected areas, are in the top three for infection rates in England – at 669.5 per 100,000 people and 598.5 respectively.
In the seven days to 8 October, the areas reported nearly 4,000 new cases.
The north-west had 180 hospital admissions for Covid-19 on Friday and, as of Sunday had a total of 1,218 patients in hospital.
Johnson will hold a press conference in Downing Street with Chancellor Rishi Sunak and chief medical officer Professor Chris Whitty later today.