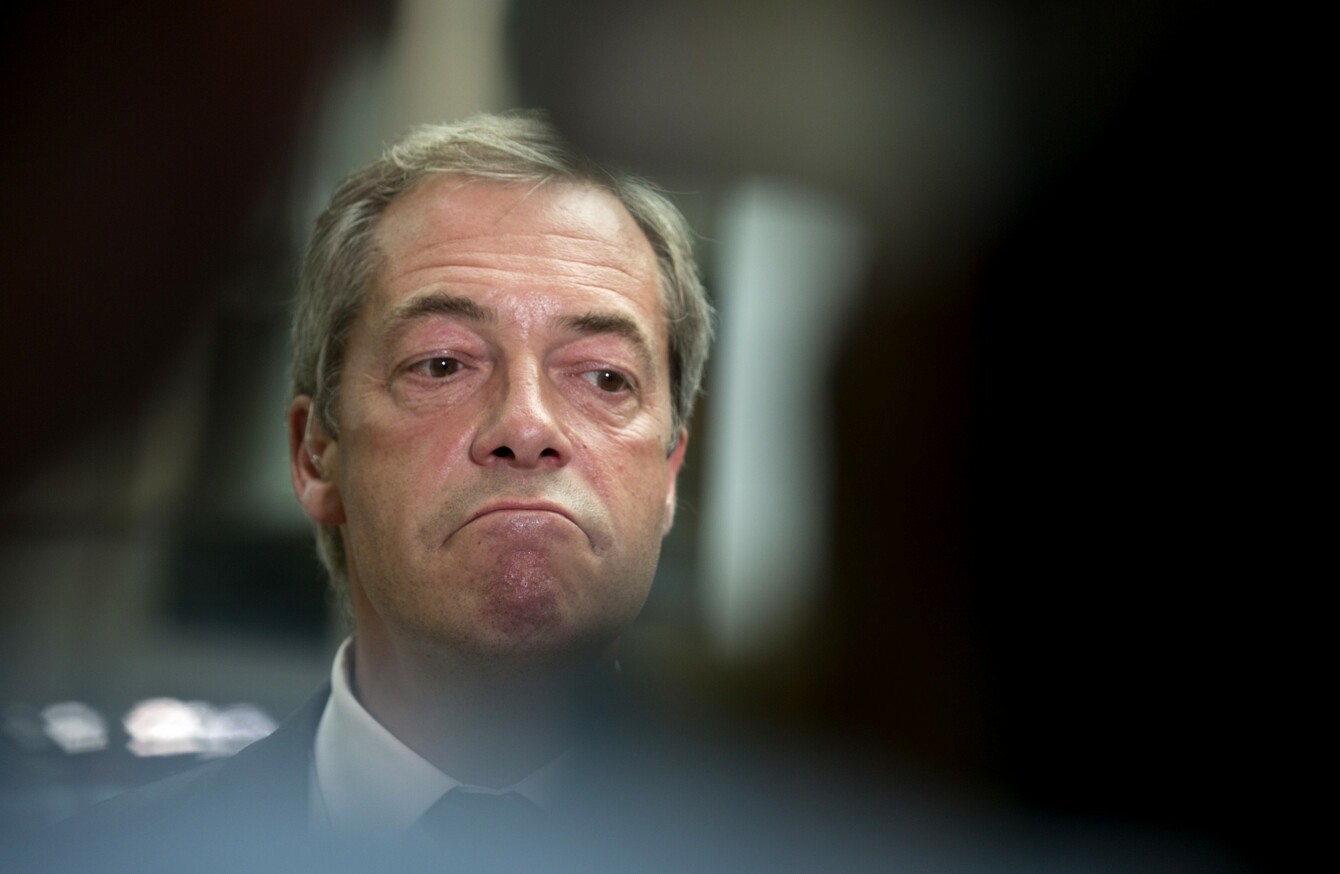 Image: AP/Press Association Images
Image: AP/Press Association Images
NIGEL FARAGE HAS announced he is stepping down as leader of UKIP. Speaking in London today, Farage said that the party, which claimed a huge victory as part of the Leave campaign in the EU referendum, could expand.
He said he felt he had done his part for the party and UK politics.
Farage claimed he "wants his life back" after getting his country back and said UKIP should be part of the Brexit negotiations.
"I have decided to stand aside as leader of UKIP," he told a London press conference. "The victory for the 'Leave' side in the referendum means that my political ambition has been achieved."
He said that without UKIP, there would have been no referendum and no "ground game" for the Leave campaign.
The MEP added that the next UK Prime Minister has to be a Leave campaigner but stopped short of backing Andrea Leadsom.
He said he hoped the UKIP MEPs including himself wouldn't need to finish the last two years of their term in the European Parliament because the new Prime Minister had successfully taken the UK out of the EU by then.
A statement released by Farage said:
I have decided to stand aside as Leader of UKIP. The victory for the 'Leave' side in the referendum means that my political ambition has been achieved. I came into this struggle from business because I wanted us to be a self-governing nation, not to become a career politician.
UKIP is in a good position and will continue, with my full support to attract a significant vote. Whilst we will now leave the European Union the terms of our withdrawal are unclear. If there is too much backsliding by the government and with the Labour party detached from many of its voters then UKIP's best days may be yet to come.
Headlines
Farage had stepped down last year after failing to win a seat in the general election, but was convinced to stay by members. He took up the leadership of the party in 2006, resigning in 2009 before becoming leader again in 2010.
His stances on immigration, Europe and foreign policy catapulted the party into the mainstream, where they became the largest British party in the European Parliament.
He was educated at one of England's top private schools, Dulwich College, where he says his headmaster saw him as "bloody-minded and difficult".
Rather than attending university, he followed his father into the City of London. He stayed there until 1999, when he became an MEP. He has been in Brussels since, but has been a vocal critic of the parliament, the EU and free movement.