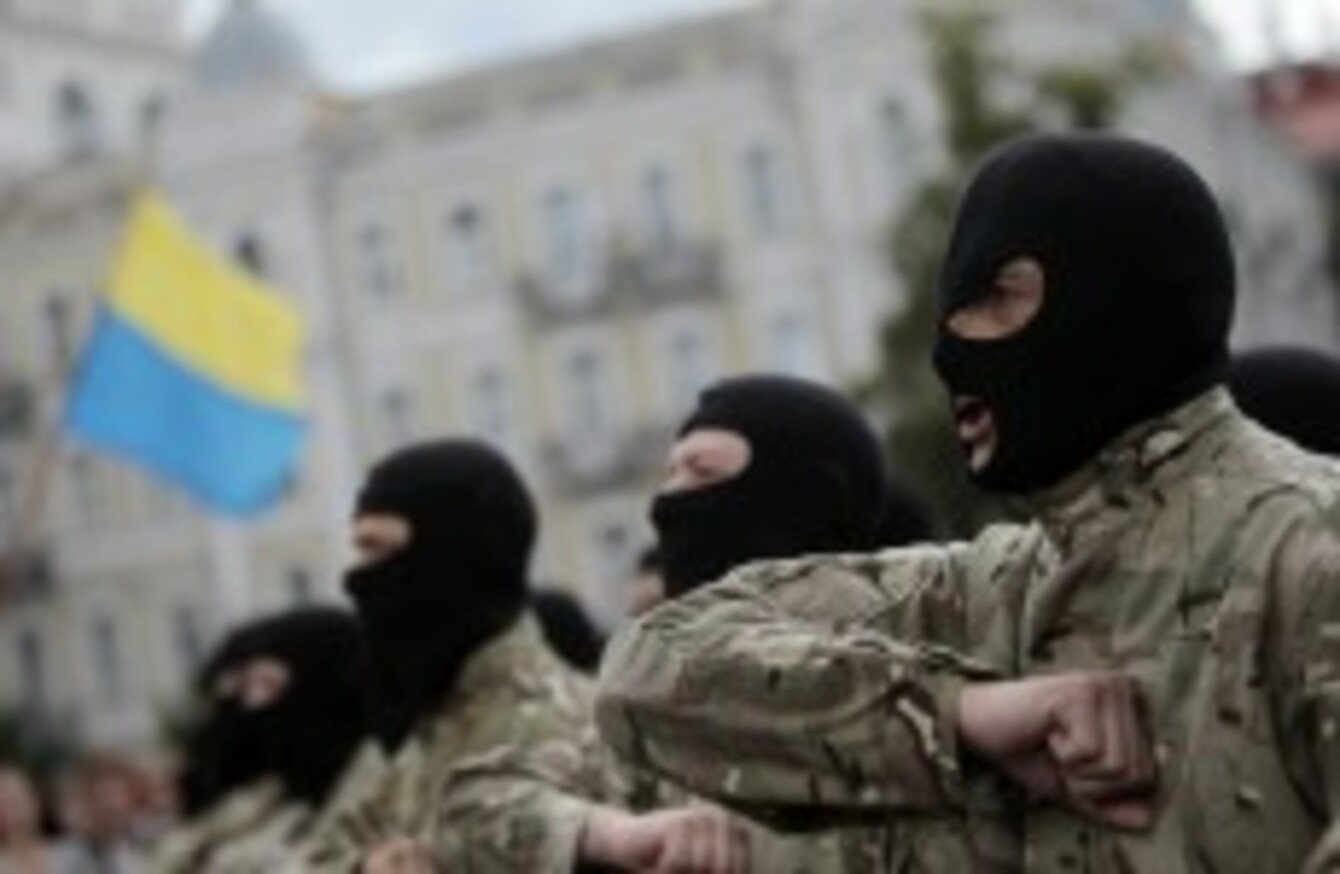 Volunteers take an oath of allegiance to Ukraine, before being sent to the eastern part of Ukraine to join the ranks of special battalion "Azov" in Kiev,.
Image: AP/Press Association Images
Volunteers take an oath of allegiance to Ukraine, before being sent to the eastern part of Ukraine to join the ranks of special battalion "Azov" in Kiev,.
Image: AP/Press Association Images
UKRAINE'S PRO-RUSSIAN insurgents agreed for the first time today to a temporary ceasefire and talks with the new Western-backed president on ending 10 weeks of fighting that have threatened the very survival of the ex-Soviet state.
The surprise announcement from the head of the self-proclaimed Donetsk People's Republic came a day after Russian President Vladimir Putin publicly threw his weight behind Kiev's peace overtures and urged the separatists to halt fire.
Ukraine's security services confirmed this evening that militia strikes in the two heavily Russified industrial regions that have been at the heart of the insurgency came to an abrupt halt in the late afternoon.
The self-proclaimed prime minister of Donetsk said his sides' ceasefire would match the one earlier ordered by President Petro Poroshenko and last until Friday morning.
"In response to the ceasefire declared by Kiev, we pledge to also halt fire on our part. This ceasefire will last until June 27," Oleksandr Borodai told Russia's ITAR-TASS news agency in Donetsk.
"We hope that during the period in which both sides halt fire, we will be able to agree and begin consultations about holding negotiations about a peaceful settlement to the conflict," he told Russian state television in separate comments.
The news delivered a desperately needed boost to Poroshenko two weeks into a presidency that is scrambling to stamp out both a deadly uprising and an economic meltdown that has been compounded by a cut in Russian gas deliveries last week.
But they also appear to confirm Putin's decisive say in the insurgents' actions – a point disputed by the Kremlin and one that appeared in doubt when the two separatist regions declared independence despite being urged by Russia not to do so in May.
Obama presses Putin
Poroshenko has been pressing world leaders to follow through with their threat to unleash devastating economic sanctions against Russia should Putin fail to immediately end his perceived military and diplomatic backing for the insurgency.
The new Kiev leader will also sign a historic EU trade pact on Friday that crowns his May 25 election promise to make the decisive move westward — one strongly resisted by Russia and that lies at the heart of the current crisis.
The European Union warned after a meeting of foreign ministers in Luxembourg on Monday that it expected to see action from Putin "within days."
"By Friday, we will be able to see how Russia is responding," British Foreign Secretary William Hague said. "We are ready to take those wider sanctions and no one in Moscow should be in any doubt about that."
The White House said US President Barack Obama also told Putin by phone today that Russia would face new sanctions if it failed to stop the flow of weapons into Ukraine.
#Open journalism No news is bad news Support The Journal

Your contributions will help us continue to deliver the stories that are important to you

Support us now
"Though we believe a diplomatic solution is still possible, Russia will face additional costs if we do not see concrete actions to de-escalate the situation," White House spokesman Josh Earnest told reporters.
Earnest said Obama demanded "concrete actions" by Moscow.
The Kremlin said only that Putin "stressed that a genuine cessation of fighting and the start of direct talks between the warring sides would have the highest priority for the normalisation of the situation."
Some analysts believe Putin is still smarting from the sudden loss of an ally in Kiev — ousted by pro-EU protesters in February — who could have brought Ukraine into a new alliance of post-Soviet nations being assembled by Putin.
The subsequent flow of heavy weapons and gunmen across the porous border into eastern Ukraine seem to indicate that the Kremlin is — at the very least — turning a blind eye to local Russian officials and military commanders' efforts to support the insurgents.
And Putin's order on Saturday for Russian forces from the Volga to western Siberia to conduct snap military drills also suggests that he wants to keep Poroshenko's government unsettled in order to maintain influence in the Russified southeast.
But the Kremlin chief seems equally determined to avoid steps that could trigger broader sanctions and deal a further blow to a Russian economy that is already teetering on the edge of a recession.
- © AFP 2014.