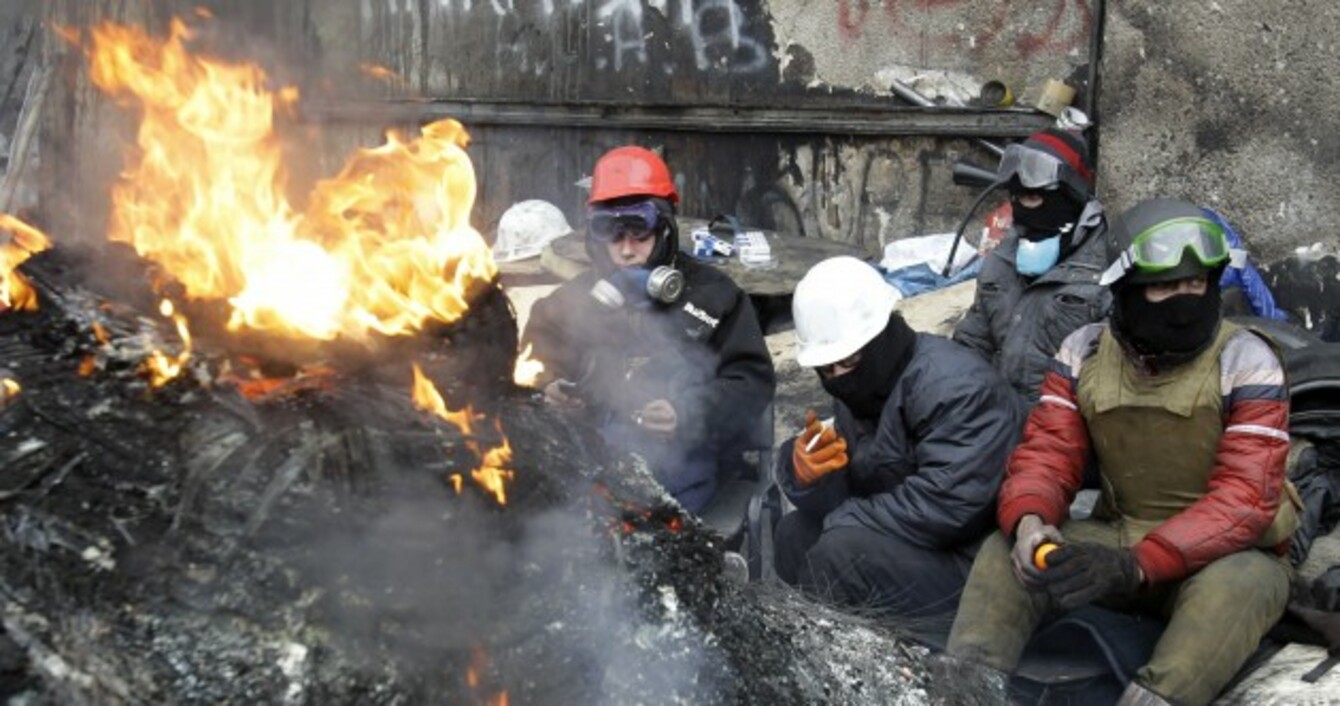 Protesters rest behind a barricade in front of riot police.
Image: Darko Vojinovic/AP/Press Association Images
Protesters rest behind a barricade in front of riot police.
Image: Darko Vojinovic/AP/Press Association Images
UKRAINE IS ON the brink of "civil war" due to the standoff between authorities and protesters across the country, a former president said today.
An amnesty for dozens of activists have been arrested since clashes broke out on 19 Janaury is also due to be debated later this afternoon.
Protesters, some from right-wing radical groups, remain camped out in the sprawling military-style enclosure that has taken over much of the city centre and is surrounded by barbed wire and barricades topped with pikes.
"All the world acknowledges and Ukraine acknowledges that the state is on the verge of civil war," the first post-independence president Leonid Kravchuk told parliament.
"There are parallel authorities in the country and there is a de-facto uprising," said Kravchuk, referring to anti-government protesters who had ousted Kiev authorities and taken control of regional administrations in several parts of the country.
Supporters of President Viktor Yanukovych rally in central Kiev. (AP Photo/Sergei Chuzavkov)
"It is a revolution. It is a dramatic situation in which we must act with the greatest responsibility," he told deputies, who gave him a standing ovation.
"We need to ease the confrontation between the sides and agree a plan to solve the conflict. We need to work on this plan step by step to ease the confrontation," he added.
Roundtable talks
Kravchuk, Ukraine's president from 1991-1994, has for several weeks been leading roundtable talks aimed at finding a solution to the crisis.
His successors as president Leonid Kuchma (1994-2005) and Viktor Yushchenko (2005-2010) were also present in parliament, in a sign to lawmakers of the importance of the session.
The escalating crisis is expected to dominate the meeting between Putin and European Council president Herman Van Rompuy and European Commission head Jose Manuel Barroso.
Moscow has criticised protesters as extremists, with Foreign Minister Sergei Lavrov condemning "fascistic youth" and warning against external interference.
But the West has voiced concern about police violence, and says Ukrainians' right to protest should be protected.
European Commission President Jose Manuel Barroso, right, Russian President Vladimir Putin, centre, and European Council President Herman Van Rompuy yesterday. (AP Photo/Alexander Zemlianichenko)
Ukraine's parliament the Verkhovna Rada had earlier opened the second day of an extraordinary session aimed at easing tensions with protesters, debating an amnesty for dozens of activists arrested in the unrest.
Amnesty
The administration of President Viktor Yanukovych has proposed an amnesty for all protesters accused of non-serious crimes on condition that activists leave all the Kiev buildings and streets they are currently occupying.
The opposition has said however that the amnesty should not be conditional and speaker Volodymyr Rybak admitted Tuesday that the negotiations were proving tough.