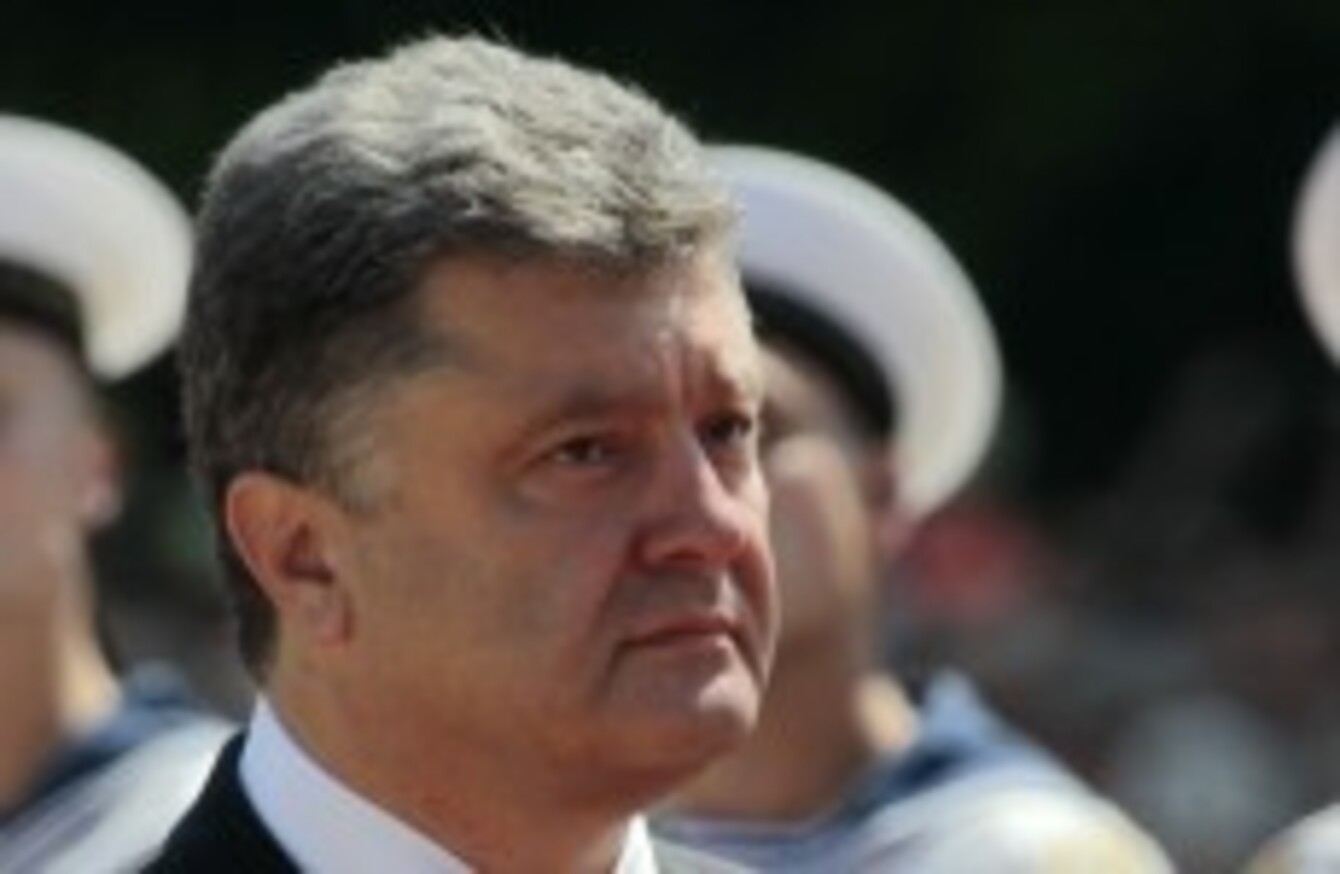 Ukrainian President Petro Poroshenko reviews an honor guard after the inauguration ceremony in Sophia Square in Kiev.
Image: AP Photo/Sergei Chuzavkov
Ukrainian President Petro Poroshenko reviews an honor guard after the inauguration ceremony in Sophia Square in Kiev.
Image: AP Photo/Sergei Chuzavkov
WESTERN-BACKED TYCOON PETRO Poroshenko has vowed to avert civil war and mend ties with Russia after being sworn in as Ukraine's fifth post-Soviet president with the nation facing disintegration and economic collapse.
He also put forward his firm stance on Crimea, and said that it will 'remain part of Ukraine'.
Poroshenko took the oath of office one day after holding his first meeting with Russian President Vladimir Putin since a 25 May election victory entrusted him with taming a bloody crisis that has shaken the post-Cold War order and redrawn Europe's map.
The 48-year-old magnate — dubbed the "chocolate king" for his popular brand of sweets — first asked a packed session of parliament to pay a minute of silence for the 100 people killed in three days of carnage in Kiev that led to the February ouster of Ukraine's Kremlin-backed regime.
The self-made billionaire then vowed to give an amnesty to any insurgents who had "no blood on their hands" as the first step in a peace initiative designed to save the nation of 46 million — which saw its Crimea peninsula annexed by Russia in March — from splitting further along ethnic lines.
"I am assuming the presidency in order to preserve and strengthen Ukraine's unity," Poroshenko said in an address that alternated between Ukrainian and Russian.
The citizens of Ukraine will never feel the blessing of peace and security until we resolve our relations with Russia.
But Proshenko also added that he would never accept Russia's seizure of Crimea or attempts to divert his pro-European course.
"Crimea will remain a part of Ukraine," Poroshenko said firmly.
"Ukraine now returns to its natural European condition that so many generations have longed for."
Saturday's solemn ceremony was attended by US Vice President Joe Biden and European Council president Herman Van Rompuy along with more than 20 other dignitaries from countries that back Kiev's new Westward drive.
"All neighbours… need to respect (Ukraine's) sovereign choices, including stronger ties with the European Union and its territorial integrity," Van Rompuy said in a clear reference to Russia.
But Moscow was only represented by its acting ambassador to Kiev — a telling sign of how far relations between the two neighbours have slipped since the February revolt.
Endemic corruption
Poroshenko — who has vowed to give up direct ownership of his holdings to avoid a conflict of interest — must address a two-year recession and tackle endemic corruption that has turned Ukraine into one of Europe's poorest countries and has fed broad public discontent.
A step in that direction may have been taken in Normandy Friday when he shook hands with Putin on the sidelines of D-Day commemorations that were haunted by the spectre of an outright civil war breaking out on the European Union's eastern edge.
Moscow had previously said it was ready to work with the new president but stopped short of explicitly recognising him as the legitimate leader of the Ukrainian people.