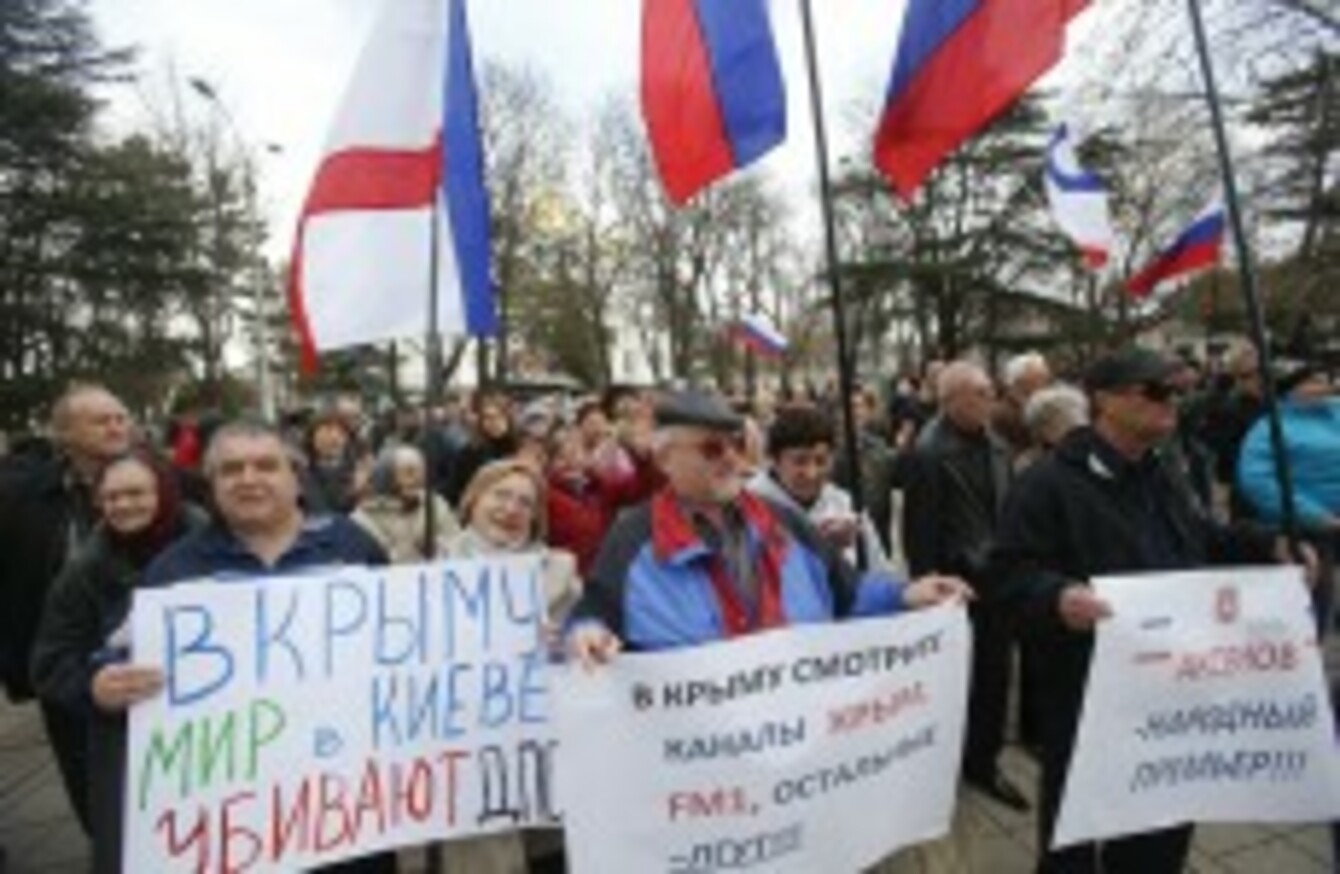 Pro-Russia demonstrators hold Russian and Crimean flags and posters.
Image: Sergei Grits/AP/PA
Pro-Russia demonstrators hold Russian and Crimean flags and posters.
Image: Sergei Grits/AP/PA
Updated 6.57pm
UKRAINE'S PARLIAMENT BEGAN a procedure to dissolve the regional assembly in Crimea after it asked to join Russia, Ukraine's interim president Oleksandr Turchynov said today.
"The Rada (parliament in Kiev) will begin the procedure for dissolution," Turchynov said hours after the assembly in the tense peninsula adopted a motion to become part of the Russian Federation.
Turchynov, speaking in a televised address, also slammed the Crimea legislators' decision as a "crime" backed by the Russian military.
New prime minister Arseniy Yatsenyuk and former Ukrainian boxer turned politician Vitali Klitschko had variously described the referendum move today as "an illegitimate decision" and a "huge provocation against Ukraine".
EU leaders holding an emergency summit on the Ukraine crisis also called the referendum illegal. In a statement they strongly condemned the "unprovoked violation of Ukrainian sovereignty and territorial integrity by the Russian Federation".
We consider that the decision by the Supreme Council of the Autonomous Republic of Crimea to hold a referendum on the future status of the territory is contrary to the Ukrainian Constitution and therefore illegal.
Speaking today, Taoiseach Enda Kenny said: "There's a very strong message for Russia and for President Putin – that his actions in Crimea are not acceptable and are not to be tolerated and there's a message there of the strategy and the plan to implement consequences by the European Union."
"Nobody wants this to disintegrate into very serious and potentially catastrophic situations," he added.
Kenny said the mood around the table at the discussion today was "one of great concern".
The parliament in Crimea, which has come under de facto control by pro-Russian forces since the ousting of Ukrainian president Viktor Yanukovych, asked Russian President Vladimir Putin today to examine a request for their region to join the Russian Federation.
The decision was also to be put to a "referendum" on the peninsula only on 16 March.
Crimea was attached to Ukraine by the Soviet Union in 1954, but Moscow was still allowed to maintain its Black Sea Fleet at the main port of Sevastopol, its home for some 250 years.
- © AFP 2014 with additional reporting by Michelle Hennessy.