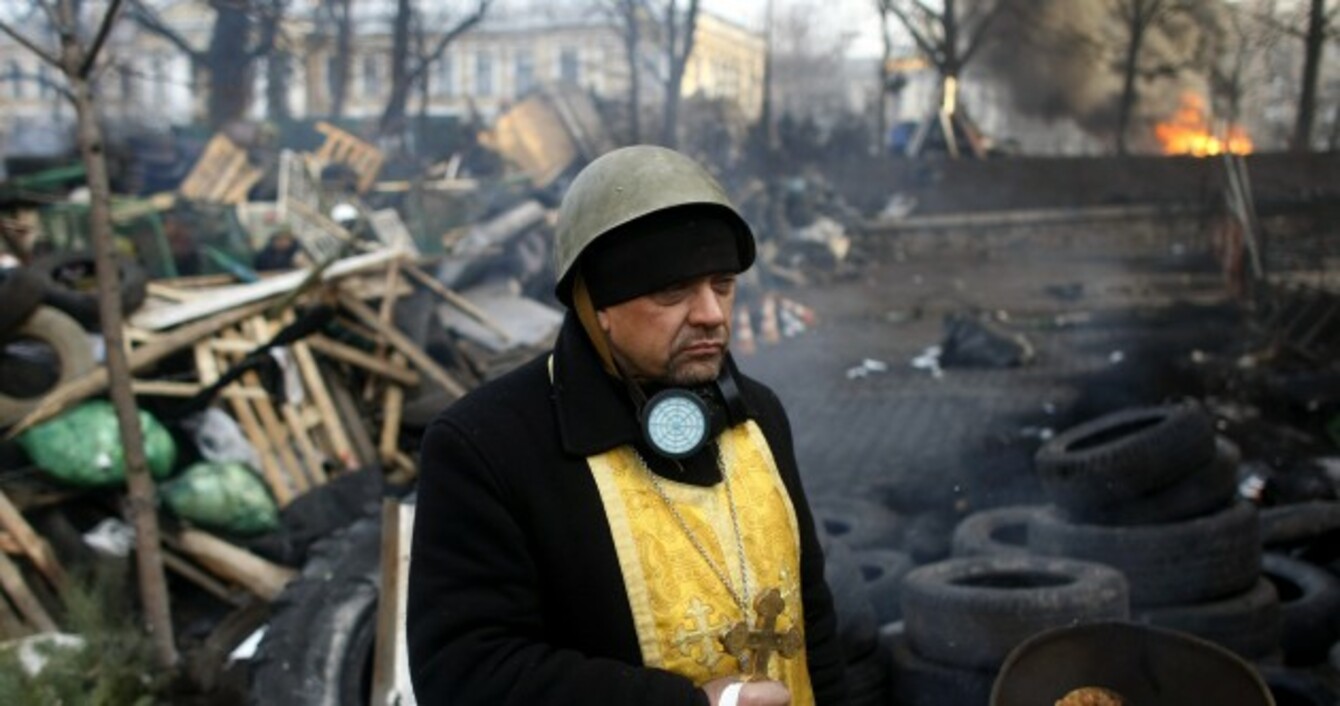 A priest stands on the barricades at Independence Square this morning.
Image: Marko Drobnjakovic/AP/Press Association Images
A priest stands on the barricades at Independence Square this morning.
Image: Marko Drobnjakovic/AP/Press Association Images
Updated at 11.36am
UKRAINE'S EMBATTLED PRESIDENT Viktor Yanukovych has confirmed he will call an early presidential election, as the country inches towards resolving its bloodiest crisis since independence.
"I am initiating early presidential elections," Yanukovych said in a statement, without specifying a date.
He also said he was starting the process of changing the constitution and forming a government of national unity.
The news follows crisis overnight talks talks mediated by the EU and Russia, which were convened in the wake of the worst day of violence yet in the country's current crisis.
Deal
A statement this morning from the Ukrainian presidency seemed to indicate a substantial deal had been reached — but that announcement was later played down by the French foreign minister and the Polish Prime Minister.
The Government statement said the parties had agreed on "the initialling of an agreement to resolve the crisis". However, France's Foreign Minister Laurent Fabius said "we cannot say anything definitive before the end of the morning."
"The opposition, in particular, wants to be able to consult with some of its members, which is completely understandable."

"In this sort of situation, as long as things haven't really been wrapped up, it's important to remain very cautious."
Polish Prime Minister Donald Tusk said that a final deal had not been reached, "only the content of an eventual agreement, since the proper subjects to build such an agreement are people".
According to the health ministry, a total of 77 people have been killed since the latest violence flared on Tuesday of this week. Another 577 people were injured.
There has been no official word yet from opposition leaders, and it's not clear whether the protesters on Independence Square will back the agreement.
Some 5,000 protesters remained at the square this morning as detail on the deal was awaited, according to BBC reports.
Gunfire
In other developments, Ukraine's interior ministry this morning accused anti-government protesters of shooting at police officers.
"Rioters opened fire at police officers and tried to break through in the direction of the Verkhovna Rada," the statement said, adding that the incident started at 10:15 am (08.15am Irish time)
In the wake of yesterday's violence, the European Union agreed to slap a travel ban and asset freeze against Ukrainians with "blood on their hands" but left the door open to a political deal by naming no names.
The sanctions, which include a wide-ranging ban on European sales of anti-riot equipment, mark a diplomatic U-turn for the EU, which had previously had resisted US calls to impose punitive measures.
This article includes reporting from AFP.
First posted at 7.11am