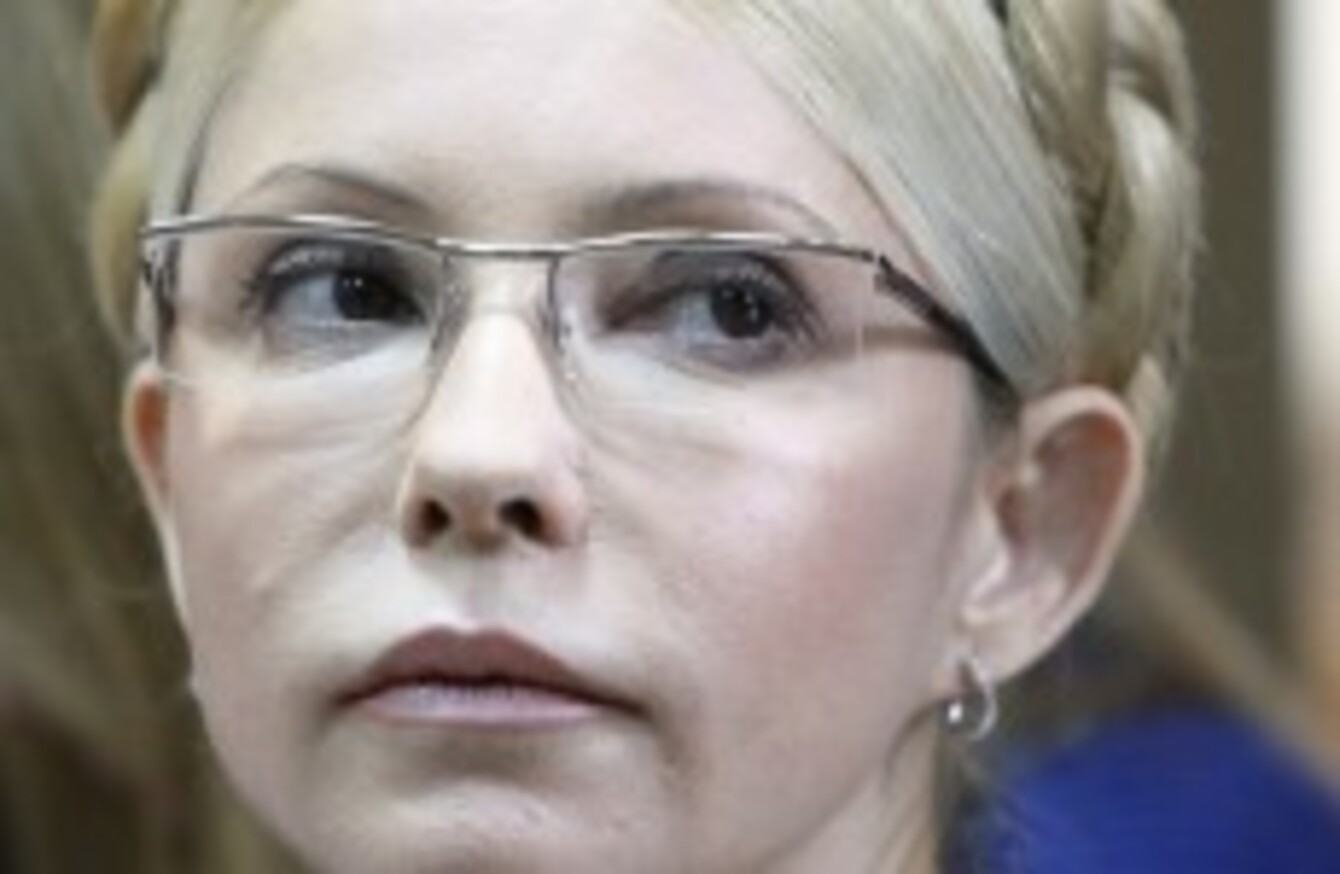 Image: Efrem Lukatsky/AP/Press Association Images
Image: Efrem Lukatsky/AP/Press Association Images
UKRAINE'S HIGHEST COURT has rejected jailed ex-premier Yulia Tymoshenko's appeal of her abuse of power conviction despite threats of being cut off from Western powers that view the case as political.
About 100 supporters of the 2004 Orange Revolution leader rallied in the 51-year-old's defence as Ukraine's highest appeals authority agreed that she had no authority to seal a controversial gas deal with Russia in 2009.
"The judicial panel found no grounds for the appeal," judge Olexander Elfimov said to cries of "Shame!" from Tymoshenko's supporters.
The same panel also left in place Tymoshenko's seven-year jail sentence and $190 million fine while finding no grounds to her claim that she had been made the victim of political persecution.
"Pre-trial investigators and the court did not commit violations that could result in a change of the sentence," the judge read at a hearing attended by former Polish president Aleksander Kwasniewski and several EU dignitaries.
'Deep disappointment'
European Union immediately voiced its "deep disappointment" and noted that outcome followed a trial that "did not respect international standards."
The rejection marks the end of Tymoshenko's domestic legal recourse and clears the way for her to take her full case to the European Court of Human Rights — a move the defence had been kept from making by months of judicial delays.
"We will complete our additional appeal and file it (with the Strasbourg court) by the end of the week," Tymoshenko's lawyer Sergiy Vlasenko told reporters outside the courtroom.
"We will not give up our fight," added Tymoshenko's high-profile daughter and new legal assistant Yevgenia.
"We will seek justice because this is not something you can find in Ukrainian courts," she stressed.
The Strasbourg court opened hearings on Tuesday into whether Tymoshenko's pre-trial detention was politically motivated and whether her prison conditions had violated her basic rights.
Her probe was launched shortly after President Viktor Yanukovych narrowly beat his rival in a bitter 2010 ballot whose outcome Tymoshenko — backed by Ukrainian nationalists who seek closer EU ties — initially refused to accept.
But the European court had no legal authority to rule on the merits of the conviction and seven-year jail sentence until all avenues had been exhausted in Ukraine.
Brand new set of charges
Even a positive European verdict however may still not see Tymoshenko's release because she faces a brand new set of tax evasion and embezzlement charges that may keep her in jail for years to come.
The fiery and divisive figure's case — viewed with increasing dispassion by Ukrainians who have grown tired of their leaders' incessant internal squabbles — has been watched closely by both the European Union and Washington.
EU negotiators have made the release of Tymoshenko and her other jailed allies a condition for Ukraine being given preliminary backing to eventual membership in the 27-nation bloc.
Several European heads of state and EU leaders have also expressed their anger by skipping the football matches Ukraine co-hosted with Poland during this summer's European Championship.
Yanukovych rejects criticism
Yanukovych rejects his Western critics as biased and defends the case as part of a legitimate campaign against the type of corruption that has embroiled governments for most of Ukraine's recent past.
He has also spent recent months cautiously courting Russia — a worrying shift for EU officials who are hoping to dislodge Kiev from Moscow's embrace.
The overtures come as his government and its base of Russian-speaking Ukrainians face monumental hurdles in October 28 parliamentary elections that the ruling Regions Party enters with its approval rating near all-time lows.
Ukraine is dependent on Russian gas for its energy and has seen its past Orange government's overtures with the West interrupted by the types of delivery crises that Tymoshenko was trying to solve in 2009.