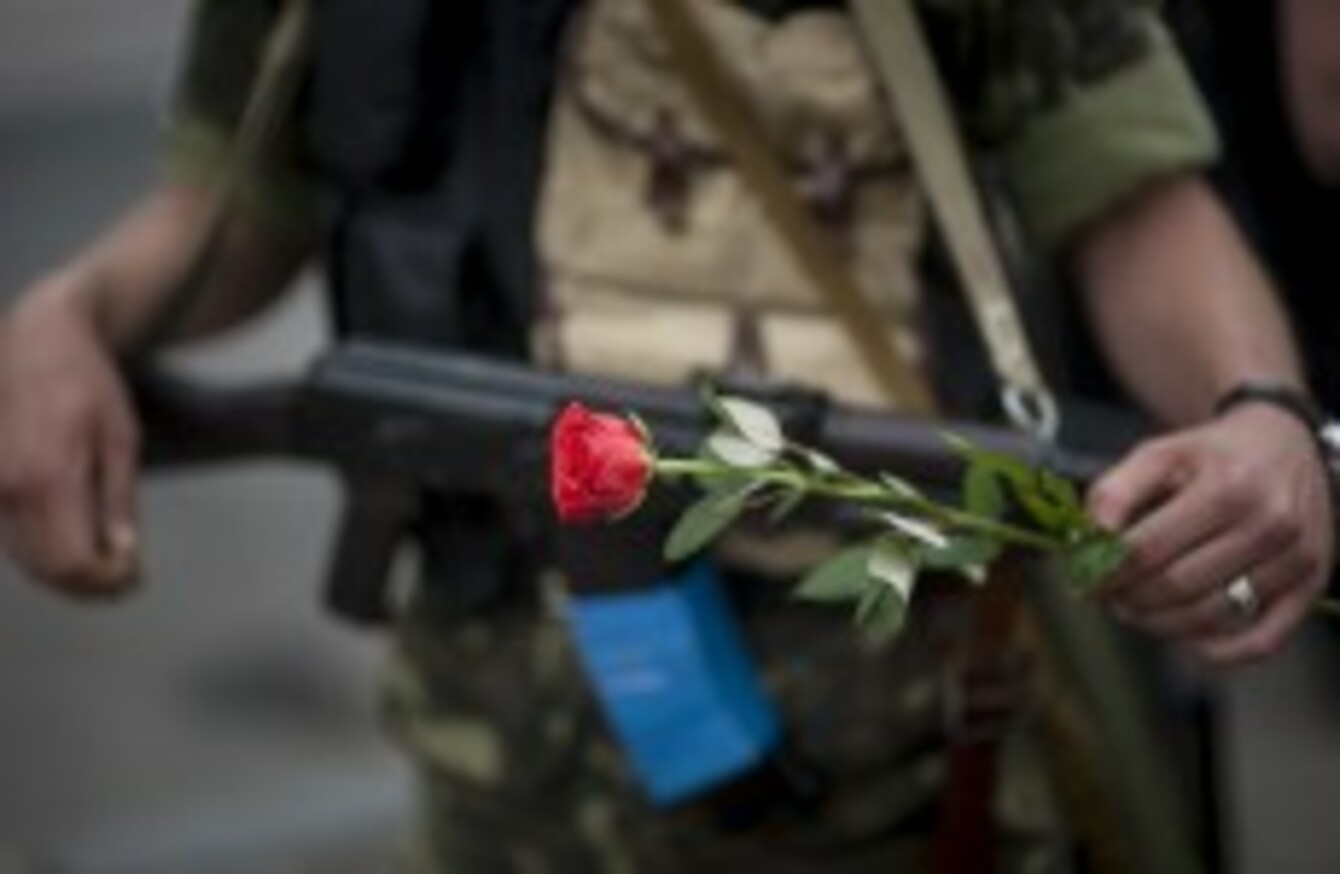 A pro-Russian fighter holds a gun and a rose after taking the oath of allegiance to the self-proclaimed Donetsk People's Republic
Image: AP/Press Association Images
A pro-Russian fighter holds a gun and a rose after taking the oath of allegiance to the self-proclaimed Donetsk People's Republic
Image: AP/Press Association Images
UKRAINE'S NEW WESTERN-BACKED leader agreed to dialogue with separatists not implicated in "murder and torture" as he laid out a peace plan that Russian President Vladimir Putin promised to back.
Petro Poroshenko's initiative follows his announcement on Friday of a week-long unilateral ceasefire in the government's 10-week campaign against pro-Russian rebels that has claimed more than 375 lives and displaced tens of thousands.
The hostilities raged on over the weekend despite Poroshenko's order as government forces used mortar fire to repel waves of raids by militias in the eastern rustbelt who rejected the terms of his pact.
"Both of my grandfathers were killed in World War II fighting the Nazis," said a rebel named Andriy as he prepared ammunition for a heavy machinegun in his battle against what many separatists refer to as the "fascist" in power in Kiev today.
"I will continue their fight," the 31-year-old said. Ukraine's border guards reported two raids by the rebels in the eastern Lugansk region early on Sunday that resulted in no casualties.
The 48-year-old confectionery tycoon — elected on May 25 in snap polls called after months of deadly pro-EU protests toppled Kiev's Kremlin-backed president in February — said that a peaceful settlement was "our plan A".
"But those who are planning to use peaceful negotiations only to buy time and regroup their forces must know that we have a detailed plan B. I am not going to speak of it now because I believe that our peaceful plan will work out," he added in the 12-minute address.
Putin on Sunday vowed to stand behind Poroshenko's peace efforts as long as they led to "substantial dialogue" between the two sides.
"Russia will certainly support these intentions. But at the end of the day, the most important thing is a political process," Putin told reporters.
"It is important for dialogue between all warring parties to originate on the basis of this peace plan," Putin said in his most overt endorsement of the blueprint to date.