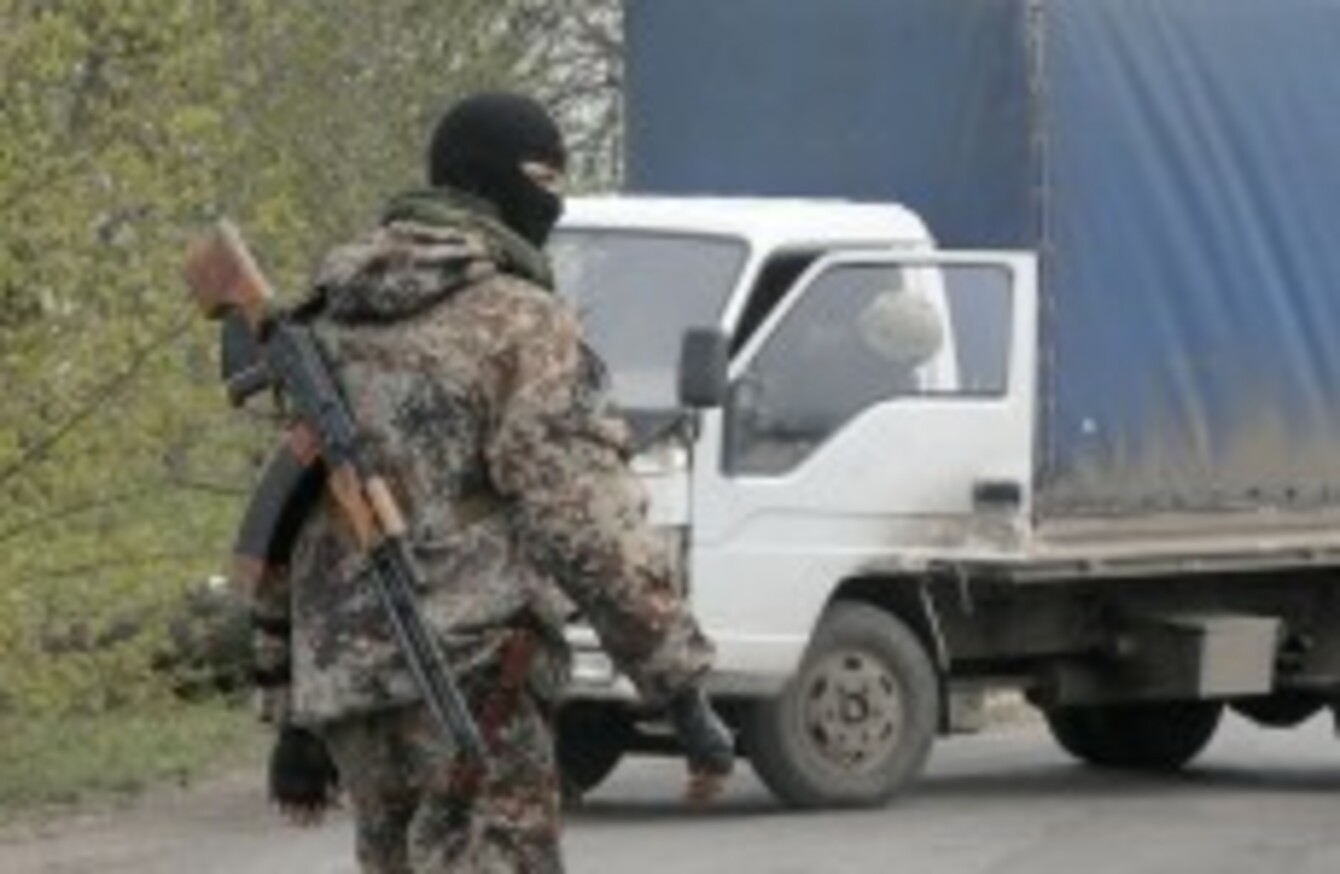 Image: AP/Press Association Images
Image: AP/Press Association Images
THREE PRO-RUSSIAN militants and one attacker were killed in a gunbattle near the volatile eastern Ukrainian town of Slavyansk early Sunday, a local leader and a rebel at the scene told journalists.
The separatist leader, Vyatcheslav Ponomarev, who gave the death toll, said the deadly battle broke out at a roadblock in a village east of Slavyansk, which is under the control of pro-Russian militants.
A pro-Russian rebel who said he was at the roadblock at the time told AFP: "Four cars pulled up to our roadblock around 1:00 am. We wanted to conduct a check, and then they opened fire on us with automatic weapons."
The masked 20-year-old, who gave his name as Vladimir, said there were around 20 attackers, but he was not sure of casualties on their side.
Three of his fellow pro-Russian militants at the barricade were killed and four were wounded, he said.
"Reinforcements quickly arrived at our roadblock and the attackers left."
The bodies of two separatist militants were seen laid out in a truck near the scene of the gunbattle.
One, a man in his 50s with blood on him, was identified by a militant as "my neighbour, Sergei Rudenko".
Separatist gunmen maintain a firm grip over a string of towns across Ukraine's industrial east despite an international deal demanding they vacate state buildings they are occupying.
The identity of the attackers in Sunday's firefight was not given.
The Western-backed authorities in Kiev had declared an Easter truce in their so far unsuccessful military operations to try to oust the separatists.
Last Thursday, three pro-Russian separatists were killed by Ukrainian troops when a mob of around 300 people tried to attack a military post in the southeast port city of Mariupol using Molotov cocktails and guns.
An international accord struck Thursday in Geneva between Ukraine, Russia, the United States and the European Union called for "illegal armed groups" in Ukraine to surrender their weapons and end the occupation of public buildings.
So far, that agreement has been ignored by the rebels, despite increasing pressure by Washington on Moscow.