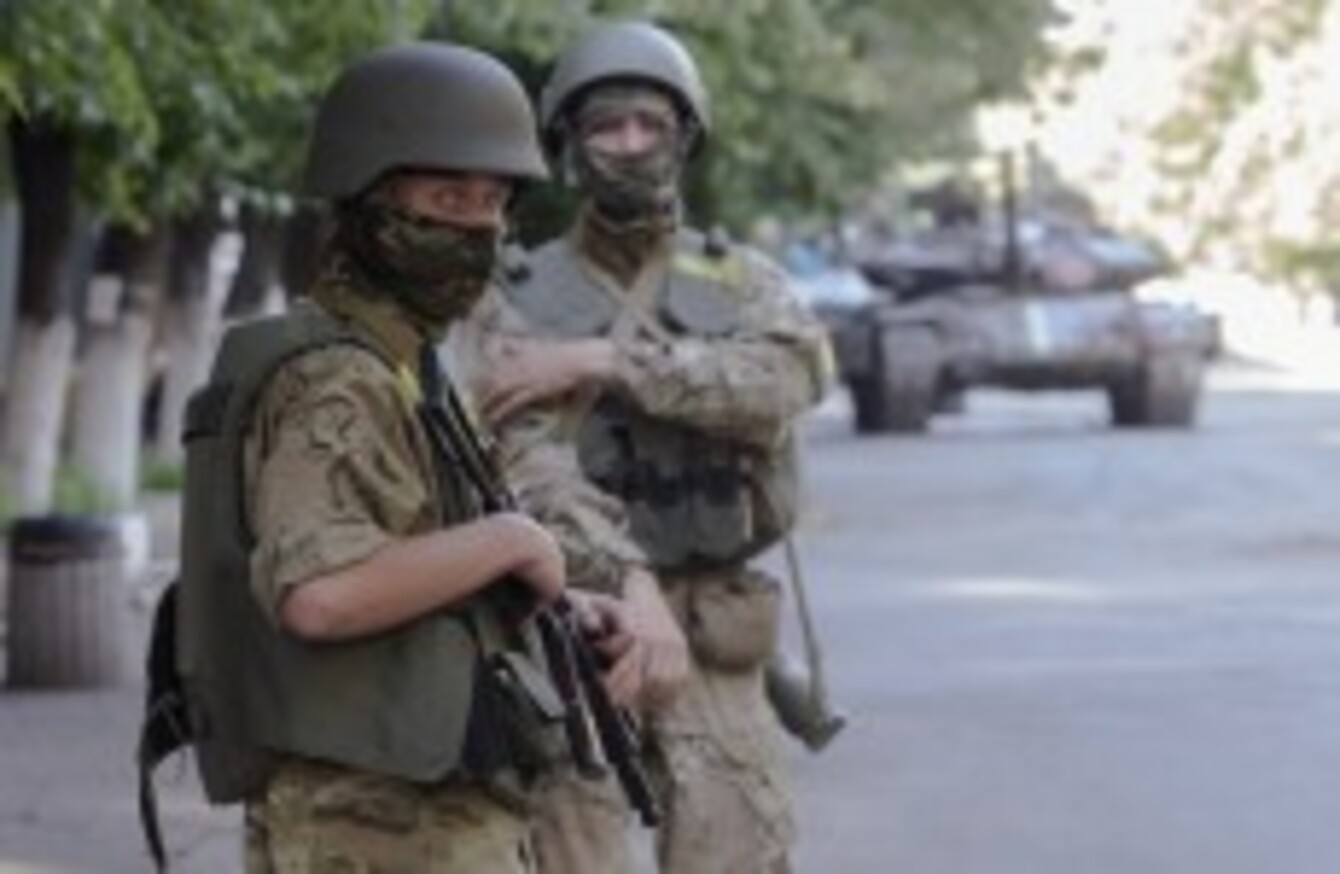 Ukrainian government army soldiers patrol the city of Slovyansk, Donetsk Region, eastern Ukraine.
Image: AP/Press Association Images
Ukrainian government army soldiers patrol the city of Slovyansk, Donetsk Region, eastern Ukraine.
Image: AP/Press Association Images
PANICKED UKRAINIANS TOOK to highways and packed trains leading out of the main remaining rebel stronghold today, fearing a reprisal assault by government forces after they lost 30 servicemen to defiant militants.
Separatists near the Russian border mowed down 19 troops in a hail of heavy rocket fire yesterday in a bloody reminder of their resolve to reverse the recent tide of government gains across the eastern rustbelt.
The military said four other troops died elsewhere yesterday and seven more were killed overnight in attacks that also left more than 120 soldiers wounded.
Ukraine's new Western-backed leader immediately vowed to hunt down the guilty militias in a push that would shatter all hopes of a truce in one of Europe's most explosive conflicts in decades.
"The rebels will pay for the life of every one of our servicemen with tens and hundred of their own," President Petro Poroshenko told an emergency security meeting.
"Not a single terrorist will avoid responsibility."
Crisis
The militant talk convinced many in the million-strong eastern hub of Donetsk — the new home to a flood of gunmen who had abandoned surrounding cities since last weekend — that their riverside city was about to be bombed.
The local mayor rushed out to meet Poroshenko yesterday to discuss measures that could "avoid bloodshed and the use of air strikes and heavy artillery."
But separatists in control of Ukraine's coal mining capital said locals were not taking any chances after three months of fighting that has claimed nearly 550 lives and sparked the biggest East-West crisis since the height of the Cold War.
"I would say that one car in five is filled with refugees," said a young separatist volunteer manning a roadblock around 20km east of Donetsk.
"I have lived here more than 40 years and it is very difficult for me to leave this town," said Natalia as she prepared to catch a train that would eventually take her to Russia.
"But there is no other solution," she said.
'Kremlin puppets'
Friday evening political talks shows were filled with voices questioning tactics and demanding to know why most of the rebels were allowed to slip out of the towns and cities they had abandoned in recent days.
Poroshenko had last Saturday proclaimed the seisure of Slavyansk — the symbolic heart of the uprising — a turning point in a conflict set off by the February ousting in Kiev of a Kremlin-backed president and Russia's subsequent seizure of Crimea.
EU leaders quickly joined Russia in a rare collective bid to dampen Kiev's new-found bravado and convince Poroshenko to launch direct truce talks with the separatists.
The European Union said today that it was also adding 11 separatist leaders to the names of 61 Russians and pro-Kremlin Ukrainians blacklisted for their roles in enflaming the conflict.
But Poroshenko's top aide said that all talks with the rebels were off.
"Those who call themselves leaders of the People's Republics of Donetsk and Lugansk are nobodies — they are puppets, servants of the Kremlin," presidential administration chief Yuriy Lutsenko told Kiev's Inter television.
"The only possible side that can be involved in negotiations is Russian President Vladimir Putin," he stressed. "And the only subject that can be discussed is the terrorists' withdrawal from the territory if Ukraine."
Financial rescue
Poroshenko's security headaches have been compounded by the threat of Ukraine going bankrupt if it fails to adopt tough and deeply unpopular cost-cutting measures demanded under the terms of an emergency Western bailout deal.
An International Monetary Fund team was due to leave Kiev today after checking whether Ukraine had done enough to merit the disbursal of a second tranche of a $17-billion loan at the heart of a broader $27-billion international package.
Standard and Poor's delivered a rare dose of good news to Poroshenko yesterday by revising to "stable" from "negative" Ukraine's credit rating based on the conviction that the IMF would not abandon Kiev at this stage.
"Full disbursement of the International Monetary Fund (IMF) programme and related multilateral lending should enable Ukraine to meet its external financing needs over the next year," S&P said.
At the same time, the new government under Prime Minister Yatsenyuk has been stable and relatively cohesive.
The two-year international programme is meant to make up for a $15-billion package Russia had extended former president Viktor Yanukovych for his November decision to ditch an historic EU trade and association pact.
His ousting and the new team's signature of the European deal helped provoked the ongoing insurgency and saw Russia withdraw the aid.