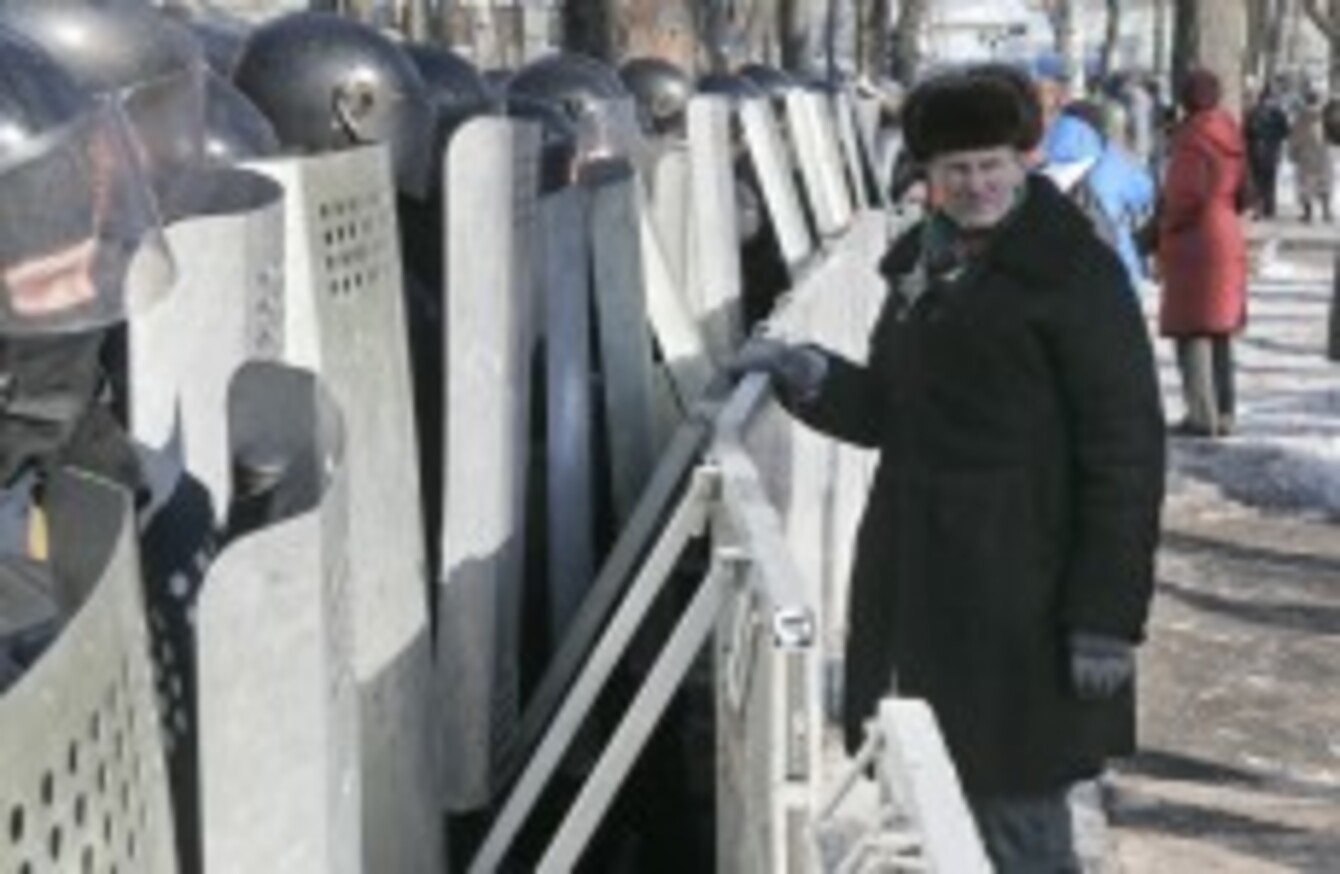 An anti-government protester faces riot police on 6 February.
Image: Efrem Lukatsky/AP/Press Association Images
An anti-government protester faces riot police on 6 February.
Image: Efrem Lukatsky/AP/Press Association Images
UKRAINE'S ACTING INTERIOR minister has confirmed that he's disbanded the elite Berkut riot police, which protesters blamed for most of the deaths in last week's carnage in Kiev that claimed nearly 100 lives.
"The Berkut is no more," acting interior minister Arsen Avakov wrote on his Facebook account.
"I have signed Decree No. 144, dated February 25, 2014 on the dissolution of the Berkut special police units of civil defence."
[Image: Arsen Avakov]
World powers are seeking to ease tensions over Ukraine, as the country's interim authorities grapple with the threat of economic collapse and separatism after the dramatic ousting of pro-Moscow president Viktor Yanukovych at the weekend.
Russia yesterday softened its angry tone over the sudden, weekend regime change in Ukraine, while senior EU and US diplomats visited the ex-Soviet country.
Frantic talks took place between US, European and Russian diplomats as Ukraine appealed for €25 billion in aid to avoid bankruptcy and interim president Oleksandr Turchynov warned of a secessionist threat.
The European Union said it stands ready to give conditional financial assistance to Ukraine.
"In several regions of Ukraine there are very dangerous signs of separatism," Turchynov told parliament yesterday, voicing fears that the pro-Russia east could push for partition after a pro-Western administration took charge of the country following months of anti-Yanukovych protests.
Mutiny
Russia had initially reacted with fury to the weekend's rapid-fire political changes — brought about by last week's clashes that left nearly 100 dead — accusing the new leadership of waging an "armed mutiny".
But yesterday Russian Foreign Minister Sergei Lavrov sought to soften the tone, saying Ukraine should not be forced to choose between Russia and the West.
"We confirmed our principled position of non-intervention in Ukraine's internal affairs," Lavrov said in Moscow.
"We are interested in Ukraine being part of the European family, in all senses of the word," he said. "It is dangerous and counterproductive to force Ukraine into a choice."
EU foreign policy chief Catherine Ashton also sought to calm tensions during a press conference in Kiev.
"We offer support, not interference for the future," Ashton told reporters in a bid to downplay claims that the West wants to bring Ukraine into its sphere of influence.
She also stressed "the importance of the strong links between Ukraine and Russia and the importance of having them maintained".
Ashton however offered no concrete commitments of economic assistance, saying only that the International Monetary Fund (IMF) was "very keen" to meet the future new government.