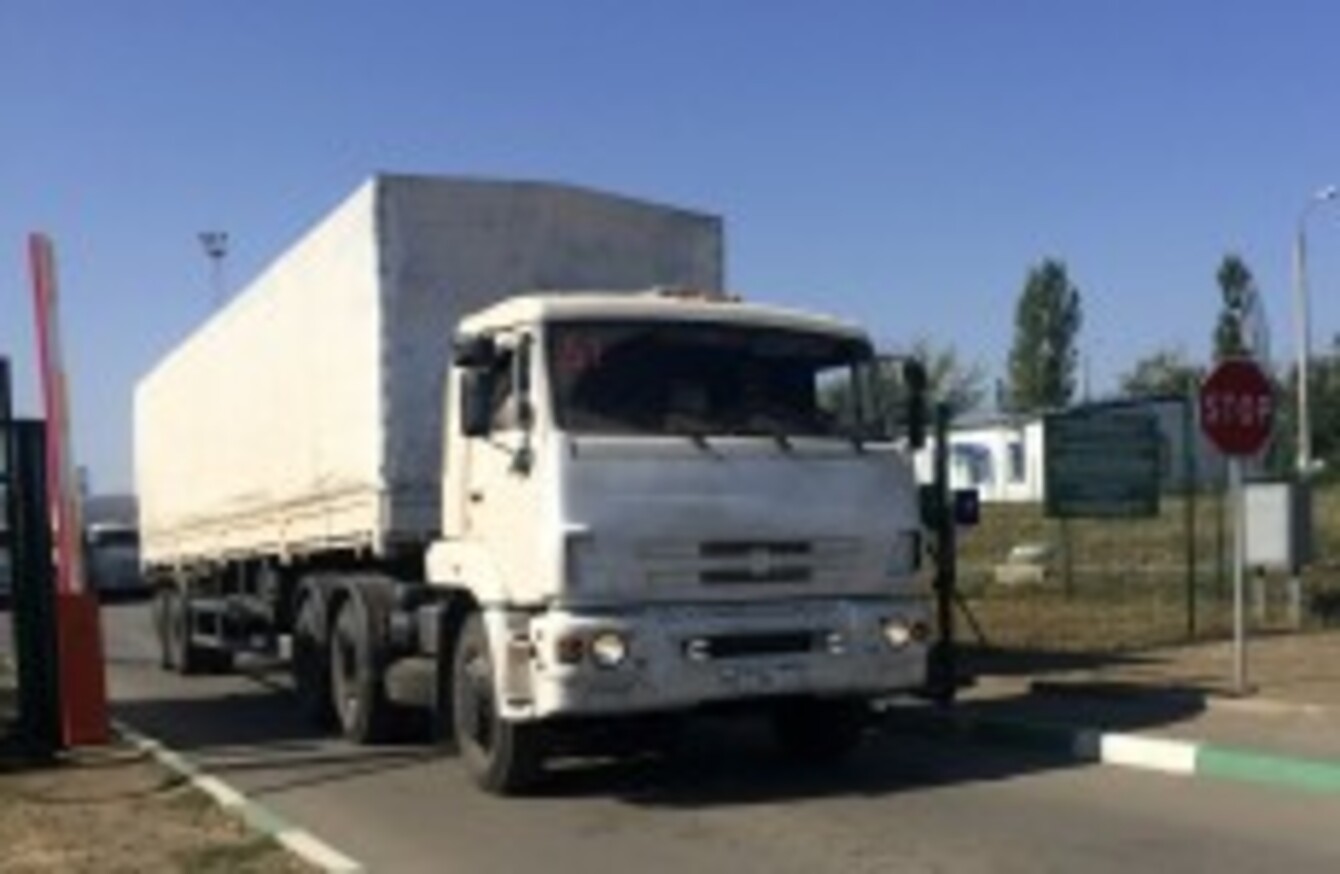 Image: AP/Press Association Images
Image: AP/Press Association Images
GERMAN CHANCELLOR ANGELA Merkel pushed for a new ceasefire in crisis talks with Ukrainian President Petro Poroshenko, as a controversial Russian convoy returned home.
The visit by Merkel — the most influential Western leader to call on Kiev since the crisis erupted in the ex-Soviet state — came ahead of crunch talks next Tuesday between Poroshenko and Russian President Vladimir Putin alongside top EU officials.
Tensions surged on Friday when Russia sent scores of trucks it said were carrying aid to the stricken insurgent stronghold of Lugansk in an unauthorised move Kiev described as a "direct invasion".
Merkel called for a "bilateral ceasefire and effective border controls" to help stop four months of brutal fighting between pro-Russian rebels and government troops.
And in a show of support for Kiev's pro-Western leaders, she said the "territorial integrity and well-being of Ukraine is essential".
She also warned Russia — already under punishing EU and US sanctions over its alleged meddling in Ukraine — of further punitive measures.
"We cannot rule out thinking about further sanctions if things do not progress," she told journalists.
'Time for peace'
Poroshenko said the "time has come for peace" in the war-torn east but ruled out sacrificing Ukraine's sovereignty to end a conflict that has cost more than 2,200 lives.
"Ukraine along with our European partners and the whole world will do everything for this to happen but not at the expense of the sovereignty, territorial integrity and independence of Ukraine," he said.
Deadly fighting has intensified on the ground as Ukraine presses on with a punishing push into dwindling rebel-held territory in a bid to deal a knockout blow to the struggling insurgents.
The European Union and the United States have already slapped the toughest sanctions on Moscow since the Cold War over its alleged support for the rebels, a move that led Russia to ban agricultural products from much of the West.
Russia has consistently denied arming the rebels and has demanded Ukraine halt its punishing military operations.