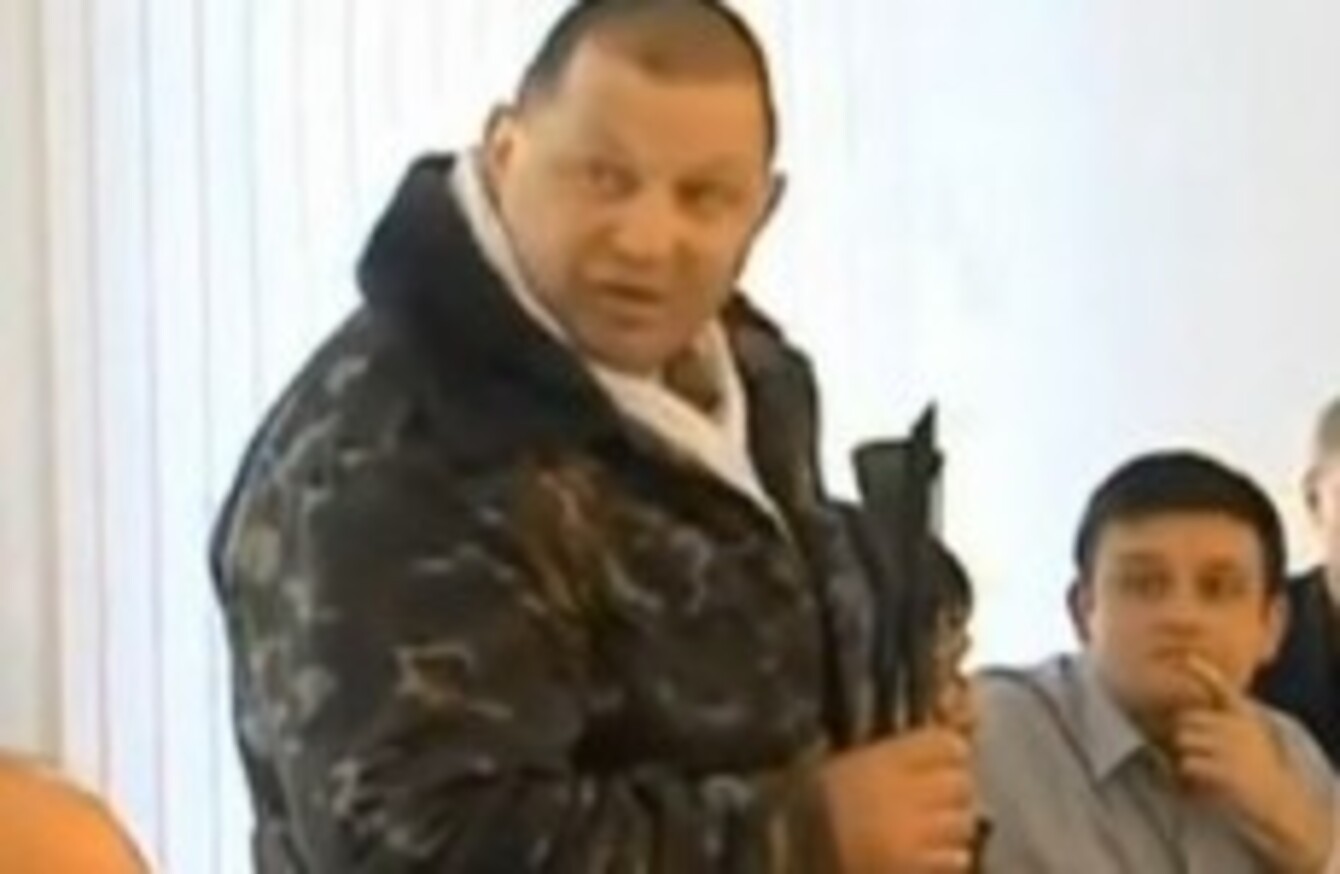 Image: Screengrab/RT
Image: Screengrab/RT
UKRAINIAN ELITE POLICE have shot dead a far-right nationalist leader in the western city of Rivne in a shootout that erupted during a raid to arrest him, the government has said.
Oleksandr Muzytchko, better known as "Sashko Bilyi", the head of Pravy Sektor (Right Sector) in western Ukraine, opened fire first, deputy interior minister Volodymyr Evdokimov said.
The gunfight broke out at a cafe on last night when the "Sokol" special forces went in to arrest Muytchko, who had been wanted for organised crime, Evdokimov said.
Pravy Sektor played a crucial role in the frontlines of deadly protests that unseated pro-Moscow president Viktor Yanukovych last month and has been branded a neo-Nazi organisation by Russia.
After the uprising, pro-Kremlin forces seized control from Ukraine of ethnic Russian-dominated Crimea, as Moscow said it reserved the right to protect its compatriots from extremists.
Speaking at a news conference today, Evdokimov said the bullet that killed Muzytchko had come from his own gun.
The security forces shot him twice in the leg, and he suffered three other bullet wounds while on the ground in a struggle with them, the interior deputy minister said.
"One wonders if he committed suicide or if his adversaries shot at him," he said.
Three of Muzytchko's accomplices, who had been armed with a Kalashnikov assault rifle and a Makarov pistol, were arrested in the same operation and taken to Kiev pending an investigation.
Pravy Sektor on Saturday formed a political party, and Dmytro Yarosh was elected its leader and put forward as its candidate in Ukraine's presidential election on May 25.
Reacting to Muzytchko's death, Yarosh demanded the sacking of Interior Minister Arsen Avakov and the arrest of the commander of the "Sokol" forces behind the operation.
The leader of the 'Right Sector' Dmytro Yarosh [AP Photo/Efrem Lukatsky]
At a news conference, Yarosh denounced "the counter-revolutionary" moves against the pro-European movement that ousted Yanukovych, and against the "vanguard of the revolution, Pravy Sektor".
He accused Russia's FSB security service of being behind the operations.
Avakov, for his part, said Ukraine was ready to confront "bandits".
Asked if he was referring to Pravy Sektor, the interior minister said that "true patriots defend the state borders with arms in their hands."
"Those who illegally enter companies or private apartments are bandits… especially if they hold unregistered guns in their hands."
Russia had issued an arrest warrant for Muzytchko on suspicion that he fought alongside Islamists in the war in Chechnya where he was responsible for the deaths of 20 Russian soldiers, according to Russian news agencies.
The heavily built Muzytchko was notorious for YouTube videos in which he was seen brandishing a Kalashnikov in Rivne's City Council, and roughing up the city's prosecutor.