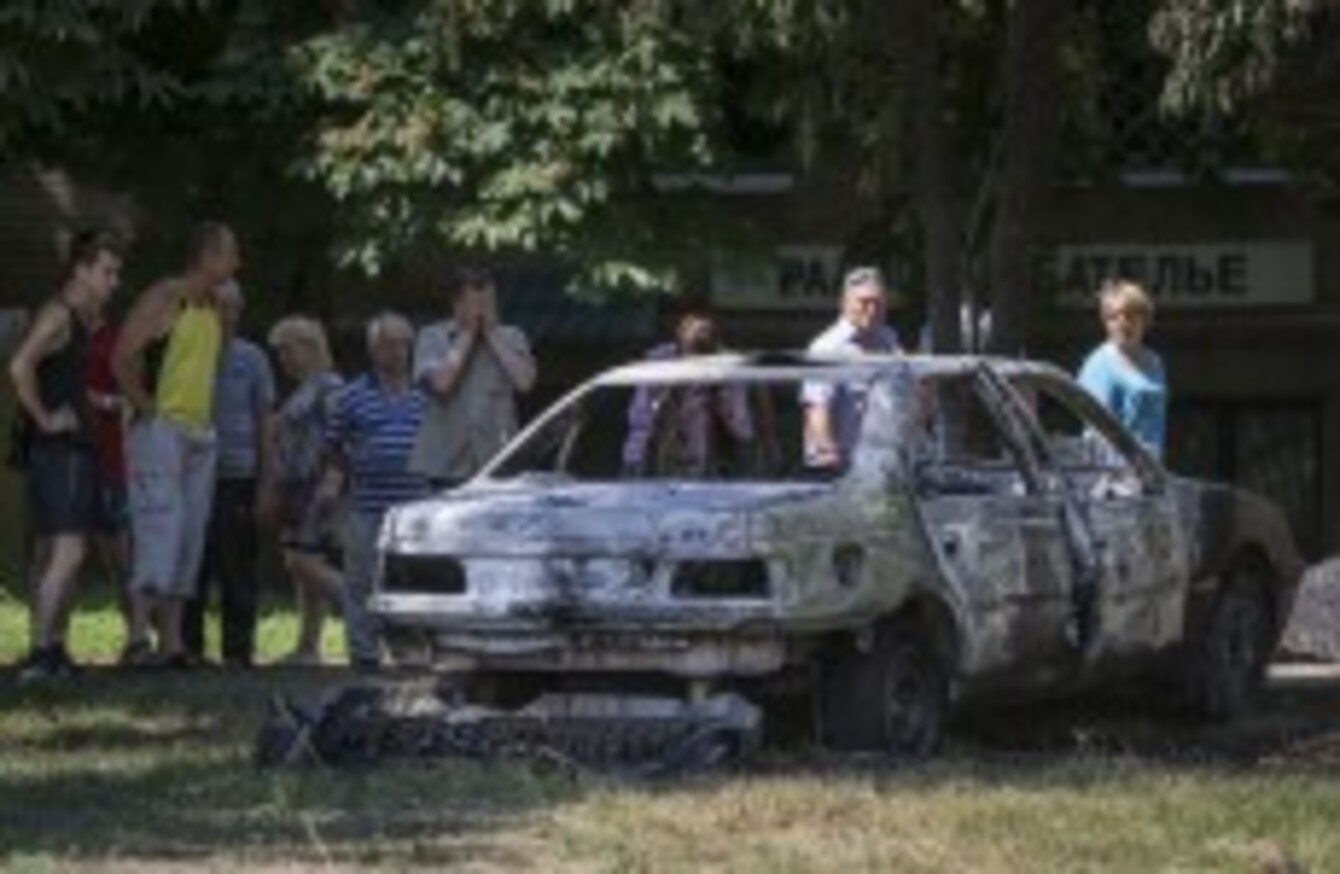 Local people look at a burnt-out car following a shelling from Ukrainian government forces, in Slovyansk
Image: AP/Press Association Images
Local people look at a burnt-out car following a shelling from Ukrainian government forces, in Slovyansk
Image: AP/Press Association Images
UKRAINIAN FORCES SUFFERED fresh losses today in a rebel raid in the separatist east as the newly-elected president promised to hold his first talks with Russia's Vladimir Putin on easing the worst East-West standoff since the Cold War.
The volunteer National Guard said gunmen had sprung a surprise raid on their barracks in the flashpoint Lugansk region near Russia that had been under effective rebel control since early April.
"There have been losses both in the ranks of the military unit and the attacking side," the National Guard said in a brief statement.
The militants' strike came a day after Ukraine claimed to have regained control of the rust belt region's main international airport in Donetsk after its most ferocious attack of the seven-week campaign which left more than 40 guerrillas dead.
Some analysts think Kiev has ratcheted up its offensive believing that the 40-point margin of Petro Poroshenko's victory on Sunday will make it hard for Moscow to question his legitimacy and order its troops to "protect" the east's ethnic Russians.
The Kremlin reaffirmed on Wednesday that it "respected" the will of Ukraine's voters but also denounced the army's "provocative" actions as another step toward strife and discontent.
"There can be no justification for the punitive operation being conducted by the Kiev authorities," Russian Foreign Minister Sergei Lavrov said.
But Poroshenko — a 48-year old confectionary tycoon who backs closer ties with Europe but once held a top cabinet post under ousted pro-Russian president Viktor Yanukovych — said he would conduct direct negotiations with Putin soon.
"We will hold talks with Putin in order to ease the situation and make peace. When and where these talks will take place, is not yet decided," he told Germany's Bild daily.
The political veteran was responding to a question on whether talks with Putin were planned for next week's D-Day commemorations in France to which both he and the Russian leader are invited.
The 6 June Normandy gathering will also be attended by US President Barack Obama, providing Western leaders with their first chance to speak to Putin since Europe's worst security crisis in decades erupted in March with Russia's seizure of Ukraine's Crimea peninsula.
Putin had rejected the legitimacy of the interim team that rose to power in February and not been reported to have spoken to any Ukrainian official since the Kiev uprising.