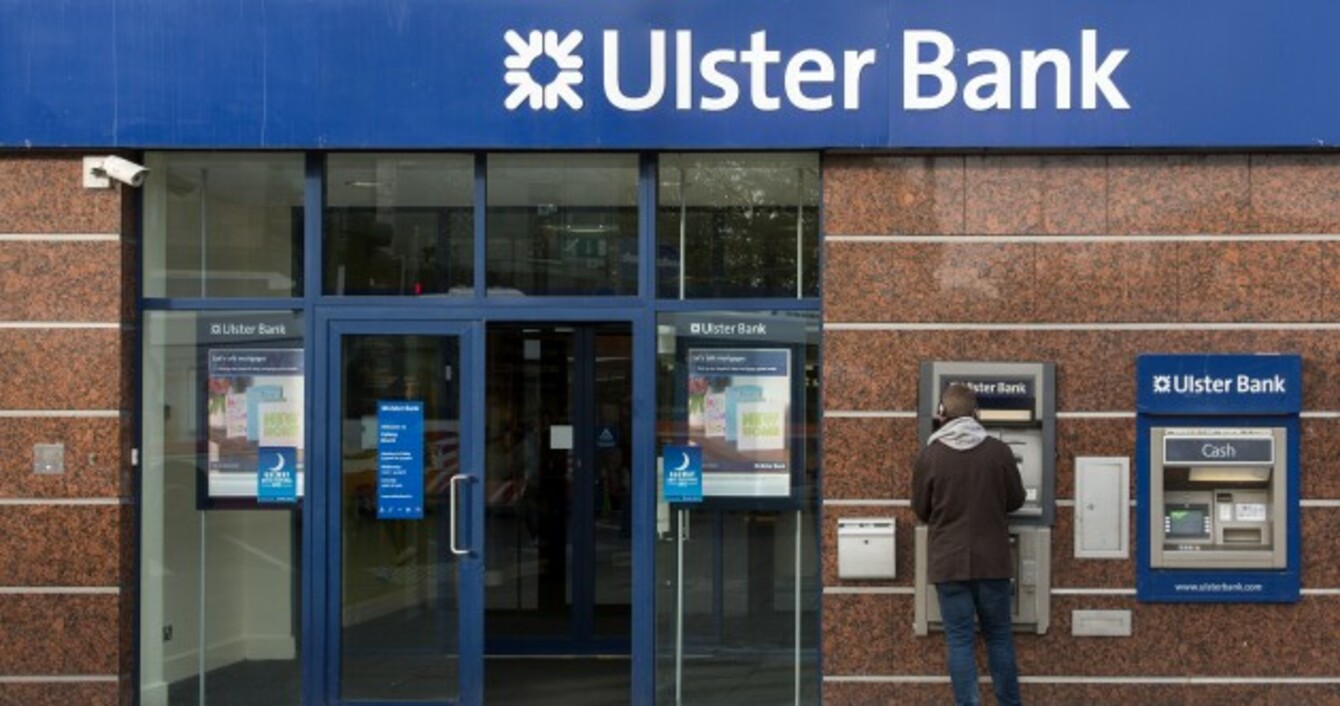 Image: Shutterstock/Martin Good
Image: Shutterstock/Martin Good
SINCE ULSTER BANK announced they are to sell off 900 family homes as part of a sale of a €2.5 billion property loan portfolio, public representatives have been critical of the bank's move.
There have been calls for emergency legislation to be introduced to halt the sale, with politicians like Sinn Féin's Pearse Doherty taking issue with the bank's statement saying those included in the sale are "non-engaging" customers.
The bank claimed the mortgage holders are on the brink of having their homes repossessed and are already in the court process.
It's believed the loan book will be bought by foreign funds, known as vulture funds, at a discount price.
Doherty has called for the family homes to be removed from the sale, stating the bank has a moral obligation to their customers. He said the bank was only exacerbating an already dire housing and homeless crisis with this sale.
Some of the bank's customers have also taken issue with being included in the sale.
"I feel like an idiot. I should have just stopped paying my Ulster Bank loan if this was going to happen," said one Ulster Bank customer who has found his business loan thrown into a €2.5 billion property loan portfolio.
Business loans account for 65% of the portfolio.
As well as selling off 900 family homes, the bank is also selling some business and agri-business loans.
Ulster Bank insisted some customers were not engaging with it. The bank stated the loans "are not mainstream or day-to-day customers and have been in long-term arrears".
Servicing the loans 
The same customer said he had never been threatened with legal action from the bank, and had been servicing his loans.
His business took a hit in the downturn, he said – however, he never stopped making payments. On one loan he was paying interest only. Another he was servicing fully – yet he received a letter to say his loan was now going to be sold.
"We do not have 'distressed loans'. We offered to buy the loans back from them, as we are in a position to do so," he said. He claims the bank turned down his offer.
The customer contends that while the bank is not willing to sell him his own loan at a discount, it will do so to a vulture fund.
"They are the ones that are not playing ball here. I fully reject [Wednesday's] statement."
Another customer, who described himself as being of "high net worth", said he wouldn't side with Sinn Féin on a lot of issues, but that when it came to the way banks were treating their customers, he agreed with the party that the government had to step in.
I'm looking at what Mary Lou McDonald is saying in the Dáil, and I find myself agreeing with her. That really is something. This has made me militant, it makes me want to get out there with a placard about what the banks are doing. Something is very wrong here.
"What is the Central Bank and the regulator doing about it?" another customer said.
Are they asking for the banks to provide proof for the statements they are making?
In a statement to TheJournal.ie about the Ulster Bank sale, the Central Bank said it "works to ensure fair treatment of consumers by financial services firms".
It said new protections were introduced in 2015 under the Consumer Protection (Regulation of Credit Servicing) Act 2015.
These regulations ensure that "the same regulatory protections they [the customer] had prior to the sale, including… various statutory Codes of Conduct" apply.
It said lenders are required to communicate with customers to advise of the transfer of their loan and provide at least two months' notice.
Sinn Féin's Pearse Doherty discussed the sale with Ulster Bank and asked them to separate the 900 homes from the portfolio.
He told TheJournal.ie that his request received neither a yes or no from the bank.
"I put it to them to remove the 900 homes from the rest – this accounts for €250 million of the loan book and to give the customers the option to buy their own loans," he said.
Doherty claimed the average the loans would be be sold for would be 37 cent in every Euro.
#Open journalism No news is bad news Support The Journal

Your contributions will help us continue to deliver the stories that are important to you

Support us now
Option to buy loans at price offered by foreign investors 
TheJournal.ie asked Ulster Bank if customers were given the option to buy their loans at the same rate offered to the vulture funds.
The lender responded:
If customers want to engage with Ulster Bank, they may pay off their loan.
Doherty said he made a number of points to the bank and asked them to follow the example of other lenders, like AIB, who have allowed intermediaries, such as the Irish Mortgage Holders Organisation to act on behalf of customers.
Customer treatment
But would Ulster Bank be open to giving customers a break on their debt? TheJournal.ie also asked the bank if it was open to debt write down.
Ulster Bank responded:
In the interest of being fair to customers who have entered arrangements with us, Ulster Bank does not have a policy of mortgage debt write off with the exception of customers who qualify for social housing. Ulster Bank will not pursue them for the shortfall once their property is sold.
Doherty said he would put pressure on the government to legislate for a provision in the Programme for Government to put the bank's code of conduct on a statutory basis.
He said this would compel the banks to offer other solutions to customers (other than voluntarily surrendering their home) to resolve their debt issues.
The Sinn Féin finance spokesperson said he told Ulster Bank he would be pushing the government to get this "over the line" before the sale of the loan book goes through.
Contributing to the housing crisis
In his briefing with Ulster Bank, Doherty told the bank it was contributing to the ongoing housing crisis. He said homeowners who lose their homes will end up living in emergency accommodation like hotel rooms, or be handed a sleeping bag.
In their statement, Ulster Bank said that 100% of the family home loans "are in litigation and these customers are non-engaged customers".
However, it stated that not all customers involved in the sale are in arrears.
 Those included are only a very small portion of customers in arrears.
If customers would like to speak to someone about this, they can call the arrears support unit on Freephone 1800 435 763 or 01 709 2118 and we can help them to either engage and/or to clarify their situation.