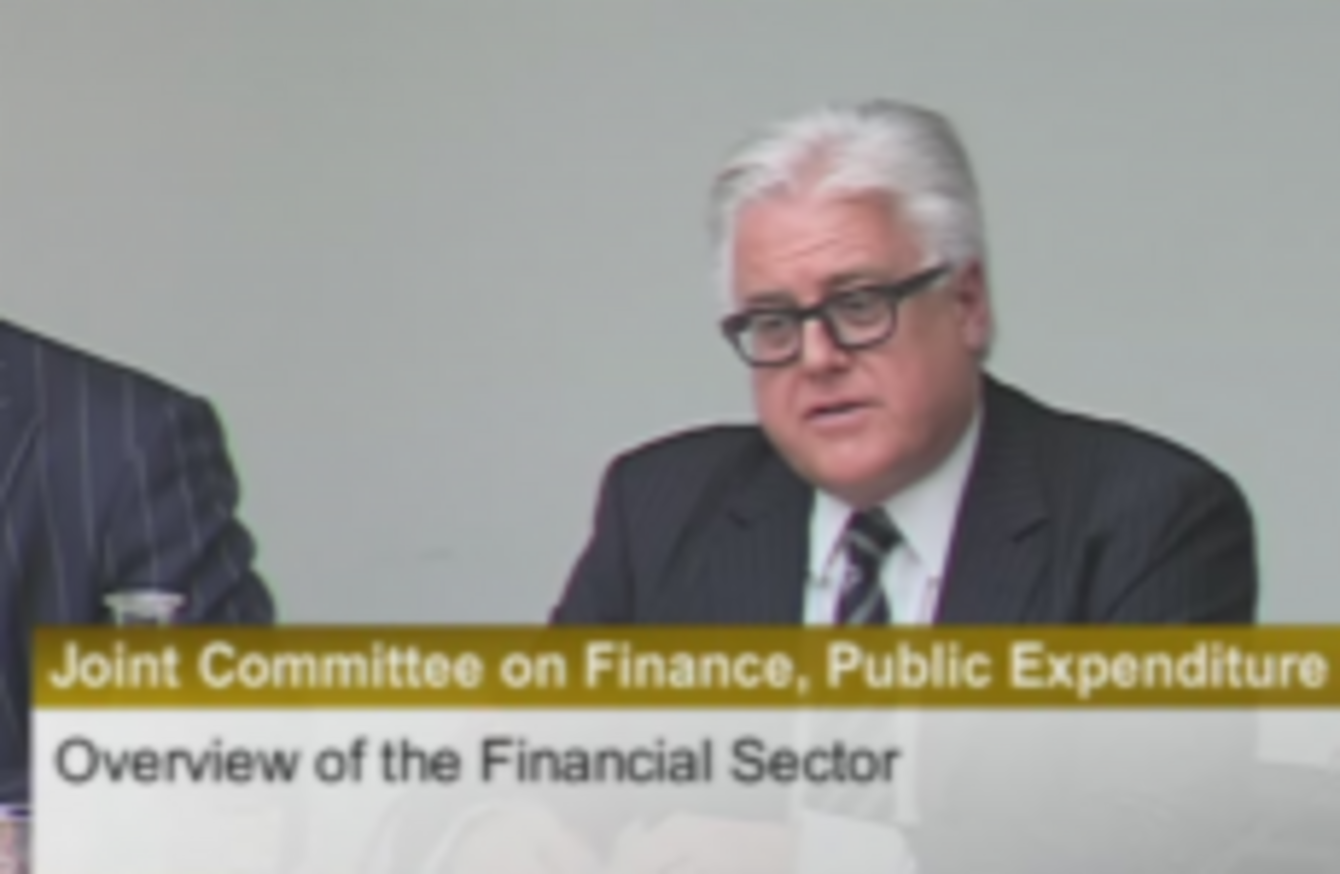 Ulster Bank CEO Jim Brown
Image: Oireachtas.ie Screengrab
Ulster Bank CEO Jim Brown
Image: Oireachtas.ie Screengrab
THE CEO OF Ulster Bank has confirmed the bank sent 4,124 legal letters to mortgage holders in arrears in the second quarter of the year.
Jim Brown was appearing before the Oireachtas Finance Committee to answer questions on how the institution was addressing the mortgage crisis.
He is the latest bank chief to appear before the TDs and Senators on the issue this week, following hearings with Bank of Ireland and AIB bosses.
The meetings were arranged to check up on how lenders were meeting the target set down by Government that banks should have proposed sustainable mortgage solutions for 20 per cent of distressed borrowers by the end of June.
Ulster Bank said it had exceeded that target, and that solutions had been proposed for over thirty per cent of customers in arrears.
The 4,124 householders more than 90 days in arrears who received legal letters were included in the banks figures towards the target. Chief Risk Officer Steven Bell insisted that this was consistent with the Central Bank's rules, and said he had received confirmation that this was the case.
"It is a matter of some concern that that's the manner it being met," Bell admitted to the Committee.
Fianna Fáil's Finance spokesperson Michael McGrath said he would be "shocked" if this was allowed under the rules. Committee Chairman, Labour TD Ciarán Lynch, said the Governor of the Central Bank had been asked to appear before the Committee later in the month to respond on the issue.
(Fianna Fáil's Michael McGrath)
Bell said that in come cases as many as ten letters had been sent by the bank before the beginning of formal legal action.
"They start off friendly: 'we really have to talk'," he said, explaining that the language gradually became more blunt before customers were told "If we can't reach some sort of accommodation then we will have to consider legal action".
Brown said that there were 35 per cent of customers in arrears who had not made any contact with the bank.
He said that the bank had €58 billion involved in the Irish economy, of which €20 billion is in the mortgage market; 85 per cent of that figure is for loans held by owner occupiers.
He said Ulster Bank had 122,831 mortgages on its books, of which over 18,000 were over 90 days in arrears.
"We want to keep as many people in their homes as possible," Brown said. He repeated in response to several questions from members that all householders' circumstances were reviewed "on a case by case basis".
The bank's opening submission to the Committee can be viewed here>