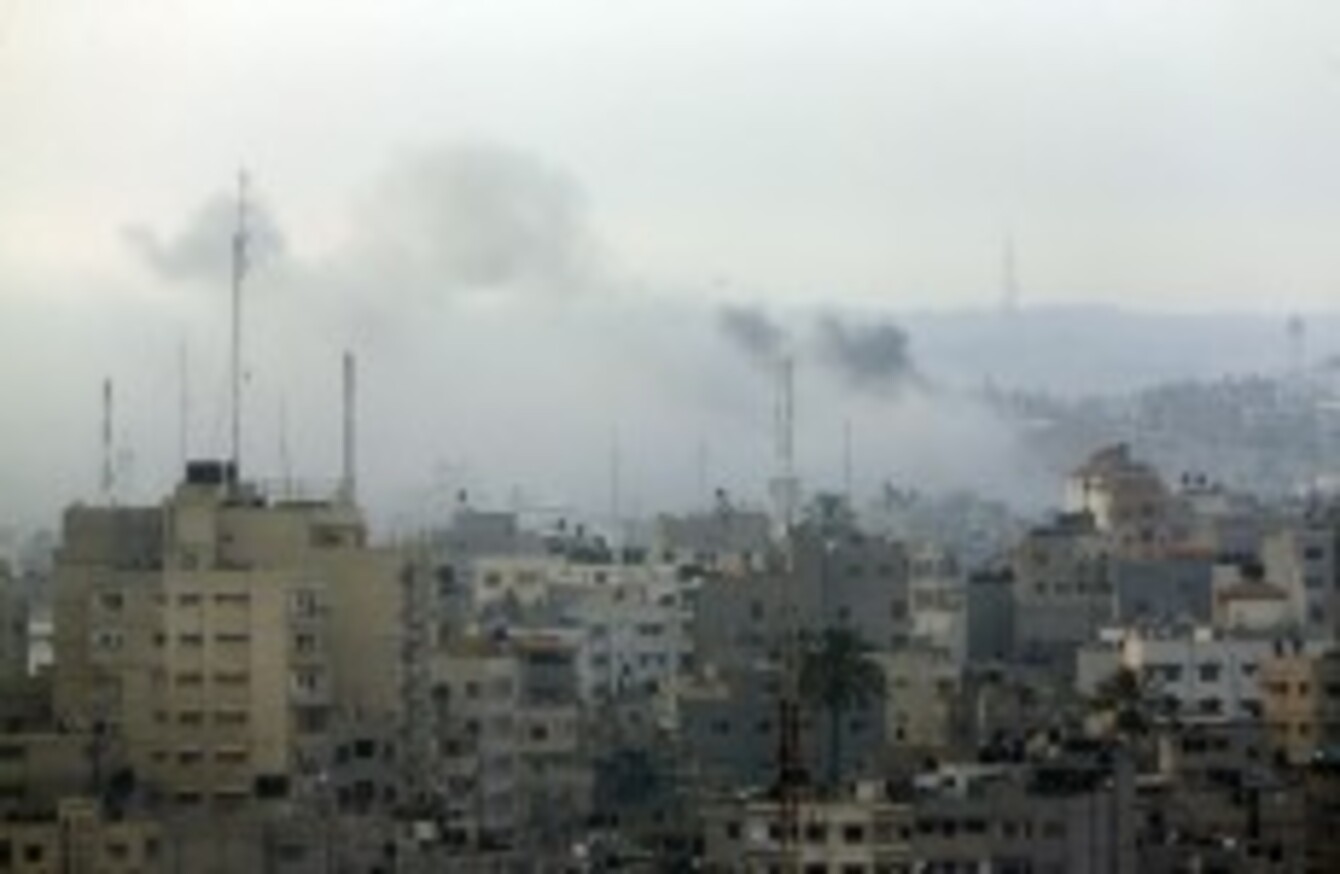 Smoke from Israeli strikes rises over Gaza City.
Image: AP/Press Association Images
Smoke from Israeli strikes rises over Gaza City.
Image: AP/Press Association Images
THE UN SECURITY Council called for an "immediate ceasefire" as Israel pressed on with a blistering assault on Gaza, taking the Palestinian death toll above 500.
US President Barack Obama echoed the call in a telephone conversation with Israeli Prime Minister Benjamin Netanyahu early Monday, as Secretary of State John Kerry headed to the region to join true efforts.
A fresh air strike on Monday morning killed a family of nine, including seven children, after a weekend of incessant shelling by land, sea and air sent thousands of terrified civilians fleeing their homes.
A man was also killed in a strike on a motorbike, taking the Palestinian death toll to 502 as the Israeli offensive entered its 14th day, medics said.
The Israeli army said 13 soldiers had been killed inside Gaza on Sunday, raising to 18 the number of soldiers killed since a ground operation began late on Thursday.
Gaza's emergency services spokesman Ashraf al-Qudra said many of the more than 150 Palestinians killed on Sunday — the bloodiest day of fighting in Gaza in years — were women and children.
The Security Council held urgent talks on the conflict, expressing "serious concern about the growing numbers of casualties."
"The members of the Security Council call for an immediate cessation of hostilities," said Rwandan ambassador Eugene Richard Gasana, whose country chairs the 15-member council.
Late Sunday, the armed wing of the Islamist Hamas movement, which dominates Gaza, claimed it had kidnapped an Israeli soldier, prompting celebrations in the streets of Gaza City and West Bank towns.
"The Israeli soldier Shaul Aaron is in the hands of the Qassam Brigades," a spokesman using the nom de guerre Abu Obeida said in a televised address.
Israel's UN ambassador Ron Prosor denied a soldier had been kidnapped, saying: "Those rumours are untrue."
Diplomatic push
During the Security Council talks, Palestinian envoy Ryad Mansour called for decisive steps to end the violence, and voiced frustration with what he termed the world body's failure to take a strong stand.
"The Council failed again and again to shoulder its responsibility," Mansour told reporters.
Prosor said Israel had agreed to earlier ceasefire proposals from Egypt and was acting in self-defence.
Speaking with Netanyahu by telephone early Monday, Obama expressed concern over the deaths on both sides, the White House said.
In their second call in three days, Obama "reaffirmed Israel's right to defend itself" but called for an "immediate ceasefire".
UN chief Ban Ki-moon was also in Doha where he urged Israel to "exercise maximum restraint".
"Too many innocent people are dying…(and) living in constant fear," he told a news conference in Doha.