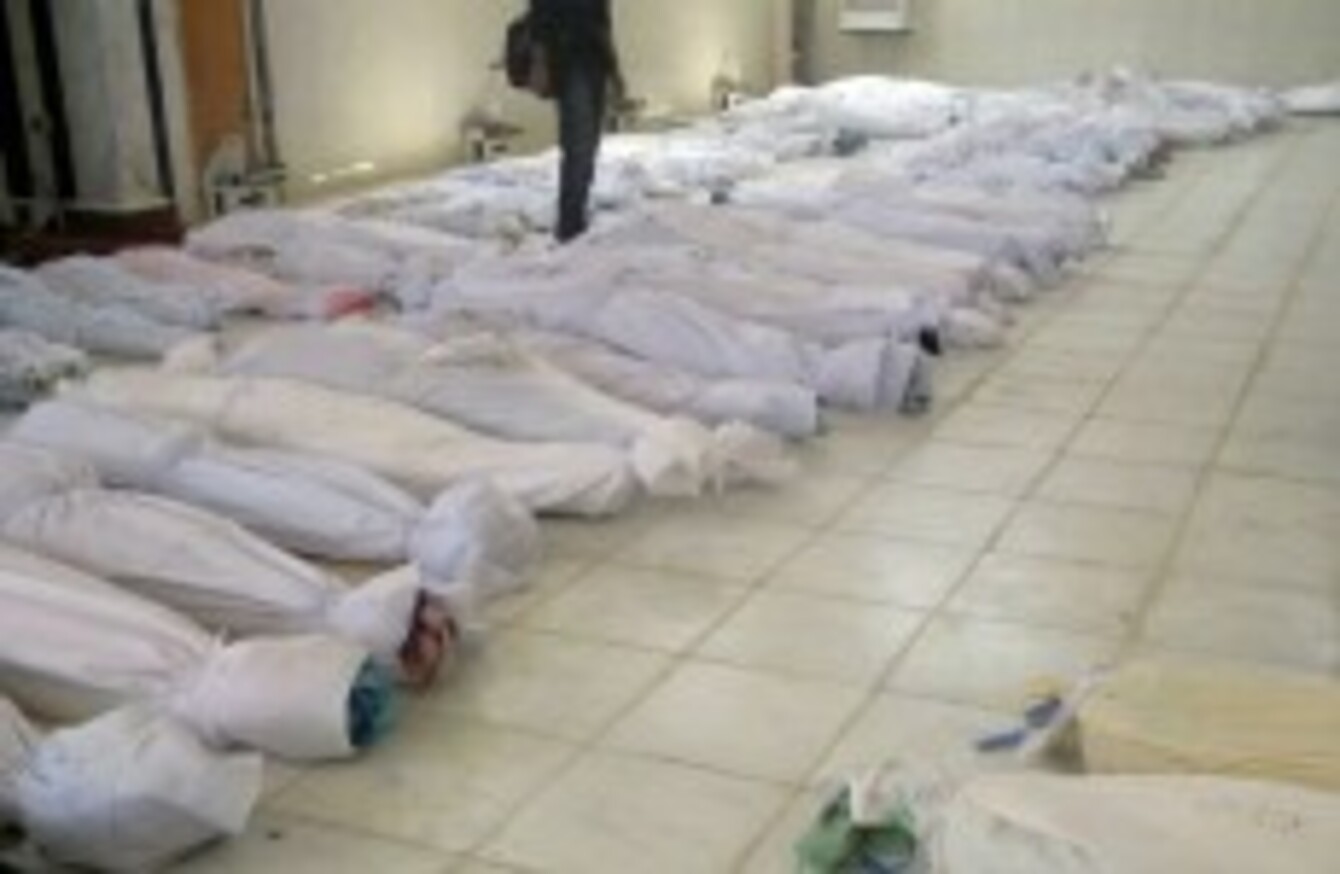 The Syrian government denied it was behind an attack on a string of villages that left more than 90 people dead, including 32 children under 10
Image: AP Photo
The Syrian government denied it was behind an attack on a string of villages that left more than 90 people dead, including 32 children under 10
Image: AP Photo
THE UN SECURITY Council has condemned "in the strongest possible terms" the massacre of more than 90 civilians, including 32 children under the age of ten, in a string of villages across the Houla region of Syria.
Gruesome video footage emerged following Friday's attack, which showed rows of bodies wrapped in shrouds in a mosque. The victims included children, some with horrific injuries; blood trickled from one girl's mouth, while one boy – appearing to be no more than eight – had his jaw blown off.
President Bashar al-Assad's government has been accused of backing the attack as part of it violent 15-month crackdown on dissent. However, the regime has denied responsibility – insisting that there were no Syrian tanks or artillery in the vicinity of Houla.
On Saturday, UN observers travelled to the area and confirmed the killings and wounding of hundreds of civilians. Following an examination of ordnance, they also confirmed that artillery and tank shells were fired in the area.
In a letter to the Council, Secretary General Ban Ki-moon said: "While the detailed circumstances are unknown, we can confirm that there has been artillery and mortar shelling. There have also been other forms of violence, including shootings at close range and severe physical abuse."
In a statement to the press, the Council condemned the killings, the close-range nature of the attacks, and the severe physical abuse inflicted on civilians.
The Council demanded the immediate cessation of the use of heavy weapons by the Syrian Government in population centres and called for the immediate pull-back of troops.
The events in Houla have been roundly met with international condemnation – although the Russia has said it was "too early" to say who was to blame, according to Reuters.
#Open journalism No news is bad news Support The Journal

Your contributions will help us continue to deliver the stories that are important to you

Support us now
The Tánaiste Eamon Gilmore yesterday described the slaughter of civilians, including very young children, as a "deplorable act and a clear crime against humanity".
"Those responsible need to know that the international community will insist on full accountability for such atrocities," Gilmore said.
The White House described the events at Houla as acts of "unspeakable and inhuman brutality."