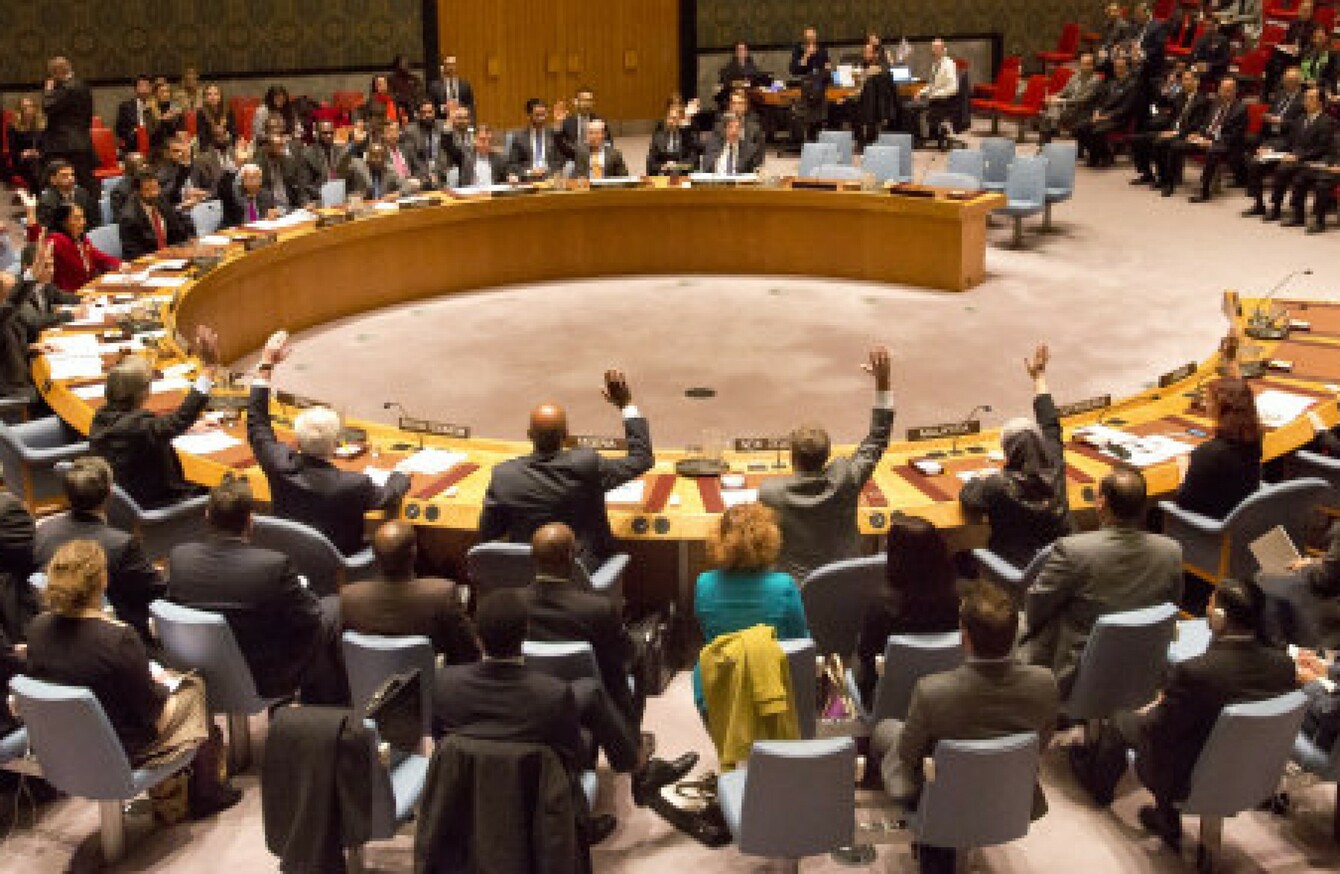 Image: AP/Press Association Images
Image: AP/Press Association Images
THE UNITED NATIONS Security Council has unanimously backed a call to redouble action against Islamic State jihadists following the Paris terror attacks.
Describing IS as a "global and unprecedented threat to international peace and security", the resolution called for sanctions and urges countries to step up efforts to cut off the flow of foreign fighters to Iraq and Syria.
The Minister for Justice and Equality Frances Fitzgerald said that she has offered Ireland's support for the proposals put forward by France.
The Minister said, "Today we stand in solidarity with France, the French people and all those who have suffered at the hands of terrorists.
"The savage attacks in Paris last Friday struck at the heart of the values and freedoms espoused by the European Union and are a chilling reminder of the dangers we face from international terrorism.
Ireland supports the measures France has tabled and it is now the collective duty of the Member States to take all reasonable steps necessary to face down this heinous threat and keep the people of Europe safe.
Europe said it would tighten border checks and Brussels has issued its highest terror alert.
A man suspected of scouting targets for Islamic State before last week's terror attacks in Paris has been arrested in Turkey this morning.
The 26-year-old Belgian was held at a luxury hotel in the southern coastal city of Antalya.
It's understood two Syrian men were detained on a main road nearby, on suspicion of planning to meet the man and ensure his safe passage across the border.
"All necessary measures"
Russia has joined Western powers in backing the French proposals that authorises countries to "take all necessary measures" to fight IS and other extremist groups linked to Al-Qaeda.
French President Francois Hollande welcomed the move, even though the text does not provide any legal basis for military action, saying it will "contribute to mobilising nations to eliminate Daesh" (IS).
Russia pounded the jihadist group in Syria yesterday, firing cruise missiles from warships in the Caspian Sea into IS-controlled territory in what the defence ministry called an "aerial campaign of retribution" against the jihadists.
Rami Abdel Rahman of the Syrian Observatory for Human Rights monitoring group told AFP:
At least 36 people were killed and dozens more injured in more than 70 raids carried out by Russian and Syrian planes against several districts in Deir Ezzor.
Manhunt
The attack on Bamako's luxury Radisson Blu hotel added to fears about the global jihadist threat a week after attacks in Paris left 130 people dead.
Gunmen stormed a luxury hotel in Mali's capital, taking more than 100 people hostage in a siege that left at least 27 dead.
An Al-Qaeda-affiliated group is reportedly claiming responsibility.
American President Barack Obama has condemned the Mali hotel siege, saying "these were innocent people who had everything to live for".
Meanwhile, the 28-year-old suspected ringleader of the Paris attacks, Abdelhamid Abaaoud, a Belgian of Moroccan origin, is believed to have travelled to Syria to join IS and be trained as an operative in Europe.
News that he and another attacker were able to slip back into Europe from Syria, despite being the subject of international arrest warrants, has raised fears jihadists are taking advantage of the migrant crisis to carry out attacks.
One of the suspected gunmen in the Paris attacks linked to Abaaoud, 26-year-old Brussels resident Salah Abdeslam, is still the subject of a huge international manhunt.
Additional reporting from AFP.