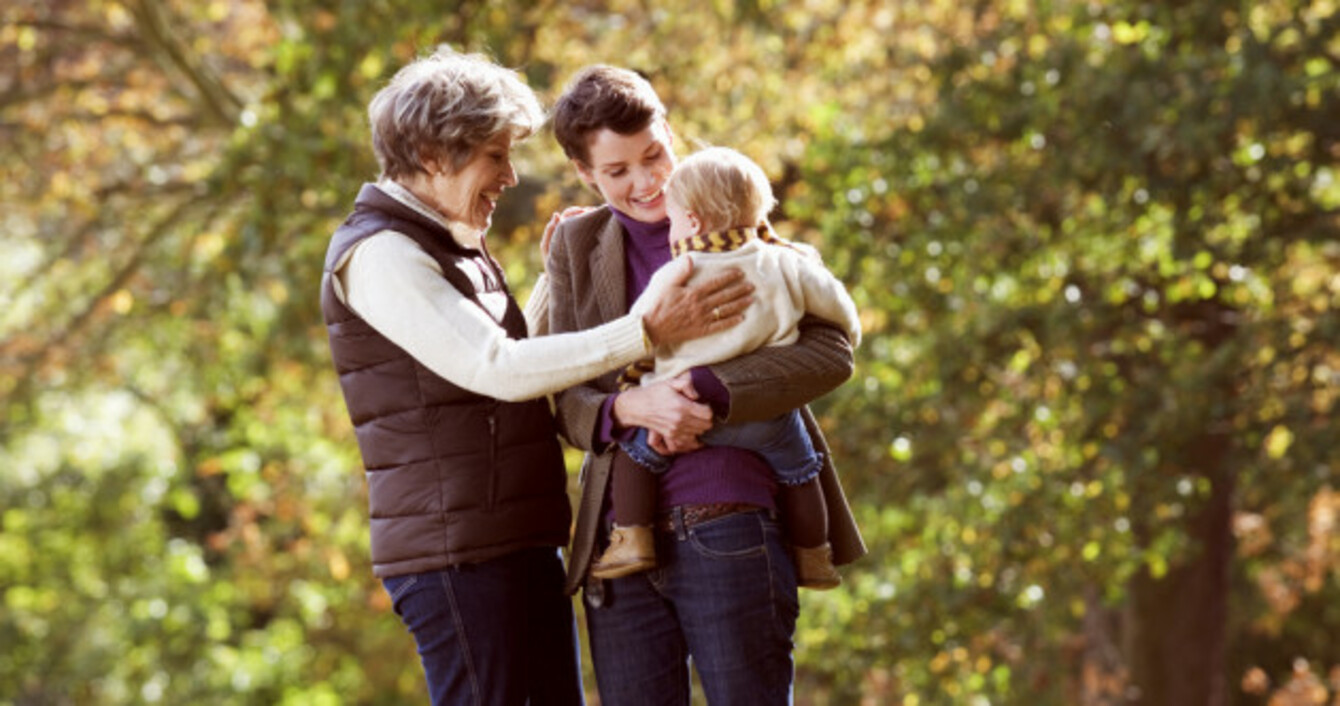 Image: Shutterstock/Air Images
Image: Shutterstock/Air Images
BECOMING A PARENT myself completely changed my relationship with my own mother.
We have always been extremely close. But when my children were born, an avalanche of feelings hit me like a train. It was like receiving a video of my life, through my mum's eyes.
Suddenly, the only person I wanted advice from was my own mum. To be fair to her, she played the whole 'mother advising mother' thing brilliantly, trying not to overstep, and allowing me to make my own mistakes, even though she knew – and still does know – exactly how it will end
Without my wise owl, the original Tiger Mother, giving me the framework to build my own family values, I don't think I'd be as confident a parent as I am today.
Here are just some of the lessons I've picked up from my own mum along the way…
1. Ask for help. Go on, do it
For people like me, who prefer to struggle on in martyrdom rather than admit to the world that we are having a hard time, asking for help is tantamount to giving up. But my mother has shown me again and again that it is essential to ask for advice and support.
2. No child has ever died from a Cornflake-only diet
One of my sons is an extremely fussy eater, and I find myself dissolving into extreme stress-mode when we're dining out. Last Sunday, my mum reminded me of my uncle, who "existed on Cornflakes and sausages until he was 17″ and my cousin who "ate only plain pasta for two decades". And sure weren't they both fine in the end?
3. Don't forget to laugh, even when the electricity goes
My Mum says that the greatest emotional release that a body can have is laughter, and she's right. Thanks to my mum, I always find time to laugh, even when things have been turned upside down… or when your house loses power for several days thanks to Storm Emma…
4. Who cares what the rest of the world thinks?
Since we were tiny, my mum has encouraged my brother, sister and me to chase our biggest dreams and never worry about other people's opinions. For three sensitive, creative children, this was the emotional comfort blanket we needed, and one I hope to pass onto my sons.
5. The kids are great – but so is your partner/co-parent
Yes, your children may be your sun, moon and stars, but if you're parenting with a partner or spouse, that relationship needs to be nurtured too. My mum constantly reminds me that my marriage is as important as my parenting.
6. Say thanks, and make sure your kids say it too
My mum was – and is – obsessed with table manners. Her favourite line was "if you know how to behave at my table, then you'll be comfortable sitting at any dinner table, anywhere in the world." Thanks to her, I can hold my own at the swankiest of dinners, and I force good manners on my kids too, despite their complaints.
7. Do one good deed a day
If you are kind to everyone, the world will be kind to you in return. It's a mantra in our family, and one that we all take very seriously.
8. And finally, the world starts again tomorrow
There are days, more often than I'd like to admit, where I feel like a complete failure as a parent. Maybe I shouted at the kids, or got too cross with them too really listen. My mum's usual reassuring words? "Put that behind you now, tomorrow is a fresh start."
Want to win a selection of treats from Lily O'Brien's worth €100, just in time for Mother's Day? Enter here - and don't forget to like the Family Magazine on Facebook and Twitter!