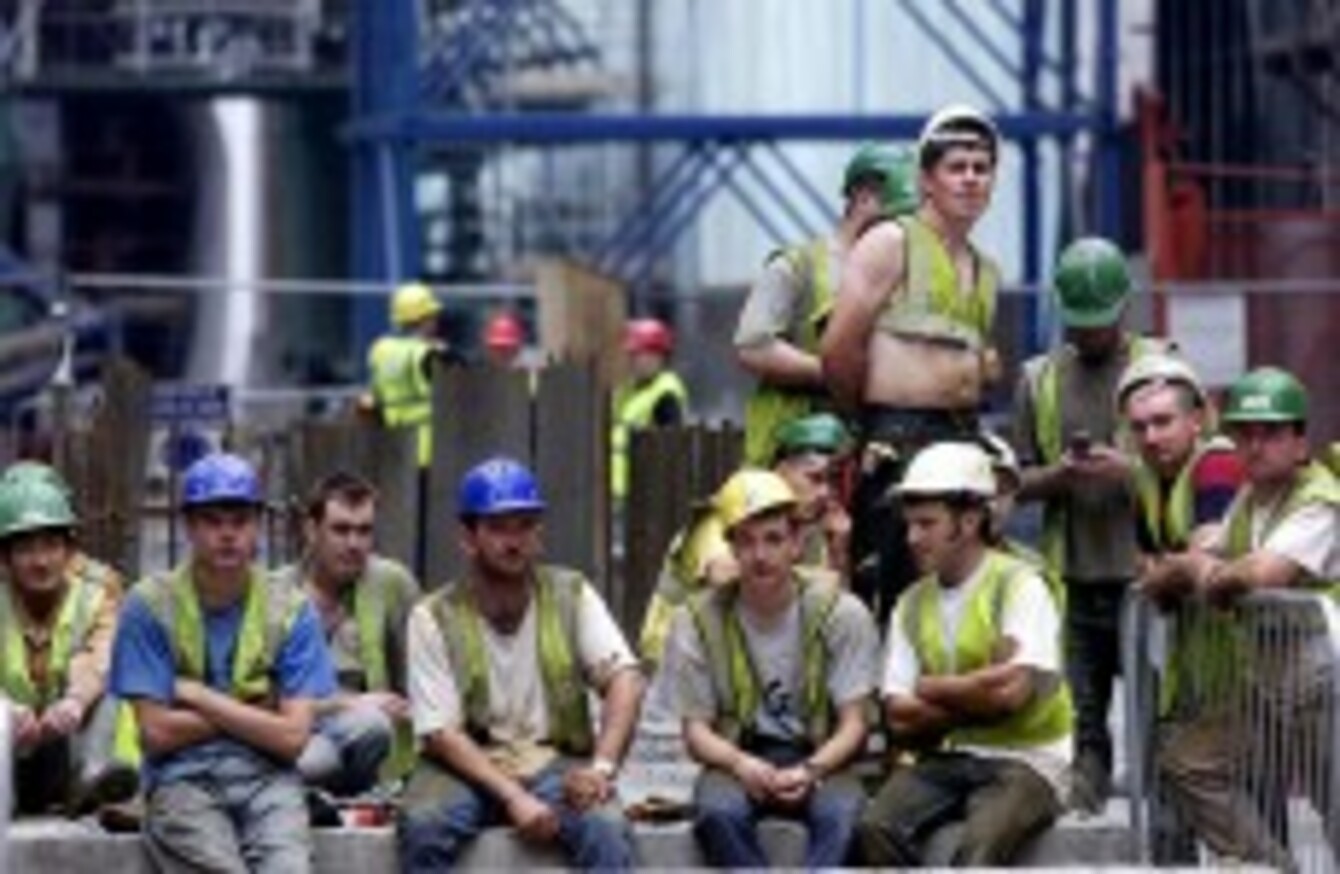 Construction workers at the Dublin Port Tunnel in 2006 (File photo)
Image: Julien Behal/PA Archive/Press Association Images
Construction workers at the Dublin Port Tunnel in 2006 (File photo)
Image: Julien Behal/PA Archive/Press Association Images
THOUSANDS OF UNEMPLOYED construction workers are to benefit from €35 million in aid being granted by a European Commission fund, it has been announced.
The Commission has announced it is to provide the assistance through the European Globalisation Adjustment Fund to help 5,987 redundant construction workers across Ireland to get back into employment.
The scheme will help the workers by providing them with training programmes at second and third level, occupational guidance, enterprise support as well as allowances and income support for training schemes.
It comes following three applications from Irish authorities for funding for over 9,000 workers made redundant from small and medium-sized businesses as a direct result of the financial and economic crisis and the fall in the property sector.
The Society of Chartered Surveyors Ireland estimates that 166,000 people have been made unemployed since the collapse in the construction industry.
Employment in the industry is said to have fallen to 105,000 now, from 271,000 in 2007 at the height of the property boom in Ireland.
Of the 9,089 workers the application covered, 5,987 of them who are seen as facing the greatest challenges getting back into employment will be covered under the scheme which will cost €55 million in total.
The government will provide the extra €20 million needed.
The funding is subject to approval by the European Parliament and the EU's Council of Ministers.
The announcement was welcomed by Labour MEP Pronsias De Rossa who said he was confident the funding would be secured "probably within six to eight weeks."
The Society of Chartered Surveyors Ireland also welcomed the announcement, pointing to a potential knock-on effect for the overall economy:
"This could also have a positive knock-on effect for the economy as it will enable unemployed construction workers to return to work and contribute to the economy by paying taxes or by possibly creating employment opportunities for others," Andrew Nugent from the Society said.