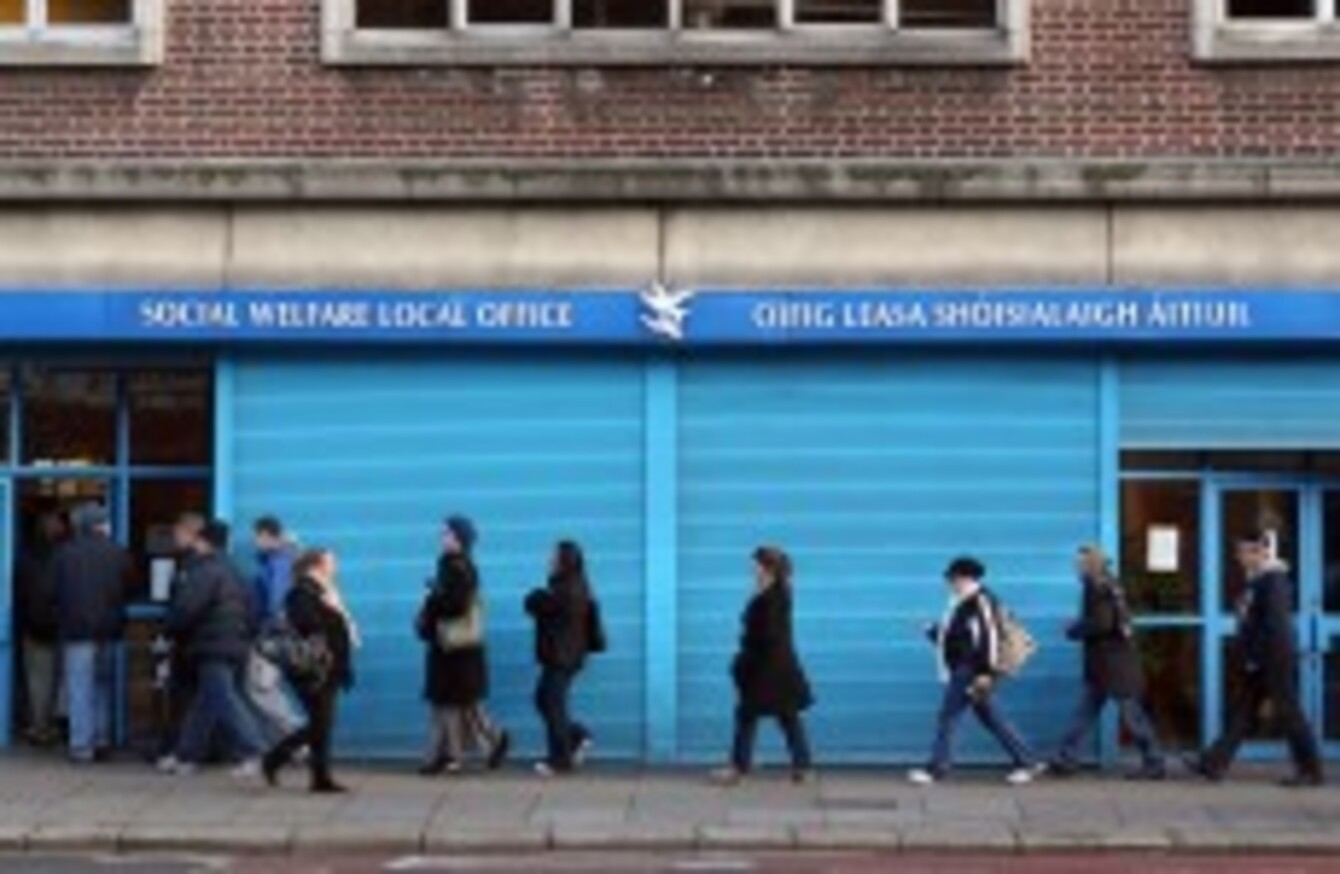 Image: Photocall Ireland
Image: Photocall Ireland
THE LATEST FIGURES show that the number of people on the Live Register in Ireland is down by 4.6 per cent in August 2013.
The Live Register total recorded a monthly (seasonally adjusted) decrease of 3,400 in August 2013, reducing the seasonally adjusted total to 415,300.
Seasonal adjustment means removing certain seasonal events and trends that could influence statistics, giving a better overall view of the live register figures.
In unadjusted terms there were 435,280 people signing on the Live Register in August 2013, representing an annual decrease of 20,976 (-4.6 per cent).
Features
In terms of gender, there was a monthly decrease of 3,000 males signing on in August 2013, while females decreased by 500.
The number of male claimants decreased by 20,182 (-7.0 per cent) to 266,443 over the year, while female claimants decreased by 794 (-0.5 per cent) to 168,837.
The number of long term claimants on the Live Register in August 2013 was 196,808, with a decrease of -4.8 in male claimants and -2.3 per cent in female claimants.
In August 2013, 54.8 per cent of all claimants were short term claimants – in August 2012, 55.8 per cent were.
There were 85,105 casual and part-time workers on the Live Register in August 2013, which represents 19.6 per cent of the Live Register. This compares with 19.1 per cent in 2012.
Age
In the year to August 2013 the number of people aged 25 and over on the Live Register decreased by 12,570 (-3.3 per cent), and the number of persons aged under 25 decreased by 8,406 (-10.5 per cent).
#Open journalism No news is bad news Support The Journal

Your contributions will help us continue to deliver the stories that are important to you

Support us now
The percentage of persons aged under 25 on the Live Register now stands at 16.5 per cent for August 2013,  down from 17.6 per cent in August 2012 and 18.9 per cent in August 2011.
There were 36,655 new registrants on the Live Register in August 2013 – 52.7 per cent (19,306) were male and and 47.3 per cent (17,349) were females.
Job creation
In response to the figures, ISME, the Irish Small and Medium Enterprises Association, warned that, despite a slight improvement in the figures, "job creation in the SME sector could be improved but continues to be restricted by an 'unfit-for-purpose' social welfare system and high business costs".
According to ISME Chief Executive, Mark Fielding, Ireland has a "dysfunctional and over generous social welfare system" which "is acting as a disincentive for employees to work, while employers cannot afford to match over-generous state handouts".
The Association called on the Government to immediately:
Overhaul the social welfare system to make it worthwhile for people to work.
Focus on cost-competitiveness.
Increase job-rich infrastructure investment.
Attack the scourge of ever-increasing black-market activity.
Address the lack of bank credit for productive SMEs.