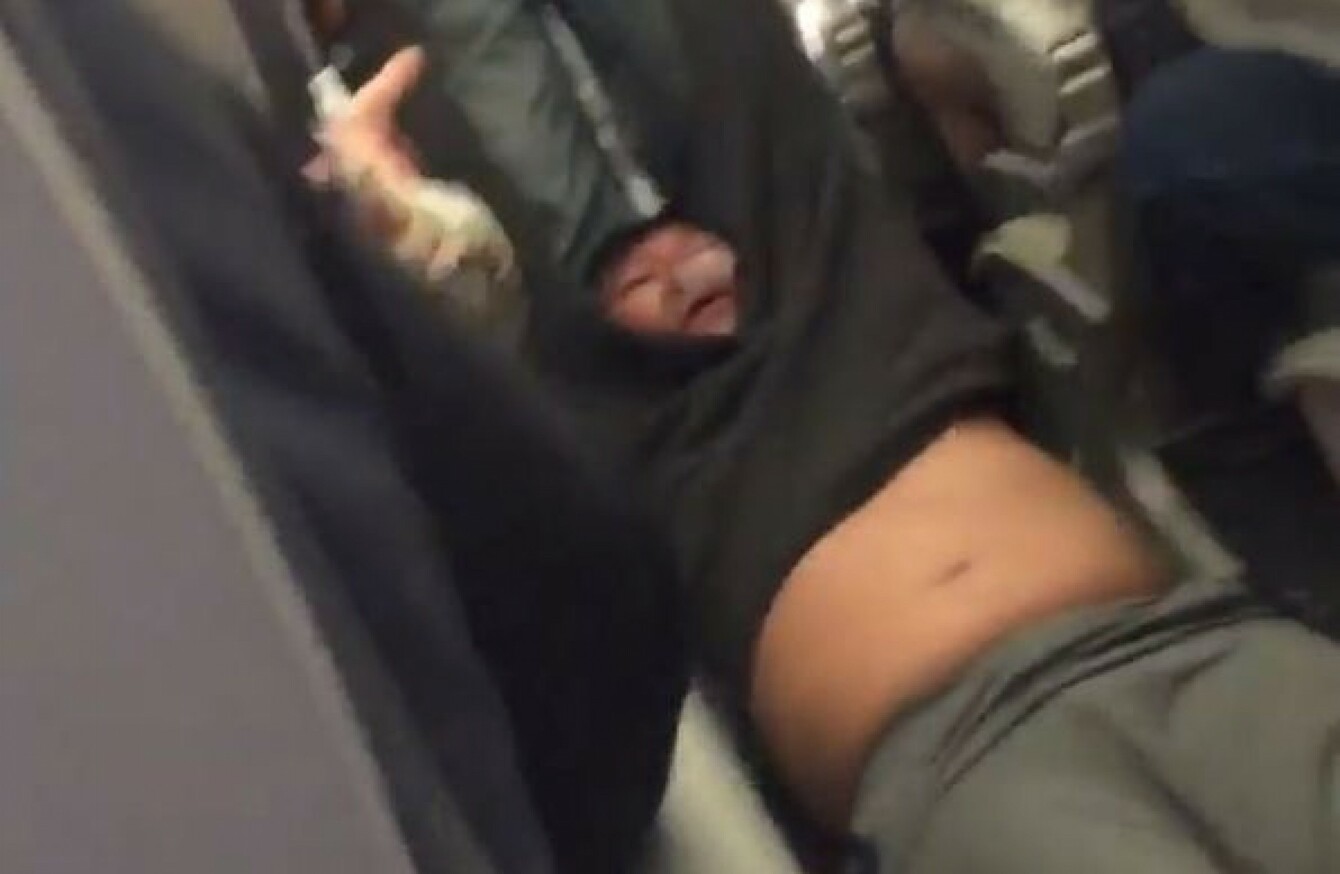 Image: Twitter
Image: Twitter
THE CHIEF EXECUTIVE of United Airlines has apologised again today for an incident in which a passenger was dragged off a plane, and promised a "thorough review" of the airline's practices.
Although CEO Oscar Munoz apologised for the incident yesterday, media reports from earlier today suggested that he'd emailed his staff telling them that they "followed established procedures" during the incident .
The passenger concerned, David Dao, aged 69, of Elizabethtown Kentucky was one of four involuntarily bumped off the overbooked Chicago to Louisville, Kentucky flight, and was the only one who refused to leave.
Passengers recorded video of three Chicago airport security officers confronting Dao, one officer grabbing him as he screamed and dragging him by his arms down the plane's isle.
According to the Associated Press, in a staff email CEO Munoz attempted to give employees "a clearer picture of what transpired", describing the passenger as "disruptive and belligerent".
As you will read, this situation was unfortunately compounded when one of the passengers we politely asked to deplane refused and it became necessary to contact Chicago Aviation Security Officers to help.
Our employees followed established procedures for dealing with situations like this. While I deeply regret this situation arose, I also emphatically stand behind all of you, and I want to commend you for continuing to go above and beyond to ensure we fly right.
I do, however, believe there are lessons we can learn from this experience, and we are taking a close look at the circumstances surrounding this incident. Treating our customers and each other with respect and dignity is at the core of who we are, and we must always remember this no matter how challenging the situation.
After US media published the company email, the CEO publically apologised again:
The truly horrific event that occurred on this flight has elicited many responses from all of us: outrage, anger, disappointment. I share all of those sentiments, and one above all: my deepest apologies for what happened.
Like you, I continue to be disturbed by what happened on this flight and I deeply apologise to the customer forcibly removed and to all the customers aboard. No one should ever be mistreated this way.
I want you to know that we take full responsibility and we will work to make it right.
"It's never too late to do the right thing. I have committed to our customers and our employees that we are going to fix what's broken so this never happens again."
He said that this would include a thorough review of crew movement, how oversold situations are handled and an examination of how they partner with airport authorities and local law enforcement.
The results of the review will be published by 30 April.
The US Department of Transportation promised to investigate the incident and the officer involved was placed on leave by Chicago's Department of Aviation.
With reporting from Associated Press and © – AFP, 2017