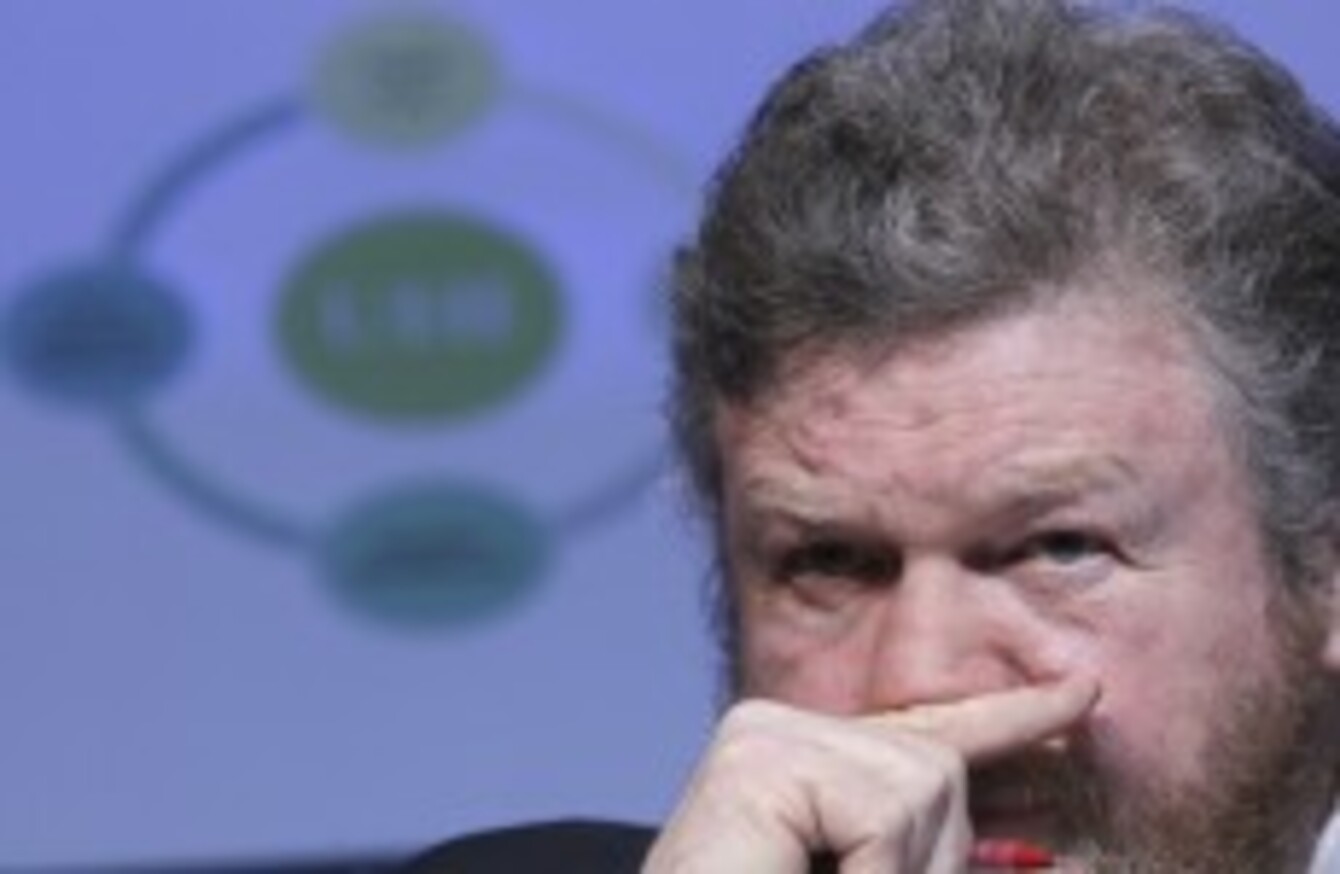 Image: Sam Boal/Photocall Ireland
Image: Sam Boal/Photocall Ireland
MINISTER JAMES REILLY today unveiled his ambitious plan for Universal Health Insurance in Ireland which will mean every man, woman and child will have health insurance – subsidised by the State.
A public consultation process on the package proposed today was also launched with Taoiseach Enda Kenny urging "as many people as possible" from health professionals to ordinary members of the public to have their say.
He described the process as a "very important step in informing people, in giving them the necessary details and comfort that they need to know what the change is going to mean for them in their lives".
The most important issue for the public is always going to be the cost of the package and the government has been criticised for failing to provide any estimates on this. In his media briefing today, Reilly said there was no way of knowing how much costs would amount or how high taxes would be in 2019 but gave the average €920 private health insurance premium in 2013 as an example.
He said that if all proposed UHI efficiencies were in place and this had been implemented last year, it would be likely that the average premium would have been lower than this amount. He also said average waiting lists would have been much lower and close to accepted standards in other European countries.
The winners
Under the plan, there will be three groups given different subsidies
Medical cardholders will be fully subsidised
Those who do not currently have insurance but are above the income threshold for a medical card will be partially subsidised
Anyone who already has health insurance will continue to receive a subsidy from the State
Reilly said he thinks the "winners" will be the people above medical card income but who can't afford insurance now as they will have free GP care and "access to timely care in our hospital system that wasn't prev available".
Under the current proposals, a person would be able to opt for lower premiums with greater payments when they do use healthcare services if they feel they do not need higher cover. Reilly said this option would be particularly attractive to younger people who previously decided not to invest in any insurance at all.
Consultation
TheJournal.ie asked the minister how effective he thought the public consultation process on this plan would be considering people have not been given a breakdown of exactly how much it would cost them or the State:
Source: Video TheJournal.ie/YouTube
He responded that the public would be consulted on the nature of the basket and how it can be implemented.
"I don't think it's possible to answer the question you've asked in terms of I can't predict what the cost is going to be…"
Reaction
Fianna Fáil Health Spokesperson Billy Kelleher was critical of the lack of costing in the proposals. He said his party "would be very concerned that assumptions that are in this document will mean that insurance will cost families an awful lot more in the years ahead".
The one thing you would expect from a government who for three years have been talking about this as a central plank of their policy is that they would actually have detailed costings in there so that we could have a discussion on it and society at large and people at large would know what health insurance would cost n view of the fact that this is going to be compulsory.
Sinn Féin's Caoimhghín Ó'Caoláin said a consultation of eight weeks is a "insult" and described the document was "fundamentally flawed". He also criticised the of the lack of information in the document about the basket of services that will come under UHI and which conditions would not be covered.
A series of fully costed options will be reviewed by the Oireachtas Health Committee next year after the public consultation process is over. Anyone who wishes to take part in the process can find information on the Department of Health's new website.