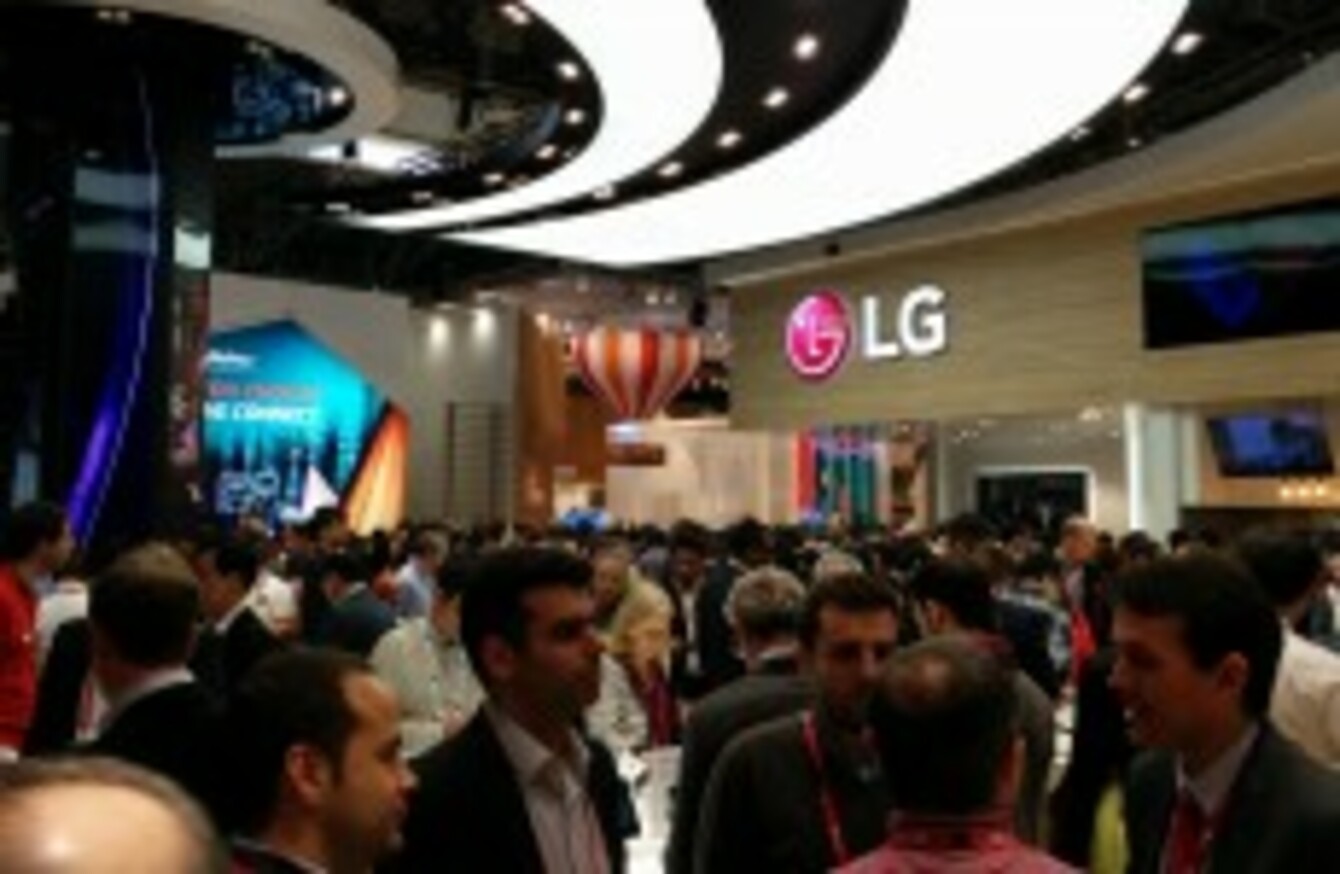 WITH ANOTHER YEAR done and dusted at Mobile World Congress, it's time to say goodbye to Barcelona and look forward to the numerous products that were revealed there.
Yet while we have our memories, it is a place where the weird, different and unusual appear, mainly in ways you don't expect.
The Mobile World Congress theme tune
Basically trying to recreate the magic of the Killers, but with branding. And hope. And buzzwords. And mobile.
It played before the start of every major talk that happened at the conference, making it the equivalent of those video ads you see when playing a freemium game (which does tie into mobile s0 maybe that's what they were going for).
Stands go the extra mile to grab your attention
And how they do it will depend on their budget. Most will hold competitions, many offer coffee, snacks and food (note: if you offer popcorn, the smell alone will attract people to your stand), but others go a step further.
One stand from Japan had two people decked out in full samurai and geisha gear. Others like ZTE had dancers moving to classic 90s hits (the classic Backstreet Boys' song 'Larger than Life' was one particular highlight), while others went for more traditional styles.
Source: The Journal Tech/Vine
One even gave you the opportunity to get a photo of yourself sitting on the Iron Throne (aka, a green screen where the Iron Throne was superimposed) while some offered robotics and VR experiences.
Source: The Journal Tech/Vine
While others went low-tech and decided to invest in air guitars (and mullets, especially mullets).
The thankless job that is walkway refreshments
Since there are eight halls (nine if you count the extra exhibition hall), the first floor is really a way to quickly access the different halls dotted around – and numerous travelators to help you out.
As you're walking along, you'll see numerous vendors dotted along the pathway selling refreshments, drinks, snacks and shots of espresso should you need a boost.
The way they're set up, holding out cans of coke or coffee top ups makes you feel like you're participating in an odd marathon.
The joy of finding offbeat products
Part of the fun of MWC (once you get over the continuous walking) is straying off the beaten track and seeing what else is out there. And when you do that, you'll be rewarded.
One we came across early on was a smart skipping rope from Tangram, a design firm from Seoul, Korea. Its smart rope is able to track your jumps, rotations and displays those stats in front of you by using LED embedded in the rope. Its Kickstarter reached its target of $60,000 recently should you be interested in getting one.
Source: The Journal Tech/Vine
Others like Snail, a Chinese games company that recently launched a mobile service in its home country, are releasing its own Android-based handheld and console, the former a cross between a smartphone and a PS Vita.
Alongside an upgradable console called the Obox, the handheld has both physical controls and touchscreen capabilities as well as eye-tracking, 3D display.
We got to see one game on both devices, Taichi Panda, a Diablo-style action-RPG, and with the brief time we got to play it on the Obox, it's is fun and easy to play.
And then you had products like FLIR One which turns your iPhone into a thermal imager. The main purpose is to give electricians a cheap way to spot problems in wiring, but it has other applications for DIY enthusiasts, helping you improve energy efficiency in your home by finding leaks for example.
If nothing else, you can use it to take selfies instead. Selfies are always a solid choice.
The quality of MCs
The quality of this tend to vary wildly from stand to stand, but all of them have one thing in common: to show you why you should be absolutely ecstatic about x product(s).
Some like Samsung would have polished presenters meticulously detailing every little feature, using every positive adjective in the dictionary that only a team of researchers and scriptwriters could have dreamt of. On the other end of the spectrum, you just have someone reading from a sheet.
Either way, the first day is full of enthusiasm and vigour but once you get to the fourth and final day, all life has been zapped out of them as they anxiously wait along with everyone else for the clock to strike four.
Terrible product trailers
They're everywhere and some are worse than others, but special mention must go to Huawei's which almost rivals Samsung's smartwatch ad for an utterly cringe-y experience.
During the press conference, there was some attempts to stifle laughter when the trailer for Huawei Watch appeared (a product that in all honesty, looks great). It tries a little too hard to convey a deep and meaningful message trailer and well, we won't spoilt it for you.
Source: Huawei Device/YouTube
And a bonus one, complete with clunky dialogue and delivery.
Source: Huawei Device/YouTube