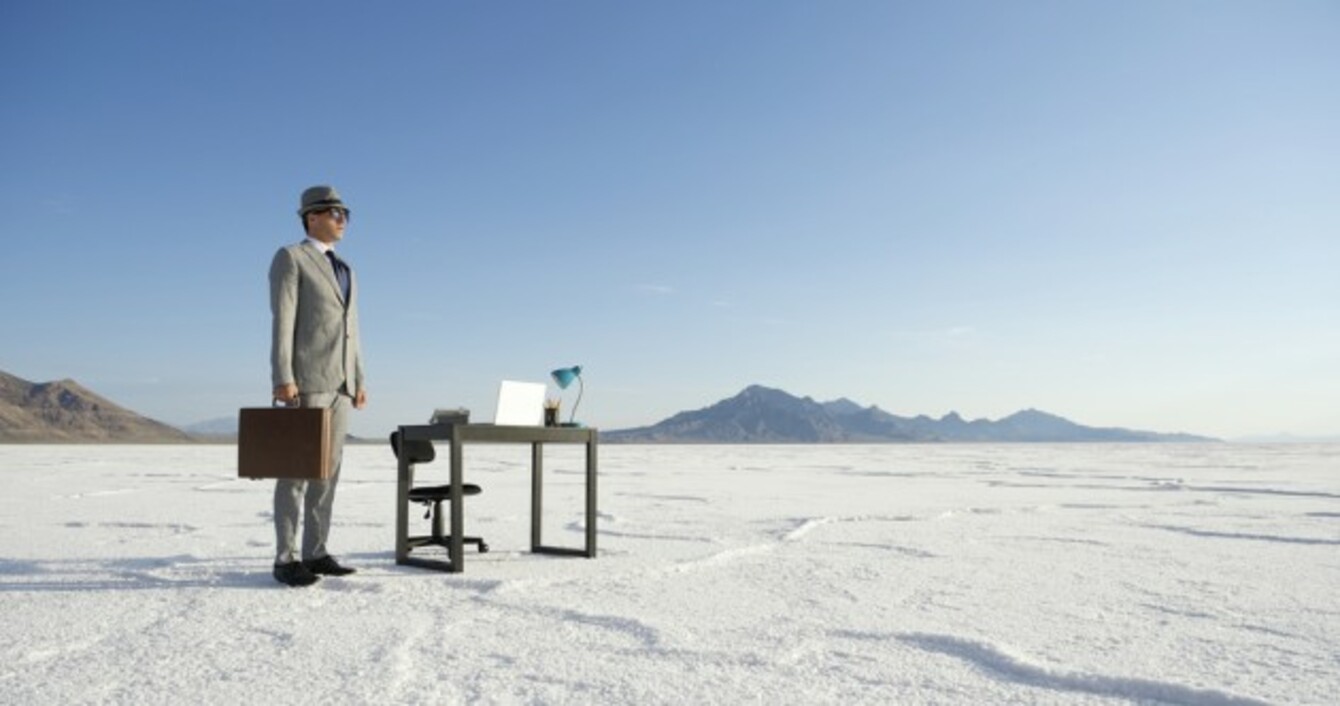 Image: Shutterstock/lazyllama
Image: Shutterstock/lazyllama
DEPENDING ON YOUR point-of-view, the near future could either be a utopia of people working how and when they choose – or the death of job security and everything that comes with it.
Welcome to the age of the freelancer, epitomised in Upwork – the globe's biggest marketplace for employers to hook up with workers.
"If you look at the average duration people stay in a job, 10 years ago people stayed 10 or 15 years in a job, 5 years ago people stayed 5 years in a job; right now the average is 2.5," the company's CEO, Stephane Kasriel, told TheJournal.ie at the Web Summit this week.
"You can totally see the emerging trend of people who don't want a full-time job, period. And the best people really don't, because they have a choice."
The jobs brokered through Upwork can be virtually anything, from bitsy tasks like transcribing interviews – the bane of many a journalist's existence – to being part of a multinational's team in what is essentially an outsourced, full-time role.
The rates are generally charged by the hour after freelancers pitch for a task and, in some cases, go through an interview process.
Unlike a traditional job market, however, the work is made available regardless of location, giving business access to skills which may be too expensive or simply unavailable in their region.
So a startup anywhere in Ireland can theoretically hire an app developer on another continent within a few hours to built a product.
For small businesses, often what they need is only a fraction of a person – they don't need a full-time accountant, or they can't afford a full-time data scientist, or they think they would never want to work for me," Kasriel said.
Billion-dollar market
The appetite for freelance work is reflected in some of the figures for the site, which was formed in a merger between Elance and oDesk in 2013 before the combined entity was rebranded as Upwork in May.
While the total value of jobs booked through the site is more than $1 billion (€933 million) annually, netting the company at least $100 million from its 10% commission, one of the main complaints about the platform is about how that work gets divvied up.
Only about 2% of the 5,000 people who signed up as new workers each day would ever get a job through the marketplace, Kasriel said, and an even smaller subset were destined to become "top-rated freelancers", who ended up earning most of the revenue.
But he spins that as a positive, adding that Upwork was "absolutely not" a place employers went to outsource jobs at the lowest-possible prices to wherever skills could be bought the cheapest.
"The best people tend to have alternatives, no matter where they live – if they are really, really good, they will be able to find another job.
What's in it for workers is to be in charge. Engineers who are 5 or 10 times better that their peers don't get paid 5 or 10 times better (in traditional roles), they might get paid 20% better – but when they are freelancing they are literally paid 5 to 10 times better."
#Open journalism No news is bad news Support The Journal

Your contributions will help us continue to deliver the stories that are important to you

Support us now
No amount of money
A recent survey of Upwork's top US-based freelancers found half wouldn't return to the traditional labour force at any price when they were asked how much money it would take to get them back in an office.
However the oversupply of workers meant the site's toughest task in continuing to grow, besides the competition from rival marketplaces like Freelancer.com, Toptal and a string of skills-specific sites, was convincing more employers to get on board.
Many of those who have tried hiring through Upwork and its predecessors have reported substandard work or the difficulty in finding the right people, as highlighted in a long-running Quora thread.
Kasriel said the company was focussed on reducing "friction" in the hiring process with streamlined communication systems, while also using data science to create a "Tinder for work" that enabled matches between employers and workers to be made more quickly.
Businesses like to be sold to, they are resistant to change and (what Upwork does) is disruptive … it is a harder sell and typically in most categories we are demand-constrained," he said.
Nevertheless, Kasriel believes web-based freelancing is coming into the mainstream as work became more flexible in every part of the jobs food chain.
"Now that there is this alternative … frankly the best people are killing it, they make way more money this way," he said.