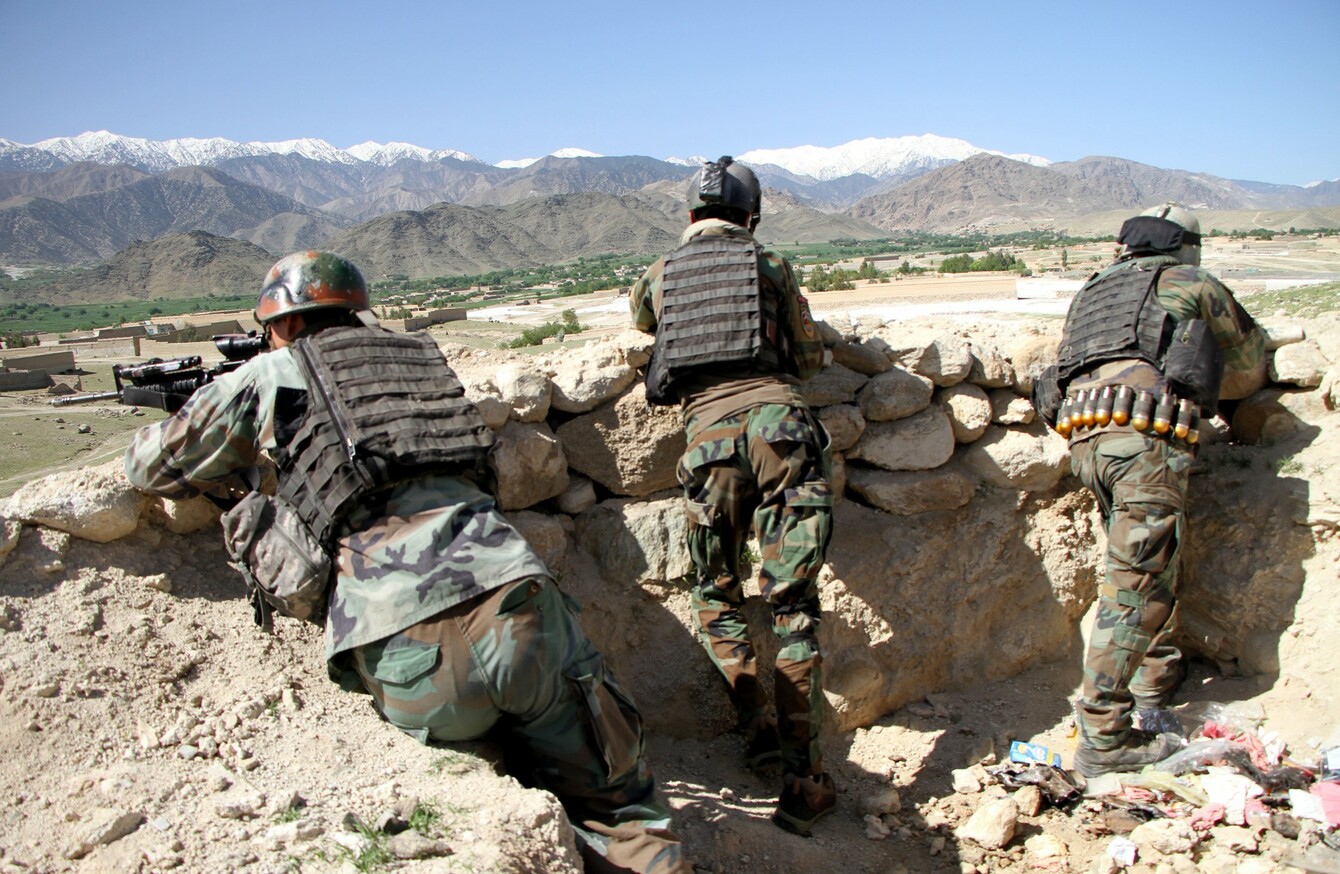 Image: SIPA USA/PA Images
Image: SIPA USA/PA Images
THE HEAD OF Islamic State in Afghanistan, described as the mastermind behind high-profile attacks including an assault on a military hospital that claimed at least 50 lives, has been killed, US and Afghan officials said.
Abdul Hasib, whose group is affiliated with IS in Iraq and Syria, was killed last month in a targeted raid by special forces in the eastern province of Nangarhar, the presidential palace in Kabul said in a statement.
The second leader of the jihadist group to be killed by US and Afghan forces in less than nine months, his death came days after Washington dropped its largest non-nuclear bomb on IS hideouts in the same area.
Analysts described him as "obscure", but authorities ascribed responsibility to him for assaults in Kabul, including the savage attack on a military hospital in March when assailants stabbed bedridden patients and threw grenades into crowded wards.
"He had ordered the attack" on the hospital, the presidential statement said, adding that Kabul will fight IS and other extremist groups "until they are annihilated".
NATO commander in Afghanistan General John Nicholson confirmed Hasib's killing and warned that "any ISIS member that comes to Afghanistan will meet the same fate".
"This is the second ISIS-K emir we have killed in nine months, along with dozens of their leaders and hundreds of their fighters," he added, using the acronym denoting the group's local affiliate, Islamic State Khorasan Province.
Assault
The first, Hafiz Saeed, was killed in a US airstrike also in Nangarhar province in July last year. Like Hasib, his death was seen as a setback, but not a mortal blow to the group.
NATO spokesman Captain Bill Salvin later elaborated on the raid, telling AFP: "There were women and children in the compound" where Hasib was killed.
"The assault force was able to safely separate the women and children from the combatants and there were no civilian casualties," he said.
Salvin added that "more than 500″ IS fighters have been killed since an offensive began against them in March, though he could not immediately provide an estimate on how many remain.
Kabul-based analyst Ahmad Saeedi said the killing was unlikely to affect the group in a dramatic way because he would be quickly replaced.
"Dozens of Daesh fighters have been killed in eastern Afghanistan, but it did not bring positive change," he said, using the Arabic acronym for the group.
Battlefield losses
First emerging in Afghanistan in 2015, the jihadist group overran large parts of Nangarhar and Kunar provinces, near the Pakistan border.
Their part in the Afghan conflict had been largely overshadowed by the much stronger Taliban.
But their profile grew as they claimed responsibility for a series of bloody attacks, notably in Kabul, including the hospital assault.
#Open journalism No news is bad news Support The Journal

Your contributions will help us continue to deliver the stories that are important to you

Support us now
According to the US Forces-Afghanistan, defections and recent battlefield losses have reduced the local IS presence from a peak of as many as 3,000 fighters to a maximum of 800.
There has still been no official word from NATO forces on the toll from the GBU-43/B Massive Ordnance Air Blast, dubbed the 'Mother of All Bombs', dropped in Nangarhar last month.
The blast killed at least 95 jihadists, according to the Afghan defence ministry, but NATO officials have said they are still assessing the damage. Journalists have been prevented from reaching the blast site, but Salvin said fighting was still ongoing in the area.
The attack triggered global shockwaves, as observers questioned the bomb's use against a militant group that is not considered as big a threat to Afghanistan as the Taliban.
The Pentagon will ask the White House next week to send thousands more troops to Afghanistan to break the deadlocked fight against the Taliban, a senior official said Thursday.
US troops in Afghanistan number about 8,400 today, and there are another 5,000 from NATO allies, who also mainly serve in an advisory capacity — a far cry from the US presence of more than 100,000 six years ago.
Two US commandos were killed in the raid that targeted Hasib in April. The Pentagon has said it is investigating whether they died as a result of "friendly fire".