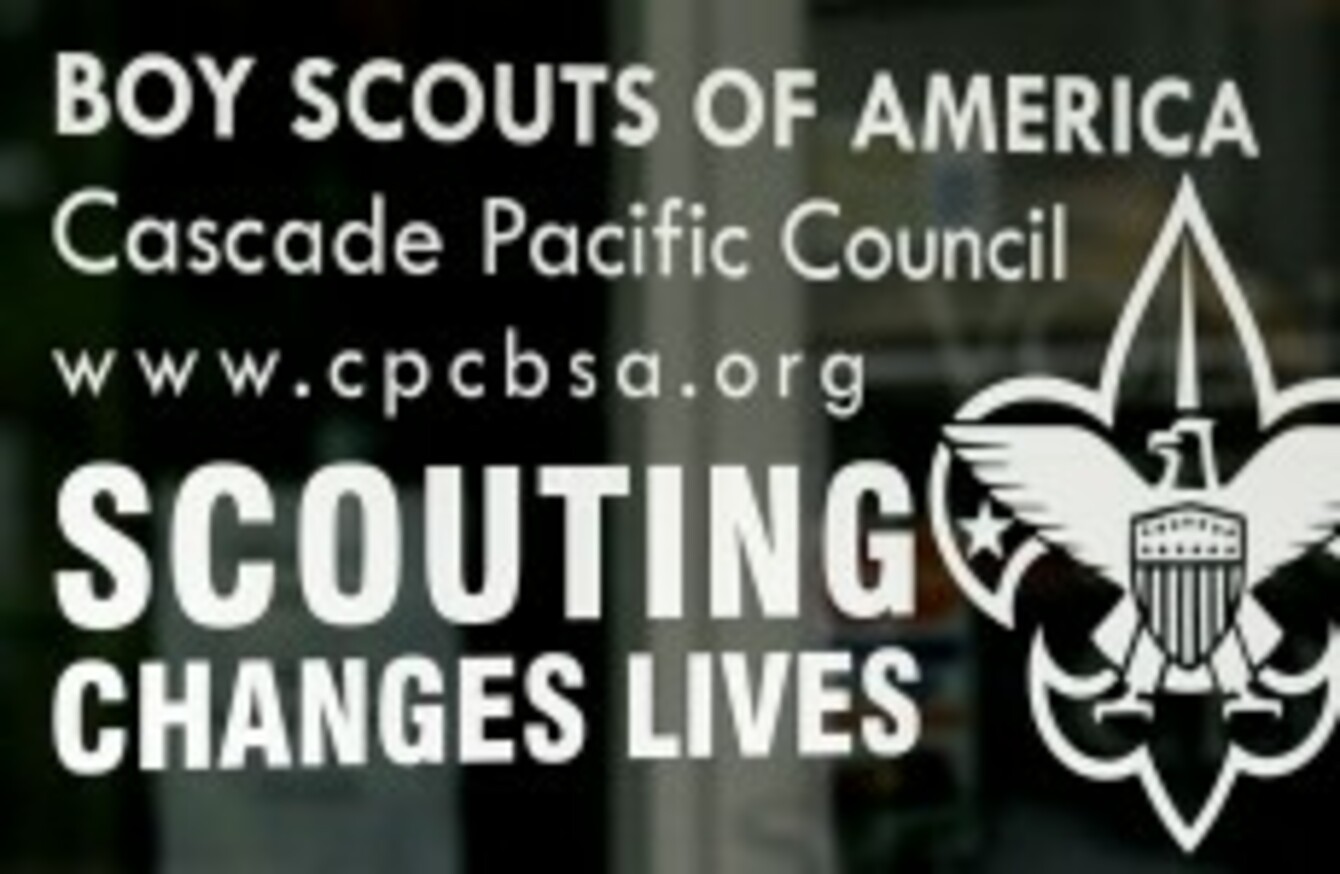 Image: AP Photo/Rick Bowmer/PA
Image: AP Photo/Rick Bowmer/PA
THE BOY SCOUTS of America has reaffirmed its position on excluding gay members and leaders, angering critics who hoped that relentless protest campaigns might lead to change.
The Scouts cited support from parents as a key reason for keeping the policy and expressed hope that the prolonged debate over it might now subside.
Bitter reactions from gay-rights activists suggested that result was unlikely.
The Scouts' national spokesman, Deron Smith, said that an 11-member special committee, formed discreetly by top Scout leaders in 2010, came to the conclusion that the exclusion policy "is absolutely the best policy" for the 102-year-old organization.
Unanimous conclusion
Smith said the committee, comprised of professional scout executives and adult volunteers, was unanimous in its conclusion — preserving a long-standing policy that was upheld by the U.S. Supreme Court in 2000 and has remained controversial ever since.
As a result of the committee's decision, the Scouts' national executive board will take no further action on a resolution submitted at its recent national conference asking for reconsideration of the membership policy.
The Scouts' chief executive, Bob Mazzuca, contended that most Scout families support the policy, which applies to both adult leaders and Scouts.
"The vast majority of the parents of youth we serve value their right to address issues of same-sex orientation within their family, with spiritual advisers and at the appropriate time and in the right setting," Mazzuca said. "We fully understand that no single policy will accommodate the many diverse views among our membership or society."
The president of the largest U.S. gay-rights group, Chad Griffin of the Human Rights Campaign, depicted the Scouts' decision as "a missed opportunity of colossal proportions":
With the country moving toward inclusion, the leaders of the Boy Scouts of America have instead sent a message to young people that only some of them are valued. They've chosen to teach division and intolerance.
Yesterday it was reported that a 19-year-old Eagle Scout had been sacked from his job at a summer camp in Missouri after he told the camp director that he was gay.
Diversity of perspectives and opinions
The Scouts did not identify the members of the special committee that studied the issue, but said in a statement that they represented "a diversity of perspectives and opinions."
The announcement suggests that hurdles may be high for a couple of members of the national executive board — Ernst & Young CEO James Turley and AT&T CEO Randall Stephenson — who have recently indicated they would try to work from within to change the membership policy. Both of their companies have been commended by gay-rights groups for gay-friendly employment policies.
Stephenson is on track to become president of the Scouts' national board in 2014, and will likely face continued pressure from gay-rights groups to try to end the exclusion policy. Asked for comment about the Scouts' decision to keep the policy, AT&T did not refer to Stephenson's situation specifically.
"We don't agree with every policy of every organization we support, nor would we expect them to agree with us on everything," the company said. "Our belief is that change at any organization must come from within to be successful and sustainable."
A statement from the executive committee of the Scouts' national executive board alluded to the Turley-Stephenson developments.
"Scouting believes that good people can personally disagree on this topic and still work together to achieve the life-changing benefits to youth through Scouting," the statement said. "While not all board members may personally agree with this policy, and may choose a different direction for their own organizations, BSA leadership agrees this is the best policy for the organization."
In a September 2011 issue of the Scouting Ireland publication Inside Out a report from the World Scouting Jamboree in Sweden on an event which offered LGBT members of the Scouts to share their experiences. The report stated that:
Some talked about big difficulties in their Scout lives, others thought it was fine to be queer in their environment. After some small discussion groups a vision was formulated make Scouting open for all, supportive of young people who find out that they are "different" and develop a network of contacts of different countries in order to share tools and support.
Scouting for All meanwhile quotes an Irish Scout leader as saying:
We don't discriminate. I wasn't aware of this anti-gay stance of US scouting. I was shocked to be honest. I thought Scouting was about teaching people that we are all the same and should be respected.
#Open journalism No news is bad news Support The Journal

Your contributions will help us continue to deliver the stories that are important to you

Support us now
Twitter has seen an outpouring of largely negative reaction towards the Boy Scouts of America stance, with comedian Rob Delaney tweeting:
Scouts Canada meanwhile moved to distance themselves from their neighbour's position:
Since 2000, the Boy Scouts have been targeted with numerous protest campaigns and run afoul of some local nondiscrimination laws because of the membership policy.
Eagle Scout Zach Wahls, an Iowa college student who was raised by lesbian mothers, said Tuesday's announcement didn't change his view that eventually the Scouts would relent under pressure from campaigns such as those that he and his allies have mounted.
"I'm sure they'll keep saying this until the day they decide to change the policy," said Wahls.
He contended that the committee review process should not have been kept secret:M
The very first value of the Scout Law is that a Scout is trustworthy. There is absolutely nothing trustworthy about unelected and unnamed committee members who are unwilling to take responsibility for their actions.
The Boy Scouts' policy stands in contrast to inclusive membership policies adopted by several other major youth organizations, including the Girl Scouts of the USA and Camp Fire.
- Additional reporting by AP