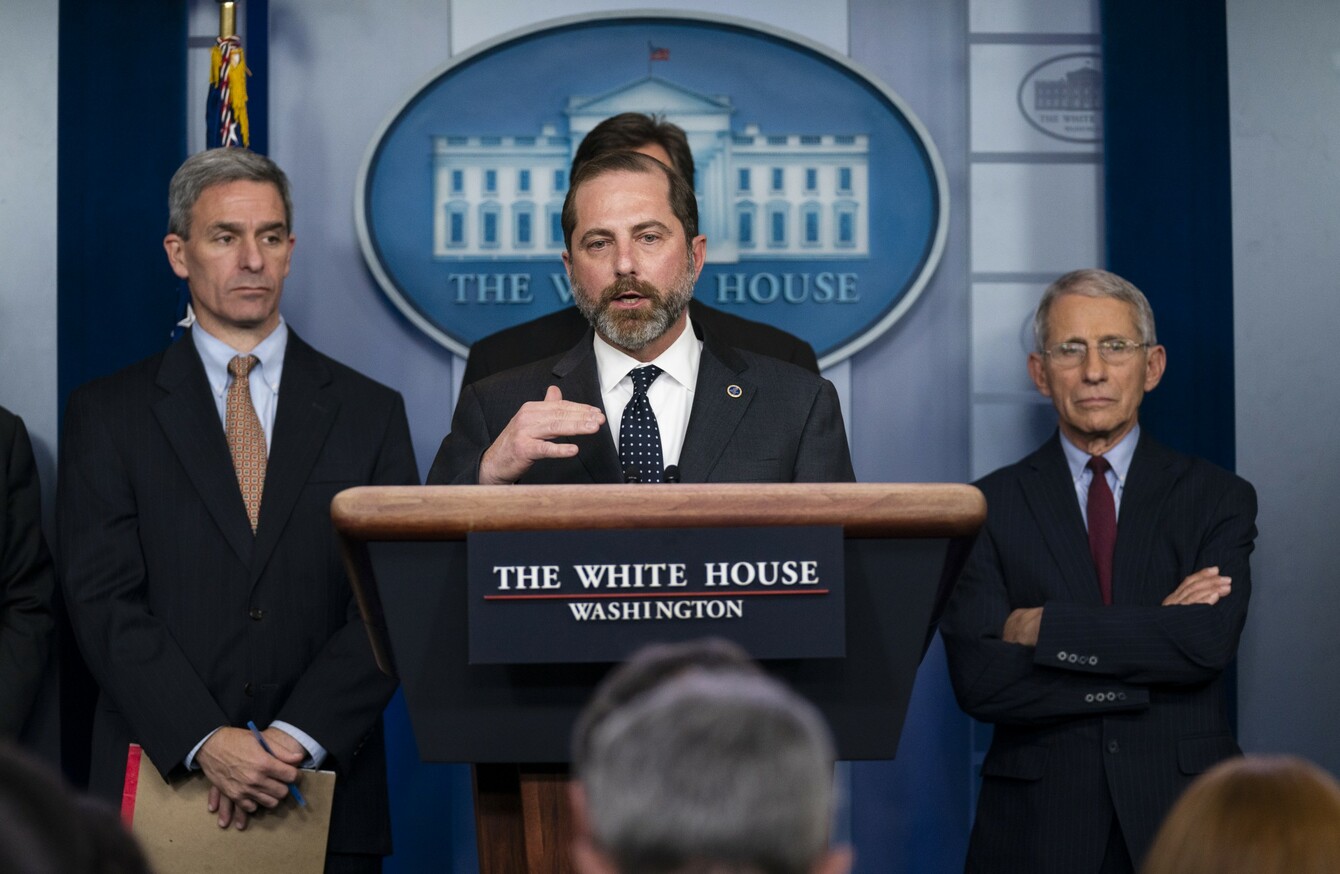 US Secretary of Health and Human Services Alex Azar
Image: Evan Vucci
US Secretary of Health and Human Services Alex Azar
Image: Evan Vucci
Updated Jan 31st 2020, 10:02 PM
THE UNITED STATES has declared a public health emergency because of the coronavirus which has hit China and has spread to other nations.
Health and Human Services Secretary Alex Azar also announced that President Donald Trump will temporarily bar entry to the US of foreign nationals believed to be a risk of transmitting the virus. The new restrictions will begin on Sunday afternoon.
"The risk of infection for Americans remains low and with these and our previous actions we are working to keep the risk low," Azar said.
Americans returning from Hubei province, the centre of the outbreak, will be required to undergo 14 days of quarantine.
Others returning from elsewhere in China will be allowed to self-monitor their condition for a similar period.
The US will also begin funnelling all flights from China to seven major airports where passengers can be screened for the illness.
The virus has infected almost 10,000 people globally in just two months, a troublesome sign that prompted the World Health Organisation to declare the outbreak a global emergency.
The death toll stood at 213, including 43 new fatalities, all in China.
The announcement came hours after the State Department issued a level 4 "Do Not Travel" advisory, the highest grade of warning, and told Americans in China to consider departing using commercial means.
"Travellers should be prepared for travel restrictions to be put into effect with little or no advance notice," the advisory said.
Growing panic
China said today it planned to send charter planes to bring back Hubei residents who are now abroad, citing the "practical difficulties" that they have encountered overseas. Those from Wuhan will be returned to their quarantined city, the foreign ministry said.
The US reported its first case of person-to-person transmission of the virus on American soil – a man in Chicago who got it from his wife, who had travelled to Wuhan.
In a sign of growing global fears, more than 6,000 tourists were temporarily confined aboard their cruise ship at an Italian port after two Chinese passengers fell ill. They later tested negative for the coronavirus.
And a pilot union in the United States sued American Airlines to demand it halt all flights to China.
Death toll grows
China has taken extreme steps to stop the spread of the virus, including effectively quarantining more than 50 million people in Wuhan and surrounding Hubei province.
But the number of new deaths and cases continues to swell.
The death toll was hiked today to 213 after 43 new deaths, all but one in Hubei. Most deaths have been elderly people.
China's National Health Commission also said today that 1,982 new cases had been confirmed, bringing the total to 9,692.
That exceeds the 8,096 cases from SARS (Severe Acute Respiratory Syndrome) a similar pathogen that spread to more than two dozen countries in 2002-03, and killed 774 people, mostly in China and Hong Kong.
Another 102,000 people are under medical observation in China with possible coronavirus symptoms.
The new virus is believed to have emerged in a Wuhan market that sold wild game, and spread by a Lunar New Year holiday season in which hundreds of millions of Chinese travel domestically or abroad.
China has suspended school nationwide and extended the Lunar New Year holiday in an effort to limit people travelling.
With reporting from - © AFP 2020