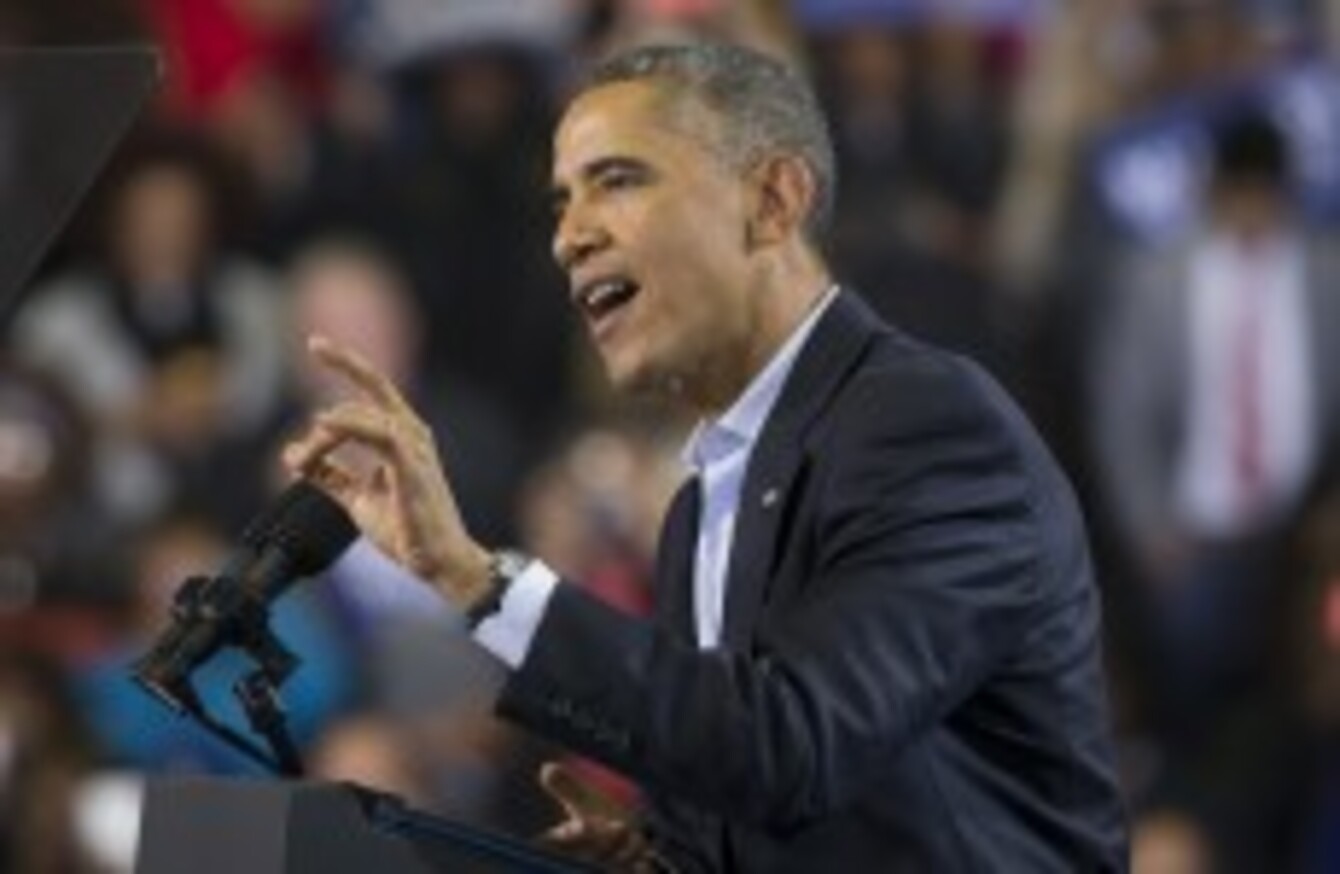 Image: AP/Press Association Images
Image: AP/Press Association Images
WITHIN THE NEXT few hours, Americans will begin waking up and start voting.
Across the country, in 36 Senate races and 435 House races, Americans will decide who controls their legislature for at least the next two years.
While the executive function of the President will remain with Barack Obama until 2016, losing control of at least half of congress would be a major blow.
The problem that Obama faces is that that scenario is looking increasingly likely.
Combined polls from six leading polling sites – FiveThirtyEight, Princeton Election Consortium, Daily Kos, The Washington Post, Huffington Post and The New York Times - give the Republican Party an average of 76% chance of retaking the Senate.
In all, 92 seats are either not up for grabs or all but safe for either party. That leaves just eight Senate races up for grabs tonight along with the most weighted poll prediction.
They are:
New Hampshire (D +7)
North Carolina (D +3)
Kansas (R +1)
Georgia (R +2)
Alaska (R +2)
Iowa (D +1)
Colorado (R +1)
Louisiana (R +2)
It's the economy, stupid
The Democratic slump comes largely down to one thing: the economy.
While Obama has been criticised for his record on war, healthcare and veterans affairs, it is the economy that is driving people to the polls.
A CNN/ORC poll this week showed that Democratic voters feel the economy is performing well by a margin of 58-42.
With unemployment falling, GDP growing and the stock market performing well, that is a reasonable outlook.
However, for many the real economy is felt in their pockets and personal income growth has been sluggish and long-term unemployment has been slow to fall.
That means that 68% of independent voters and 76% of Republican voters feel the economy is performing poorly.
Allied to that, Republicans are more trusted on:
Terrorism
The federal budget
The economy
Foreign policy
Immigration
Commander in hiding
Because Obama has just a 41% approval rating and he is a lightning rod for criticism of his party, he has been largely unseen on the campaign trail this year.
In three of the key races, Obama's approval is below 40% and candidates are actively trying to outline the difference between themselves and the President.
Source: GlobalSunTimes/YouTube
That means that much of the campaigning leg work has been done by the Clintons, Vice President Joe Biden and First Lady Michelle Obama, as the Democrats attempt to shield both candidates and the last two years of the Obama Administration from the blowback of today.
Silver Linings Playbook
If there is a silver lining for Obama, it can be found in 2012. While Democrats were tipped to perform strongly, their complete shellacking of the Republicans was something of a shock.
Polls then underestimated the number of Democratic voters, something that has happened every year since 2008. If, and it is a big if, the Democrats get the rub of the green, 2% in some states, then they may just hang on to the Senate.
What happens next?
If, as expected, the Republicans take Congress, what next?
Brett Logiurato of Business Insider says:
With an eye toward the 2016 presidential election, Republican leaders in the House and Senate will look to move forward GOP legislative priorities popular with the American public and could earn an ample number of Democratic votes to send to President Barack Obama's desk.
These include corporate tax reform, a massive oil pipeline from Canada and chipping away at Obamacare.
Obama, pressed by a hostile Congress will likely take an executive action to force through reform of immigration.
Because of the technicalities of Congress, losing tonight could mean that Obama could struggle to enact most of his legislative agenda, meaning the stakes have never been higher.