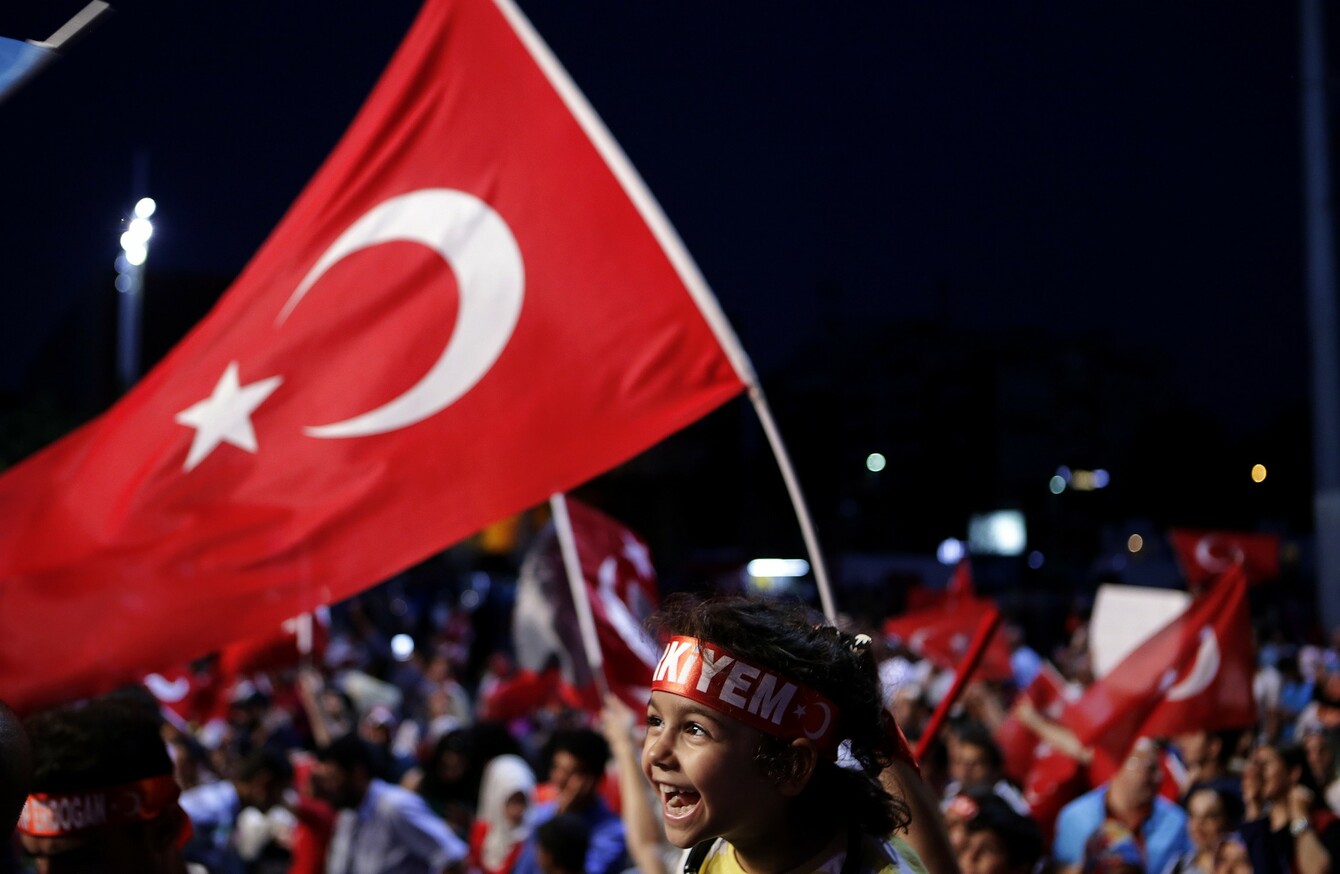 Image: AP/Press Association Images
Image: AP/Press Association Images
THE UNITED STATES' ambassador to Turkey has again said his country played no rule in last month's failed coup attempt, showing exasperation with persistent accusations to the contrary.
"I just want to say again, as I've said before and as we've said from Washington, the United States government did not plan, direct, support or have any advance knowledge of any of the illegal activities that occurred the night of 15 July and into 16 July. Full stop," US ambassador John Bass said in remarks published in English daily Hurriyet Daily News.
He added that he was "deeply disturbed and offended by the accusations" targeting his country.
The 15 July military action blamed by Ankara on US-based Muslim cleric Fethullah Gulen has rattled Turkey's relations with the United States, with Ankara warning Washington that ties will suffer if it fails to extradite Pennsylvania-based Gulen.
Erdogan has also described the failed military action as a "scenario written from outside" in an allusion to foreign involvement.
Shortly after the coup attempt, Labour Minister Suleyman Soylu went even further to say "the United States is behind the coup."
And this week, Turkey's former army chief, Ilker Basbug, claimed that the US Central Intelligence Agency (CIA) was also behind it.
"Frankly, if we would have had knowledge we would have told the Turkish government about it immediately," Bass said.

US wants to see 'strong' Turkey
He said the US wants to see a "strong, prosperous, democratic, confident Turkey.
"Anyone who thinks that the United States somehow profits from Turkey being divided and destabilised I think is misreading history to a profound degree."
Bass on 18 July rebutted claims his country supported the putsch as "untrue" and "harmful."
Meanwhile, a US citizen of Turkish origin was arrested in southern Hatay province as part of a probe into the failed coup, state-run Anadolu news agency reported yesterday, quoting a local governor.
Acting on a tip-off that he was a member of Gulen movement, police detained 36-year-old Serkan Golge, who said he was visiting his family in Hatay, governor Ercan Topaca said.
He was later remanded in custody by a local court.
The governor added that Golge studied at a Gulen-linked school in Turkey and then moved to the United States for higher education and worked at NASA.
- © AFP 2016.