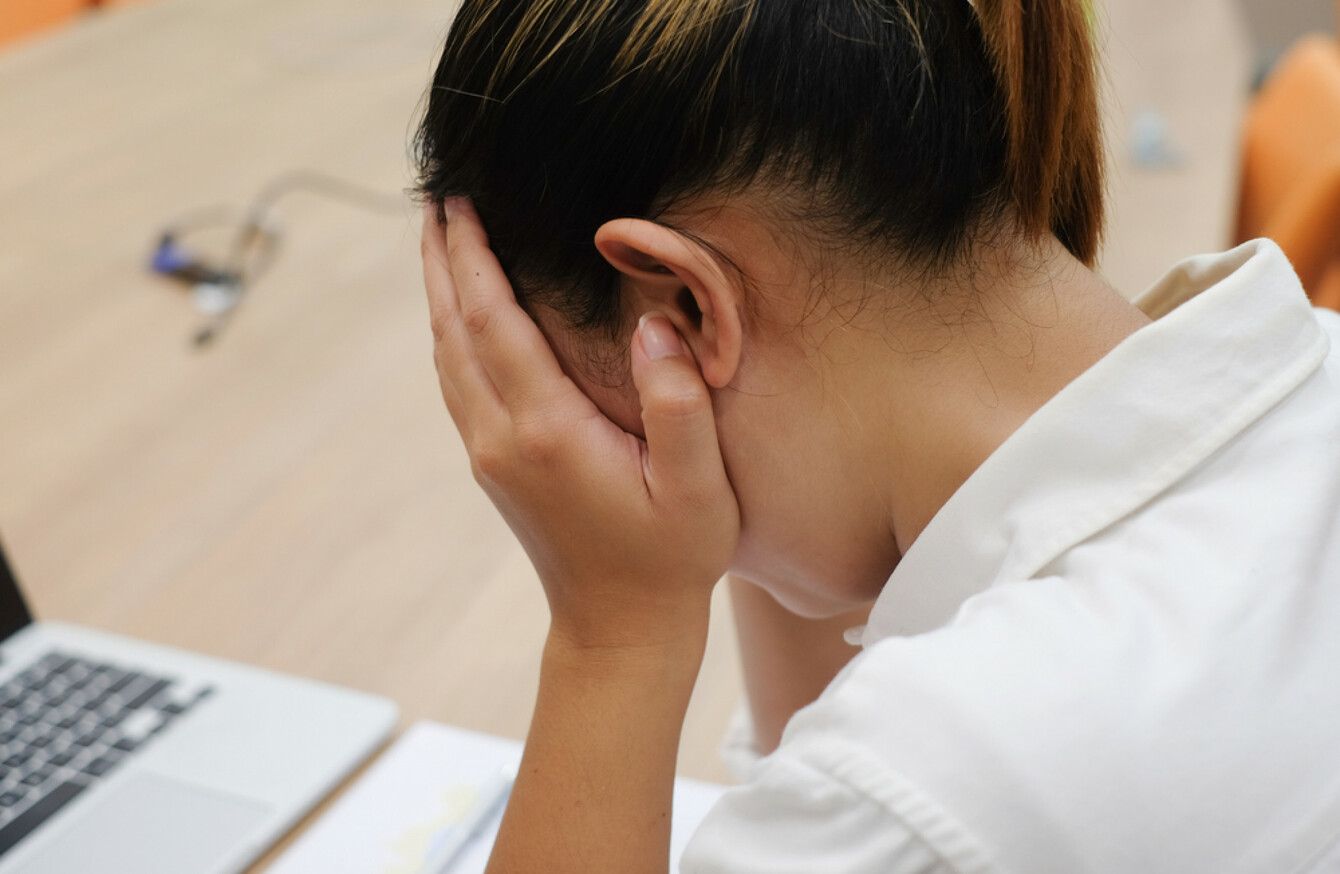 Image: Chainarong06 via Shutterstock
Image: Chainarong06 via Shutterstock
NURSES WHO TRAINED in the US and have years of professional experience are being denied access to work in Irish hospitals – despite a huge staffing shortage.
According to HSE annual report figures for 2016, nursing staffing levels have fallen by more than 3,000 since 2007 and the HSE has committed to increasing the nursing and midwifery workforce to deliver 1,208 additional permanent posts this year.
However, TheJournal.ie has heard from a number of nurses trained in the US who described being refused registration to work here because they were told they didn't have the correct amount of clinical and theory hours from their studies – even though they have been working as professionals for years.
There are 65,000 nurses in Ireland: 51,000 are Irish, 4,600 are from India and 4,265 are from the Philippines, but only 270 are from the United States.
Rebecca Love, a professor at the School of Nursing Northeastern University and founder of American nurse recruitment website HireNurses.com, says she has been in touch with more than 5,000 American nurses who have shown an interest in working in Ireland since last year.
She says of those nurses actively seeking employment, many qualified in the US so are unable to register for work here despite Irish hospitals wanting to employ them.
TheJournal.ie has heard from more than a dozen nurses who say that the difference in their clinical and theory hours from their degree is the reason they have been refused or told to take an adaptation course. They also said that they were not told this information until after they applied – at a cost of €425 – even though it is a well-known issue.
Love said she has spent hours researching, calculating and reviewing the transcripts and documents of American nurses and she claims that nurses with a BSN (bachelor of science in nursing) from the US do have the correct theory and clinical hours needed.
I believe that there has been a severe misunderstanding and miscalculation of American credit hours to clock hours that may have wrongly denied American nurses access to a nursing license in Ireland.
Adaptation courses 
The Nursing and Midwifery Board of Ireland (NMBI) is responsible for evaluating overseas applications from nurses and midwives who want to work in Ireland.
Some applicants will receive a flat refusal from the NNBI but others will be encouraged to take adaptation courses to 'make up hours'.
The board told this website that "when overseas applicants do not have the required hours for registration, applications are refused or, if they fall slightly below, they may be offered adaptation/aptitude tests to support an application for registration".
The only aptitude test available in Ireland is run by the Royal College of Surgeons at a cost of €2,800 per test.
According to NMBI standards, a minimum of 1,533 theoretical hours and 2,300 clinical hours are required for registration.
The NMBI provide nurses who have been told to do the adaptation course or aptitude test a list of NMBI-approved hospitals that can provide them, but they don't give contact information or even tell nurses which hospitals are currently carrying out the courses.
The nurses we spoke to said they were unable to find any hospitals that were carrying out these adaptation courses.
The NMBI says it has no role in organising placements and it's up to individual hospitals to run them at their discretion.
This website contacted the HSE to ask how many of its 21 hospitals – that are on the list the NMBI provides to nurses – are actually carrying out these courses. It said:
The HSE does not centrally monitor programmes provided by hospitals for their own new recruits.
The only other option for these nurses is a two-day aptitude test with the Royal College of Surgeons which costs €2,800. The expensive aptitude test only goes ahead if the college has at least 20 applications and US nurses who want to move here can't pre-book a test.
The NMBI also imposes a deadline for overseas nurses told to find an adaptation course or pay for an aptitude test. It says:
"A decision letter recommending adaptation/aptitude test is valid for 12 months after the date of decision. If the process has not been completed and NMBI has not had any contact from the applicant for six months, the file is closed."
George Russell, a director at Irish healthcare recruiting firm Epic World jobs, is currently dealing with a number of US nurses who are trying to get registered to work in Ireland.
Speaking to TheJournal.ie, he said:
Currently I'm working with more than 300 nurses and can get any amount of American nurses if the obstacles at NMBI were out of the way.
Ireland is very high on their radar and with over three million nurses registered in the US, Ireland's nursing crisis would be eclipsed by the amount of American nurses that have a desire to work here.
"I think adaptation is a much better idea than taking the RCSI aptitude test. Many foreign nurses wanting to come here are unable to afford the test. It's a deterrent.
I think the HSE should have its own centralised adaptation programme – it would make the process for candidates more fluid.
"Nurses are going to have to do orientation wherever they are hired and learn how things are done. I think that adaptation would help teach them how things are done here before they even start their new jobs. It would probably give them a leg up on adapting to their units."
Where are the courses?
When asked which hospitals currently have available placements, a spokesperson for the NMBI said:
It is at the discretion of the approved health care facilities as to how they manage adaptation placements and queries regarding the numbers currently on placement in each facility should be directed to those institutions. NMBI has no role in organising placements.
However, as was already stated, the HSE does not monitor the programmes being provided by the hospitals.
TheJournal.ie directly contacted 21 HSE hospitals which the NMBI lists and asked if they were currently carrying out adaptation courses. Of the 21 only two replied; the Department of Psychiatry in Drogheda and Tallaght Hospital.
A spokesperson for Tallaght Hospital pointed us to information supplied on its website which states: "You apply to a nursing home for a position as a registered nurse, informing them you have a decision letter from NMBI and need to be assessed for registration. If you are successful in gaining a contract with the nursing home, they then sponsor you to undertake adaptation and assessment."
The spokesperson for Drogheda Department of Psychiatry said adaptation placements are facilitated "pending the availability of clinical placements and nurse practice development coordinator as the under graduate nursing programme is also facilitated".
Speaking about her experience of the process, a nurse who trained and worked in the US for nine years but has recently moved back to Ireland told TheJournal.ie:
None of the hospitals actually offer the adaptation course though they are approved to run them. From what I have found out, the Dublin hospitals will run them for people they have recruited in but I (and other nurses I have talked to) have yet to find other hospitals running them.
"The only adaptation classes I have heard of are either through agencies or if you have contracted to a private nursing home. Both of these scenarios mean you contract to either the agency or nursing home for two years.
Every hospital I called, including the hospital who wanted to hire me, said they cannot do the adaptation.
The HSE told TheJournal.ie that, "Most sites provide the period of adaptation and assessment to candidates whom they have offered employment (subject to successful completion and registration).
The HSE also provides the adaptation and assessment programmes for candidates who have been offered employment within the private nursing home sector.
The HSE said that 25 candidates who were offered employment within the private nursing home sector undertook adaptation and assessment in four programmes last year.
#Open journalism No news is bad news Support The Journal

Your contributions will help us continue to deliver the stories that are important to you

Support us now
So far this year 10 candidates who were offered employment within the private nursing home sector undertook adaptation in two programmes.
'Lack of help'
The Department of Health also encourages these adaptation courses to nurses with years of professional experience but who are lacking in college hours.
Mary Taaffe left Ireland for the US in 1989 and has been working as a nurse with a BA Degree in nursing since 2000. She has been employed in a hospital ICU and ER since 2012. She applied to the NMBI in January 2016 but was denied because it said she didn't have the correct theory and clinical hours.
Taffe said she spent €425 ($479) for her first application. She was then told time had run out after a year and then paid another €355 ($400) and a further €133 ($150) to appeal. She said:
Nurses from the US are sending money to an organisation that has no intention of registering them, and this has been going on for years.
After complaining to Minister for Health Simon Harris's office, a department spokesperson sent a letter to Taaffe describing the benefits of adaptation courses.
It may be of interest to you to note that of the 283 US-trained nurses and the 152 nurses who trained in Australia and who are now registered with the NMBI, the vast majority had to undertake and successfully complete either an adaptation course or an aptitude test as a pre-requisite to registration.
TheJournal.ie contacted the Department of Health asking if it was aware that many nurses cannot find hospitals that are carrying out the adaptation courses and if there are any plans to improve the registration services for overseas nurses trying to get registered to work here.
In a statement it said: "Resourcing and recruitment issues in the clinical environment are outside the NMBI's statutory remit and NMBI has no regulatory role in organising adaptation placements."
Many nurses who trained in the US aren't even offered the adaptation programme as their clinical and theory hours are deemed to be too low.
One American woman who worked as a nurse for seven years told TheJournal.ie that she was told by the NMBI to complete another nursing degree here in Ireland.
She added that her emails were nearly always returned by an out of office, saying that the individual she was mailing was on leave. She described the lack of help and guidance from the NMBI as "just unbelievable".
This is an issue that was described to TheJournal.ie previously, with another nurse saying: "The delay in response from NMBI each time I submitted additional documents or communications was extensive — many weeks to months each time."
When asked about this, a spokesperson for the Department of Health said: "If an applicant who has experienced an unanswered call or email provides details to the NMBI the matter will be investigated."
Another nurse who trained in the US, has a Masters Degree in Nursing and 30 years experience in critical care and primarily cardiothoracic ICU told this website that she has been "led on a merry dance with NMBI since 2014″.
Nobody believes me when I tell them I cannot get registration as they are so many 'foreign-trained' nurses in our local hospitals.
Of the 247 US applications received since 2013, less than 10% (24) were registered and 77 were refused.
Just nine US nurses were registered last year, despite the NMBI dealing with 101 applications from the US. The NMBI also noted that some of the registrations may be from applications from the previous year.
TheJournal.ie asked the NMBI what the number one reason for US applications being refused registration is, but none was given.
This comes at a time when the HSE says it's implementing a "a broad range of retention measures" to get nurses to stay in Ireland and hospitals are spending thousands on overseas recruitment drives.