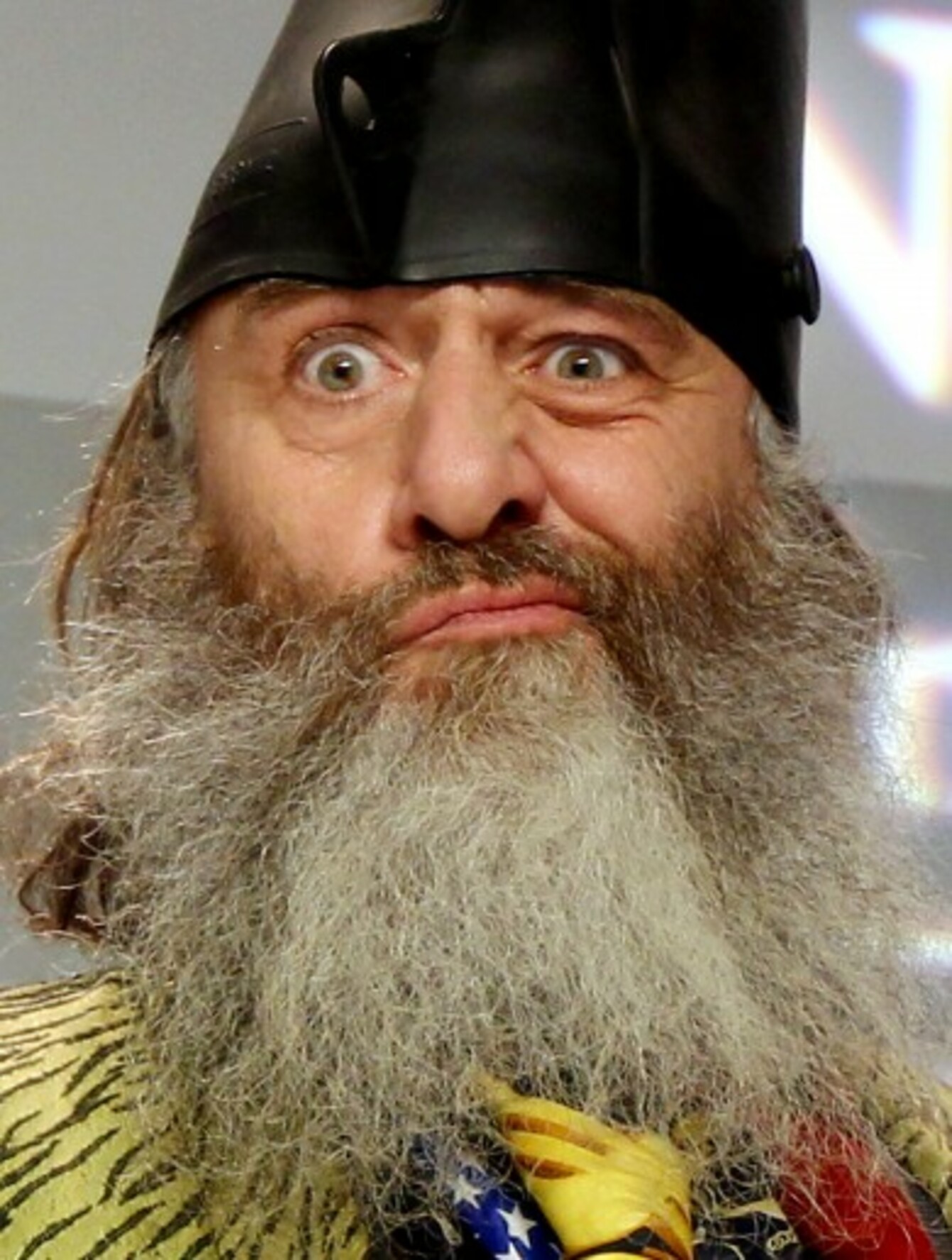 Presidential candidate Vermin Supreme
Image: Cheryl Senter/PA
Presidential candidate Vermin Supreme
Image: Cheryl Senter/PA
HILLARY CLINTON ANNOUNCED she's running for president a week ago, and filed her paperwork on Monday.
But she, like Republicans Marco Rubio and Rand Paul, will have to defeat nearly 300 other candidates before taking the White House next November.
Candidates like Princess Khadijah M. Jacob-Fambro, President Emperor Caesar, and of course, Sydney's Voluptuous Buttocks.
Every four years, hundreds of US citizens file preliminary paperwork with the Federal Election Commission, and get themselves on the official list of candidates to become the world's most powerful leader.
Here are a few of the 274 declared so far for 2016:
Sydney's Voluptuous Buttocks
There's usually one, and SVB looks like being the "wacky candidate" of choice this time around.
Registered to someone in the city of Buffalo, New York, the "Syd Buttocks Committee" got its Statement of Candidacy accepted by the FEC at the beginning of last month.
On what appears to be the campaign's website, the person behind it all writes:
Please vote for Sydney's butt as president. After all, every politician is an asshole so what's the difference?
In 2012, Santa Claus got $180 in donations, and was a write-in candidate in 15 US states.
Claus (he legally changed his name from Thomas O'Connor in 2005) didn't win of course, but at least went on to be president of something – the Chamber of Commerce in the town of North Pole, Alaska.
Despite the beard, the name, and the potential for hilarity, his 2012 campaign announcement video is disappointingly reasonable.
The Perennial Also-Rans
Running for US president is a notoriously brutal experience, even for politicians who have had success after success, climbing the ladder of local and state-wide elections.
And yet, this year's batch of candidates includes plenty who have a long and consistent track record of never being elected for anything.
Temperance Lance-Council, for example, has run for president in every election since 2000.
A TV "personality" who has been credited as a "social commentator", discussing violence against women on Fox News, and the Iraq war on CNN, she's not lacking in self-esteem, as this Facebook post shows:
There's nobody else like the fascinating Temperance Lance-Council.Tall, single, multi-talented, Temperance Lancecouncil is ready to make a major mark in all facets of entertainment and in politics.
Describing herself as a "uniquely talented diamond in the rough," and claiming to be a "former cheerleader and marathon runner", Lance-Council says she first entered the fray of national politics because she was "fed up with the field of presidential candidates" and "egged on by colleagues."
Philip Bralich, a Democrat and linguistics professor, failed to convince the voters of California's 17th Congressional District last year, but is now targeting the White House.
Yinka Abosede Adeshina ran for president in 2012, and then for governor of Florida last year, when she mysteriously listed Goodluck Jonathan (the name of Nigeria's then president) as a donor.
Now she's running for the highest office in the land again.
House of Characters
When Vermin Supreme ran for president in 2012, he had four clear, consistent policies:
Fully-funded time-travel research
A zombie-based energy plan
Mandatory toothbrushing ("for too long, gingivitis has eroded the gumline of this great nation")
Free ponies for all Americans.
Four years on, the Boston performance artist known for wearing a boot as a hat, is back in the race for the White House.
He's never spent more $5,000, so FEC rules mean he's never been on the register, but he is still a candidate, and this time plans to raise money in 20 states, qualifying him for federal matching funds, and paving the way for a nationwide campaign.
If that happens, here's what we have to look forward to:
Source: FluxRostrum/YouTube
Pogo Mochello Allen-Reese claims to be many things: a US Army veteran of the First Gulf War, a clothing entrepreneur, a graduate student, and a former stripper.
One thing is for sure, though – he is now a candidate for president.
The 44-year-old has already raised eyebrows in San Antonio, Texas, where he is currently also running for mayor, by unleashing crude personal attacks on a rival candidate.
Interviewed by local media, Reese offered a bizarre explanation of his policies.
His plan for jobs appears to mainly revolve around bringing Oprah Winfrey to the city, and his crime strategy involves recruiting legendary bodybuilder Ronnie Coleman.
Source: FOX San Antonio/YouTube
Of all these candidates, though, Robert Frank Aldridge has what might be the best explanation for why he's running for president.
According to his campaign website, the 52-year-old former factory worker decided to take on a White House bid, because he missed the deadline to run for mayor of Newport, Tennessee.
The person at the counter said nothing was available until 2016.
I looked at her a few seconds, my little bubble deflating…Then it hit me as if GOD grabbed my rudder, re-aimed my boat, then went to the bow and set my sights on the Presidency of the United States Of America. (Aim Higher)
What are all these people up to?
Lara Brown, an expert on presidential elections at George Washington University, and author of "Jockeying for the American Presidency," says the mystery isn't that so many file candidacies, it's that more don't.
"I don't think 300 candidates in a population of 300 million is all that many," she told TheJournal.ie.
In a democracy where there is tremendous freedom, where there is the belief that anybody should be able to run for President, some people say to themselves, 'Well why shouldn't I?'
I don't think these people are crazy, I think they're enthusiastically engaged in the system.
Some, she believes, file the forms simply for the amusement of seeing their name on the FEC list.
There is another group, however – relatively well-known politicians who know they can't win, but campaign with conviction in order to "influence the debate," and can end up playing an important part in a primary campaign.
Dennis Kucinich [Ohio Congressman] was not working to win the Democratic nomination [in 2004 and 2008] but to push the Democrats in a more liberal direction.
Lincoln Chafee [former Rhode Island governor]

appears to be running

, not because he actually thinks he'll win, but because he wants to push Hillary Clinton further to the left.
And on the Republican side, Brown says conservative Christian Dr Ben Carson may also run to push his party to the right during their primary.
Explore the full list of presidential candidates on the FEC website.