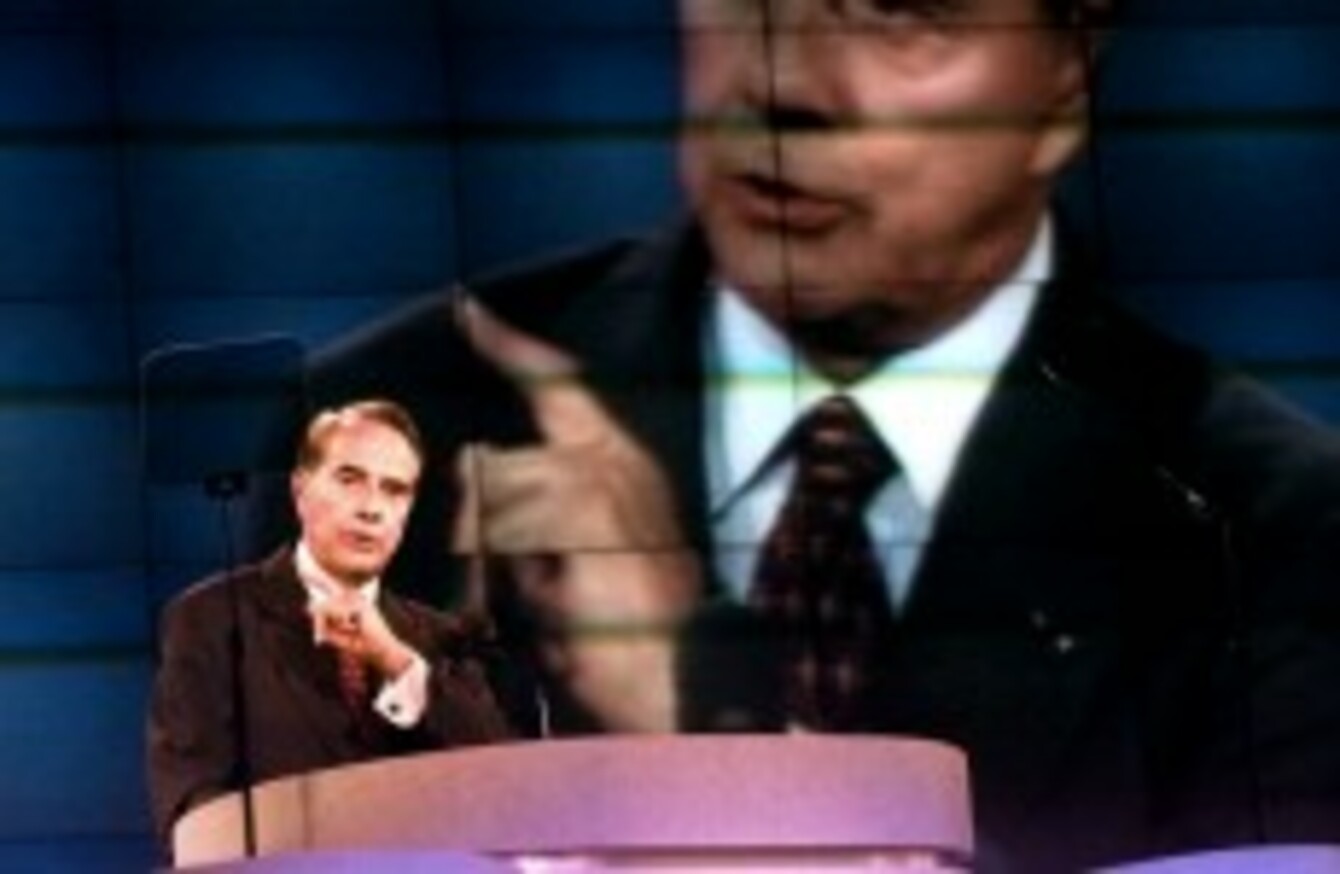 Bob Dole, who lost the 1996 presidential election
Image: Marta Lavandier/AP/Press Association Images
Bob Dole, who lost the 1996 presidential election
Image: Marta Lavandier/AP/Press Association Images
THERE ARE ONLY a handful of people who have any idea what it feels like to either be in one of the most powerful jobs in the world or very close to it only to have it snatched away from you by the will of the people.
For Barack Obama or Mitt Romney, losing Tuesday's presidential election will be a very different experience for each candidate.
If it is to be Obama he will have to think about exiting office in January of next year and how he wants to shape his final months in office.
If it is to be Romney who loses he will have to consider his political future given this would be the second time he has run for the presidency having lost out in the 2008 Republican primaries. As history shows, rarely does one exceed the heights of going close to being in the White House.
The experiences of an incumbent losing office after four years and a challenger losing out to the incumbent are very different but history might well give us an insight into what's going to happen to Obama or Romney come Wednesday morning.
So we thought we'd examine what happened to the losers from US elections past to hopefully give either Barack or Mitt some comfort if the result doesn't go their way.
1972: George McGovern
The recently deceased former Democratic senator lost a landslide election to Richard Nixon who would resign in disgrace just two years later over the Watergate scandal. McGovern was soundly beaten in '72 despite having run on the anti-Vietnam War platform with Nixon winning 49 out of 50 States.
Afterwards McGovern returned to the US senate where he stayed until 1981. Later he wrote a book about his daughter Terry's struggle with substance abuse and used the money to build a treatment centre for alcoholic women and children. He served as a US ambassador to the UN Food and Agricultural Organisation in Rome and was awarded the presidential medal of freedom in 2000.
Before he died last month, McGovern said that he had been desperate to beat Nixon for "our young soldiers" and those who "were turned off by the power of big money in politics" adding: "I can say that losing the presidency was one chapter in a long, complex and richly happy life in which I learned that you can't always control all the outcomes."
1976: Gerald Ford
Ford had ascended to the office of president in 1974 after Nixon resigned over Watergate. Ironically Ford himself had been vice president for less than a year after his predecessor Spiro Agnew resigned over a bribery scandal. So suddenly a man who had never been voted into either the office of the president or vice president found that he was President of the United States, a two-year term that was notable for him pardoning Nixon over Watergate.
He reluctantly ran for the office again in 1976 but not before an insurgent challenge from future president Ronald Reagan which divided the Republican Party before it united behind the incumbent. But Ford was beaten by the Democratic challenger Jimmy Carter. Later he became close friends with Carter. In 1980, Reagan considered him for the VP spot but it did not transpire.
Having kept a relatively low profile in the years that followed, Ford broke with his party when he came out in favour of equality for gay and lesbian couples in 2001 and in an interview that only emerged after his death in December 2006, he said he was very strongly against the Bush administration's choice of weapons of mass destruction as the reason for invading Iraq in 2003.
1980: Jimmy Carter
During his four years in office former peanut farmer Jimmy Carter had to encounter a number of major incidents including the Iran hostage crisis, the 1979 energy crisis, the Three Mile Island nuclear accident, and the Soviet invasion of Afghanistan which would see the US boycott the 1980 Olympics. The struggling US economy also didn't help his cause which meant that his re-election in 1980 was a tough ask.
It was made even more tough by a challenge from within his own party by Ted Kennedy. It was a challenge that failed but Carter was soundly beaten by Reagan in the 1980 election. Ironically, just minutes after Reagan was sworn into office in January 1981, the Iran hostage crisis – which had lasted over a year – ended.
Carter later went on to work in the area of human rights through the foundation of the Carter Center. He has acted as a peace negotiator and diplomat on behalf of the US across the world including in the Middle East, Africa, and North Korea with his work earning him the Nobel Peace Prize in 2002. He has also not been afraid to criticise US foreign policy, including the Iraq War and the War on Drugs. In recent years he has also been outspoken about the Obama's administration's policy in relation to drone strikes.
1984/1988: Walter Mondale/Michael Dukakis
The 1980s were, politically at least, dominated by Ronald Reagan and his 'Morning in America' message that played so well in the '84 election there was little chance for Carter's vice president Walter Mondale who lost in the biggest landslide in US history. The term and the very existence of people who described themselves as 'Reagan Democrats' underlined the dominance of the Republican Party which meant that 'The Gipper's' VP, George HW Bush also enjoyed a comfortable electoral win over Democrat Michael Dukakis in 1988.
Both losing Democrats kept low profiles in the aftermath of their defeats. Mondale joined law firm Dorsey & Whitney and later served as US ambassador to Japan under President Clinton. Following the death of Minnesota's incumbent senator in 2002, Mondale ran for the seat he had once occupied but was beaten, meaning he held the unique and unfortunate honour of losing all 50 states during his political career. He returned to the Dorsey & Whitney where he continues to practice today.
Meanwhile, Dukakis returned to his job as governor of Massachusetts for another two years after his defeat in '88 but did not run for re-election following a bruising presidential battle and increasing unpopularity as his state struggled to cope with the wider economic downturn. Later he became a professor of political science at Northeastern University and was briefly mentioned as a successor to Ted Kennedy in the US senate, but it did not transpire.
1992: George H.W. Bush
Having promised that he wouldn't raise taxes, George Bush senior's raising of taxes in his first term in office was never going to aid his campaign to defeat Bill Clinton in '92. It was 'the economy, stupid' that ultimately did it for Bush along with the presence of independent candidate Ross Perot, a Texas businessman who took a significant percentage of the Republican vote.
In his post-presidency years Bush was knighted by Queen Elizabeth and was the subject of an assassination attempt when he visited Kuwait in 1993. He became an unlikely friend of Bill Clinton with the two coordinating appeal efforts for Hurricane Katrina in 2005 and the 2004 Indian Ocean tsunami. In April 2001 he was diagnosed with a neurological disorder which weakens his legs but the 88-year-old says he is not suffering any pain from the disorder. In recent public appearances he has been confined to a wheelchair.
1996: Bob Dole
As the Senate majority leader in 1995, Dole perhaps felt emboldened by Congress' battles with the Clinton White House over the budget that he threw his hat in the ring for the '96 presidency having previously served as running mate to the defeated Gerald Ford in 1976. He resigned his Senate seat, saying it was "the White House or home".
In the end it was home as the economic growth America enjoyed under Clinton ensured that the then oldest first time presidential nominee was soundly beaten. Thus he became the only person in history to be the party's nominee for the presidency and vice presidency yet not winning on either occasion.
After the election he acted as a commercial spokesperson for Viagra, Dunkin Donuts and Pepsi and in 2007 he investigated the problems at the Walter Reed Army Medical Center. At 89 he continues to work as a special counsel in a Washington DC law firm but has suffered with health problems. Despite having worked closely with former House Speaker Newt Gingrich in the 1990s, Dole endorsed Romney in the Republican primaries.

YouTube: NewsPoliticsInfo
2000: Al Gore
Al Gore was involved in the closest election in US history that went all the way to the Supreme Court before George W Bush was determined the winner in a 5-4 decision that marked first ever instance of a court deciding a US presidential election. Gore conceded defeat but it was a bitter blow to the former vice president and senator.
He would go on to reinvent himself as an advocate for taking action on climate change which earned him a Nobel Peace Prize, a Grammy and an Oscar for his hit film An Inconvenient Truth which examined the global warming phenomenon. He co-founded the Current TV channel and acts as an adviser to Google as well as being on the board of Apple.
His name was mentioned in 2004 as a possible Democratic candidate for president but it did not transpire and aside from speaking in support of its candidates, including Barack Obama in 2008, the 64-year-old has largely stayed out of the political arena.
2004: John Kerry
Massachusetts senator and Vietnam veteran John Kerry endured a bruising campaign against George W Bush. Kerry's anti-Iraq War message was not enough to prevent him from losing by 34 electoral votes.
Afterwards Kerry returned to the senate and later became chairman of the foreign relations committee where he played a prominent role in speaking out on US foreign policy. This included calling for the imposition of a no-fly zone over Libya last year. He has also acted as an informal envoy to Afghanistan and Pakistan in a time when US relations with Pakistan in particular have been tested by the killing of Osama bin Laden on its soil.
With Hillary Clinton set to stand down as Secretary of State irrespective of whether or not Obama is re-elected, Kerry has been mentioned as a possible successor if the Democrats secure four more years. Kerry has also played Mitt Romney in the Obama campaign's mock debates and jokingly remarked recently that he needed an "exorcism" after playing the Republican challenger.
2008: John McCain
The Vietnam War veteran and Arizona senator had already run for president in 2000 only to lose to Bush in the primaries. His second run was characterised by an unlikely primary success followed by a failure to counteract the 'hope' and 'change' hype created by Obama. Add to that the now widely acknowledged disastrous pick of Sarah Palin as his vice president and McCain was soundly beaten by Obama.
After his election defeat, McCain returned to the senate where he soon faced a a re-election challenge from within his own party as congressman JD Hayworth attempted to secure the Republican nomination for McCains Arizona seat. It resulted in a sharp switch to the right for McCain – previously considered a 'maverick' for going against his party on many issues – including his support of a controversial anti-illegal immigration law in Arizona.
He was a strong advocate for military intervention in Liobya and predicted that in the aftermath of the overthrow of Colonel Gaddafi, people would take to the streets of Moscow in action against president Vladimir Putin. He has also campaigned for Mitt Romney during this election cycle.
(All pictures: Press Association/AP)