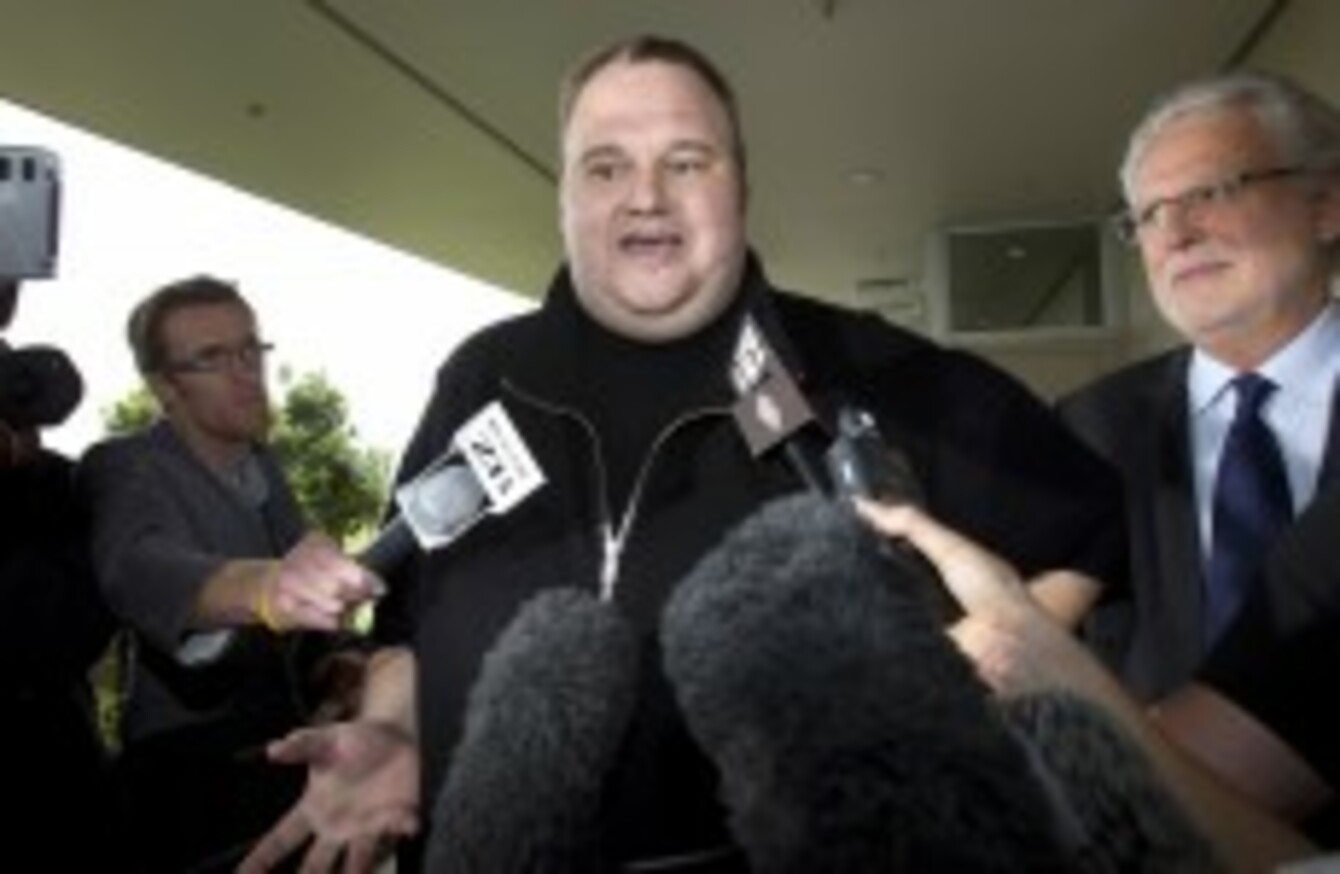 Kim Dotcom, the founder of the file-sharing website Megaupload, comments after he was granted bail and released on Wednesday, Feb. 22, 2012, in Auckland, New Zealand
Image: AP Photo/New Zealand Herald, Brett Phibbs
Kim Dotcom, the founder of the file-sharing website Megaupload, comments after he was granted bail and released on Wednesday, Feb. 22, 2012, in Auckland, New Zealand
Image: AP Photo/New Zealand Herald, Brett Phibbs
THE UNITED STATES has filed a formal request for the founder of the file-sharing website Megaupload to be extradited from New Zealand to face accusations of fraud and other crimes.
The site's operators are accused of costing copyright holders more than $500 million (€380 million) in lost revenue.
US federal prosecutors filed the papers on Friday, requesting that founder Kim Dotcom and three of his colleagues – Finn Batato, Mathias Ortmann and Bram van der Kolk – be brought to the United States to answer to charges including the illegal distribution of copyrighted films and music, conspiracy to commit racketeering, money laundering, copyright infringement, and criminal copyright infringement.
Megaupload, and its subsidiary Megavideo, was shut down in January following a major action against piracy by the US Department of Justice and the FBI. Dotcom and several other figures at the company were also arrested.
Last week, Dotcom was granted bail and released after a New Zealand judge determined that authorities have seized any funds he might have used to flee the country. He and his colleagues now remain under house arrest in New Zealand.
Dotcom, who was born in Germany and legally changed his name from Kim Schmitz, has said US authorities cherry-picked emails and other evidence in a way that was "misleading and malicious." He said some Megaupload workers were tasked with taking down any material that might infringe copyright, but US authorities say they only deleted individual links, without removing pirated material.
The US has also charged three men in Europe in the case. One of those men, Andrus Nomm, was arrested by Dutch police in January.
Additional reporting by the Associated Press