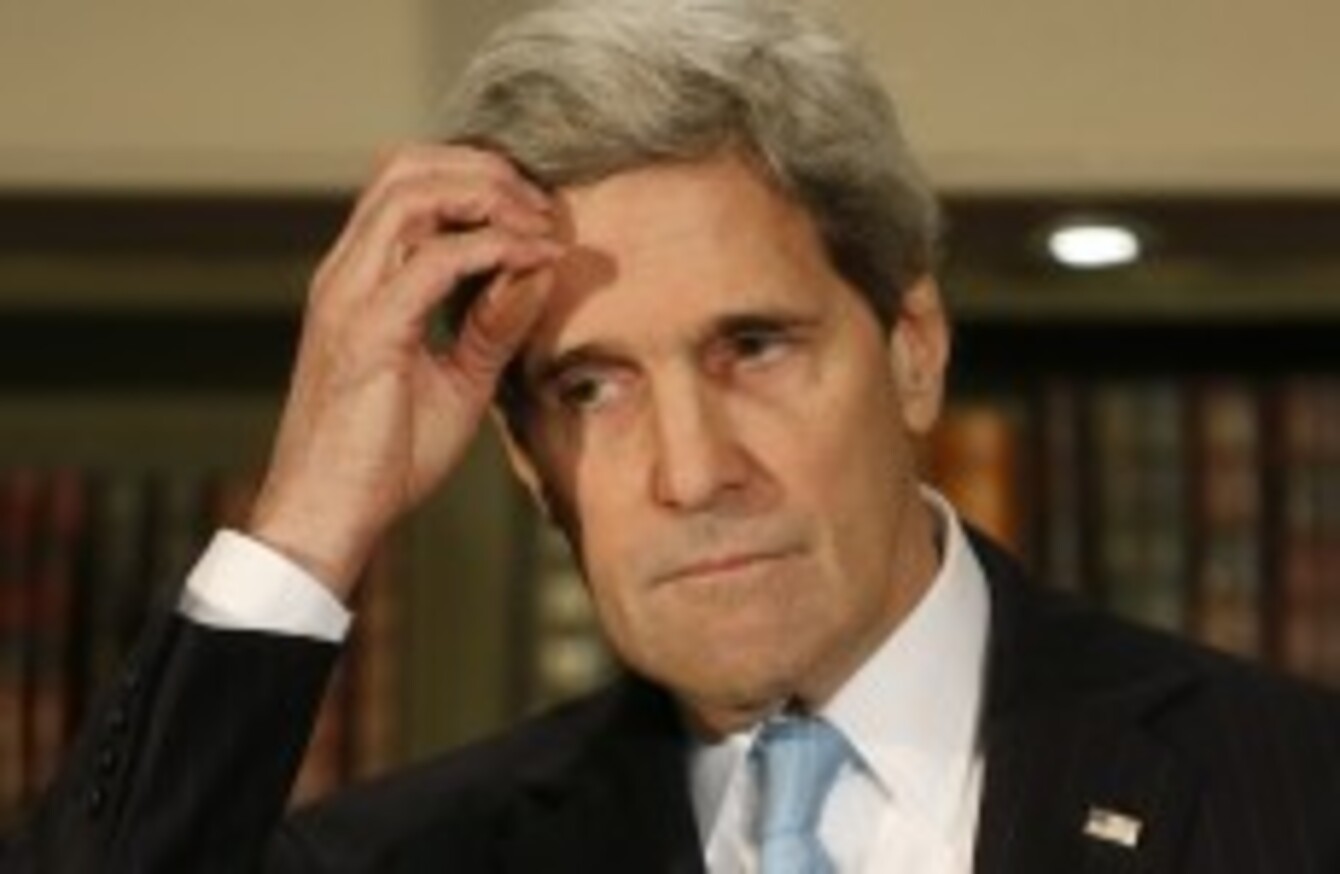 Image: Sang Tan/AP/Press Association Images
Image: Sang Tan/AP/Press Association Images
TOP RUSSIAN AND US diplomats utterly failed today to defuse the crisis over Ukraine, ending up at loggerheads following tense talks over the worst East-West clash since the Cold War.
After six hours of talks between Russian Foreign Minister Sergei Lavrov and US Secretary of State John Kerry, US officials said they "did not find common ground" and everything now depended on Russian President Vladimir Putin's reaction to Sunday's breakaway vote in Crimea.
Despite flying in early today from Washington for crisis talks only two days before Crimea is to decide whether to split away from Ukraine, Kerry acknowledged that his mad dash to London had been in vain.
Lavrov "made it clear that President Putin is not prepared to make any decision regarding Ukraine until after the referendum on Sunday," Kerry told reporters after their talks.
But he warned Moscow against any "backdoor annexation" of Ukraine's southern Black Sea peninsula such as by ratifying the vote in the Russian parliament.
Putin's decision will be "of enormous consequence with respect to the global community," Kerry said, adding any move to ratify Crimea's referendum would "fly in the face of every legitimate effort to try to reach out to Russia".
Sergey Lavrov and John Kerry, pictured in London today [Sean Dempsey/PA Wire/Press Association Images]
But Lavrov, in a separate press conference, hinted that Moscow was already resolved to bring Crimea under its eventual control.
Everyone understands — and I say this with all responsibility — what Crimea means to Russia, and that it means immeasurably more than the Comoros (archipelago) for France or the Falklands for Britain.
He agreed Moscow and Washington "have no common vision of the situation," adding "differences remain."
Despite an alarming Russian military mobilisation on Ukraine's eastern borders this week, Lavrov insisted Moscow "has no, and cannot have, any plans to invade the southeast region of Ukraine" where the former Soviet republic's Russian speakers mostly reside.
Kerry had hastily flown to London to meet Lavrov armed with a list of ideas on how to defuse the months-old crisis, in which tensions have spiked since the pro-Russia president Viktor Yanukovych fled the country in late February.
Washington was urging Moscow to join a contact group to sit down with Ukraine's interim leaders, pull back thousands of troops in the Crimea to their barracks and allow international monitors to deploy to protect Russian-speaking peoples.
But it would appear that all the ideas they brought for Crimea were rebuffed out of hand by Lavrov.
'Not empowered'
"We fleshed out a number of ideas and were prepared to float them on Ukraine's behalf, and we started down that path today, but it very quickly became clear that Foreign Minister Lavrov was not empowered to discuss any aspect of any proposal that might have an impact on Crimea before the referendum takes place," a senior State Department official said.
Kerry warned that if the referendum goes ahead as planned on Sunday then sanctions will ensue.
"It is not where we want to go," he stressed.
But if the wrong choices are made, then there will be no choice but to respond appropriately because of the gravity of this breach of international standard.
Confirming that Washington was now in a wait-and-see mode, the US official said that there would now be a late night call with members of the contact group, while Kerry was to brief Ukrainian interim prime minister Arseniy Yatsenyuk.
Kerry is due to leave London early tomorrow for likely White House consultations, while it is believed Lavrov has already flown home.