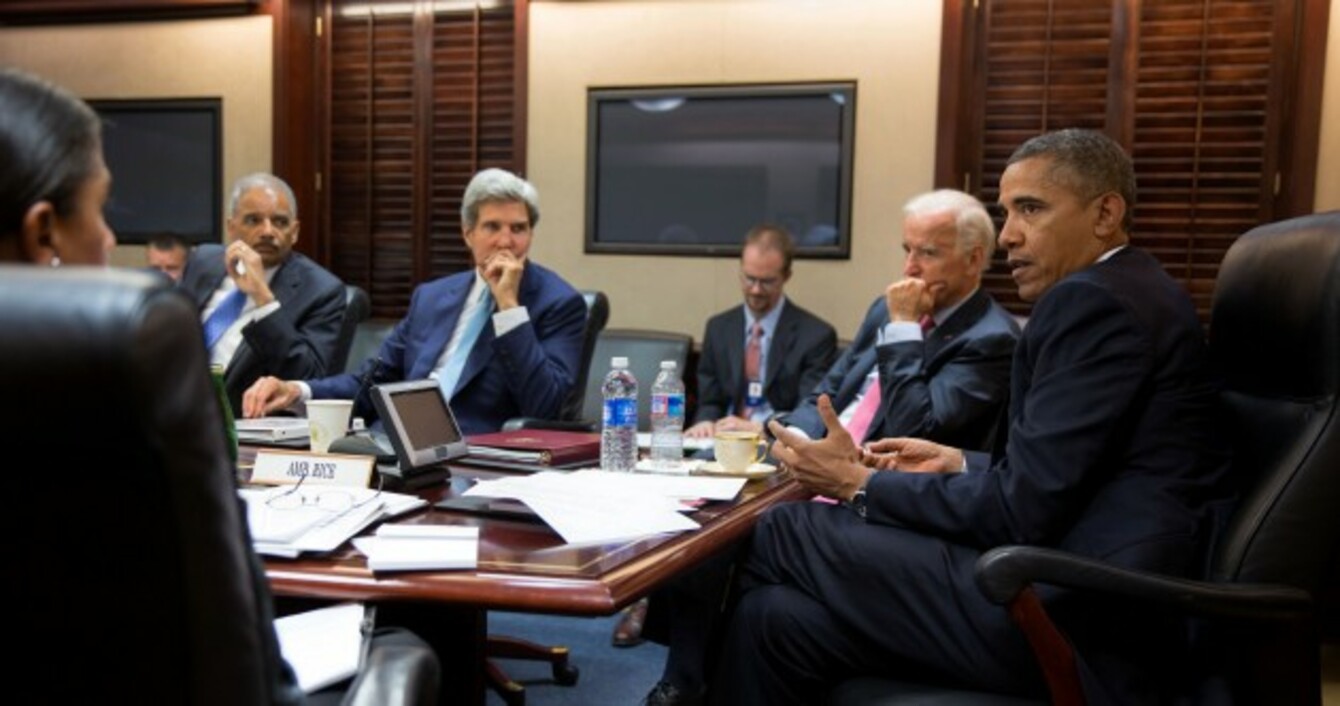 President Barack Obama meets with his National Security Staff to discuss the situation in Syria, in the Situation Room of the White House, Aug. 30, 2013.
President Barack Obama meets with his National Security Staff to discuss the situation in Syria, in the Situation Room of the White House, Aug. 30, 2013.
Updated 22.52
PRESIDENT BARACK OBAMA insisted this evening that war weariness cannot excuse world powers from their duty to punish Syria after the gassing to death of hundreds of women and children.
While he said he had made no "final decision" on taking military action against Bashar al-Assad's regime, Obama gave his clearest indication yet that an attack is imminent.
US Secretary of State  John Kerry has earlier said that the US Government now knows that 1,429 people, including 426 children, were killed in 21 August chemical weapons attack in Damascus.
In a strong speech in Washington this afternoon Kerry described Syrian leader Bashar al-Assad as a "thug" and a "murderer" and added that, "the question is no longer what do we know, the question is what we in the international community do now."
During his speech Kerry outlined evidence that pointed towards the use of weapons of mass destruction by the Syrian regime and said that the US intelligence community has "high confidence" in the intelligence,  "this is evidence, this is facts", he said:
Our intelligence community has carefully reviewed and re-reviewed information regarding this attack. And I will tell you it has done so more than mindful of the Iraq experience. We will not repeat that moment.
Kerry spoke of the UN weapons inspectors saying that they're job has been "restricted and controlled" by Syrian authorities. He added that although it is not within their remit to determine who carried out the chemical weapons attack, the US is in no doubt:
We know where the rockets were launched from, and at what time. We know where they landed, and when. We know rockets came only from regime-controlled areas and went only to opposition-controlled or contested neighborhoods.
Kerry described the attack in Syria last week was a "crime against humanity" and a "crime against the most fundamental principles of international community". He said that "because of the guaranteed Russian obstructionism of any action through the U.N. Security Council, the U.N. cannot galvanize the world to act as it should."
(Map released by White House of areas of Damascus affected by 21 August attack. Source: NBC Nightly News)
Kerry said that, "President Obama will ensure that the United States of America makes our own decisions on our own timelines, based on our values and our interests." Despite this, he said that the US has the support of allies including the Arab League, Australia and France, who he described as "our oldest ally".
On potential actions by the US, Kerry said that the US Government is aware that "after a decade of conflict the American people are tired of war".
Despite this he said that fatigue does not "absolve us of our responsibility":
And he (President Obama) has said, very clearly, that whatever decision he makes in Syria it will bear no resemblance to Afghanistan, Iraq or even Libya. It will not involve any boots on the ground. It will not be open ended. And it will not assume responsibility for a civil war that is already well underway.
Additional reporting from AFP.
Originally published 19.28