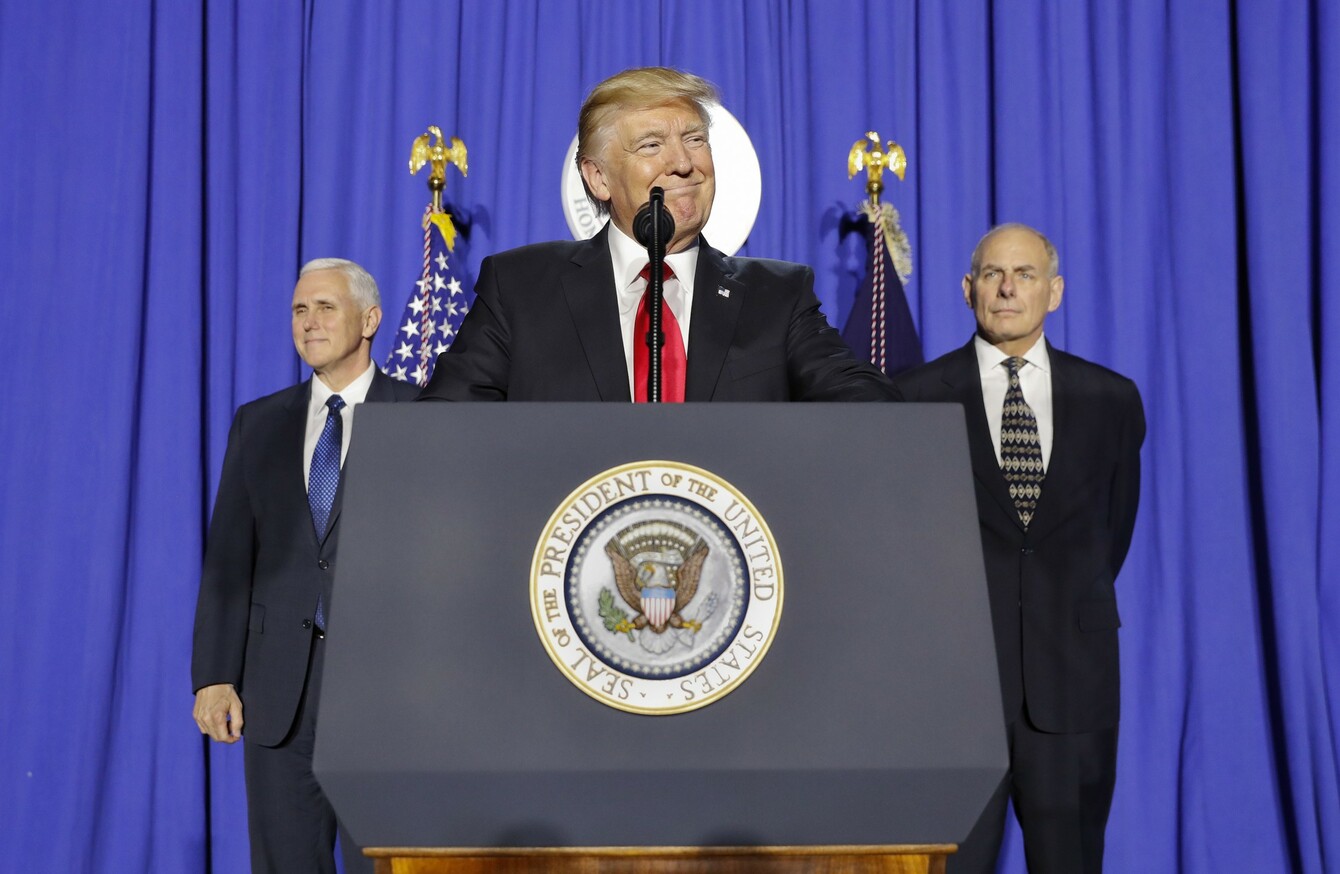 Image: Pablo Martinez Monsivais
Image: Pablo Martinez Monsivais
DONALD TRUMP REGULARLY stated his plans to track down and deport illegal US residents when he became president and now it looks like he's going to be true to his word.
This week the US President made an order removing federal funding from "sanctuary cities".
These cities normally don't allow local police to inquire about the immigration status of people with whom they interact.
There are some 300 states, cities and counties across the US. The order signed by Trump on Wednesday demands that those cities lose their federal funding.
The federal agency most likely to cut off funding is the Justice Department, which provides grants to local law enforcement agencies to, among other things, assist crime victims and prepare for terrorist attacks
According to CNN, New York alone stands to lose $10.4 billion (€9.7 billion) in federal funds for social services and other programs.
US Immigration Attorney with USAVisaNow.net Caro Kinsella told TheJournal.ie that she was hoping Trump didn't mean everything he said during his campaign, but his actions don't give much hope.
"It wasn't just rhetoric for his political campaign. It looks like everything he said he'd do, he'll try to do."
Trump promised a mass deportation within his first 100 days in office. Kinsella said, "I'm estimating it will happen as quickly as possible.
If you're in the US and you're picked up, they're not catching you and releasing you. You're being forwarding onto an immigration detention center and your processed there.
These centres have an immigration court within them, Kinsella said they're"like a proper prison".
"You must go through metal detectors and everybody is wearing orange jumpsuits, white socks and flip flops."
'Remain silent or you'll be gone very quickly'
Between 11 and 12 million illegal immigrants are believed to be living in the US, some 50,000 of those are understood to be Irish. Kinsella warned:
If people sign documents – they're signing their own removal orders.
She explained that a lot of people don't get their constitutional right to talk to an attorney because they don't know their legal rights.
"They can disclose information they shouldn't so by time they go before a judge – if there is no relief available – they will process you there and then and issue a removal order, sometimes it's weeks but sometimes it can be days."
Kinsella also stressed that because these people are going to be deported on a mass scale, there is a far greater chance that people will be removed unfairly.
"If you don't talk you're buying yourself time. I think they'll get rid of a lot of people who don't know their rights.
People need to exercise their right to remain silent or they will be gone very quickly.
Kinsella said she's mainly getting calls from people who are legal but are worried their green cards or J1 will be taken. "Even people with businesses in the US are fearful of the future.
"Gay people are worried he will start reversing legal gay marriage and then they can't get a green card because they're married."
Speaking to TheJournal.ie after Trump was elected in November, Lecturer in Migration Studies at University College Cork Dr Piaras Mac Éinrí said:
"There was a time when the undocumented Irish fighting for recognition in the States had to decide whether to fight for recognition as a special case compared to other minority groups, or to fight alongside them for status.
The Irish had that extra bit of clout because of political and business leaders with Irish connections – such as McCain but those days are gone now.
"If a cold wind starts blowing about undocumented migrants, then there's no reason to believe that the Irish will get a special deal."
Additional reporting by AFP