File
Image: Laura Hutton/Photocall Ireland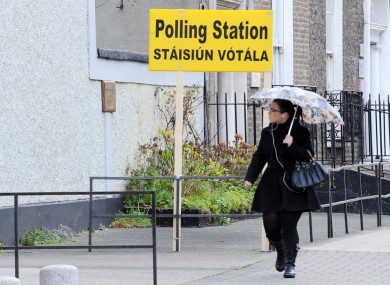 File
Image: Laura Hutton/Photocall Ireland
THE PRESIDENT OF the Union of Students of Ireland, John Logue, has defended the student turnout at last weekend's Children's Referendum.
He hit back at remarks made by Fine Gael TD, Alan Farrell, in which the Deputy asserted that the USI did not appear to have "done anything" on the Children's Rights Referendum.
Logue said that the USI "did in fact take a stance on the referendum" as it called for a Yes vote, and that in the lead up to the referendum it worked closely with the Campaign for Children to promote the need for a 'Yes' vote.
In fact, we have been promoting the referendum since July when a representative of the Campaign for Children was invited to speak to incoming Students' Unions from across the country at USI's Students' Union Training event about the importance of student participation in the referendum.
He said that the USI worked with Spunout.ie and Students' Unions to organise voter registration drives on college campuses and "communicated the need for a 'Yes' vote to students on the ground via our member Students' Unions".
The USI appeared on national and local radio stations and released a joint press release with the Campaign for Children, added Logue. They also participated in a photo call with the Minister for Children and Youth Affairs, Frances Fitzgerald TD.
Logue said that "aside from the factors which deterred all other sectors of society from voting" he could point to one "glaringly obvious" reason for the low student turnout:
Thousands of students were unable to return home to vote owing to the fact that they are awaiting their first maintenance grant payment and could not cover the fare.
The referendum had an overall turnout of 33.5 per cent. The fact it was on a Saturday was thought to benefit students. Deputy Farrell said that one of the primary reasons he had pitched a bill earlier this year on moving voting for elections and referenda to Saturdays was because students had been calling for it.
Though there is no official data outlining how many students did vote, Deputy Farrell said last week that there had been a lack of public comment from the USI and this disappointed him.