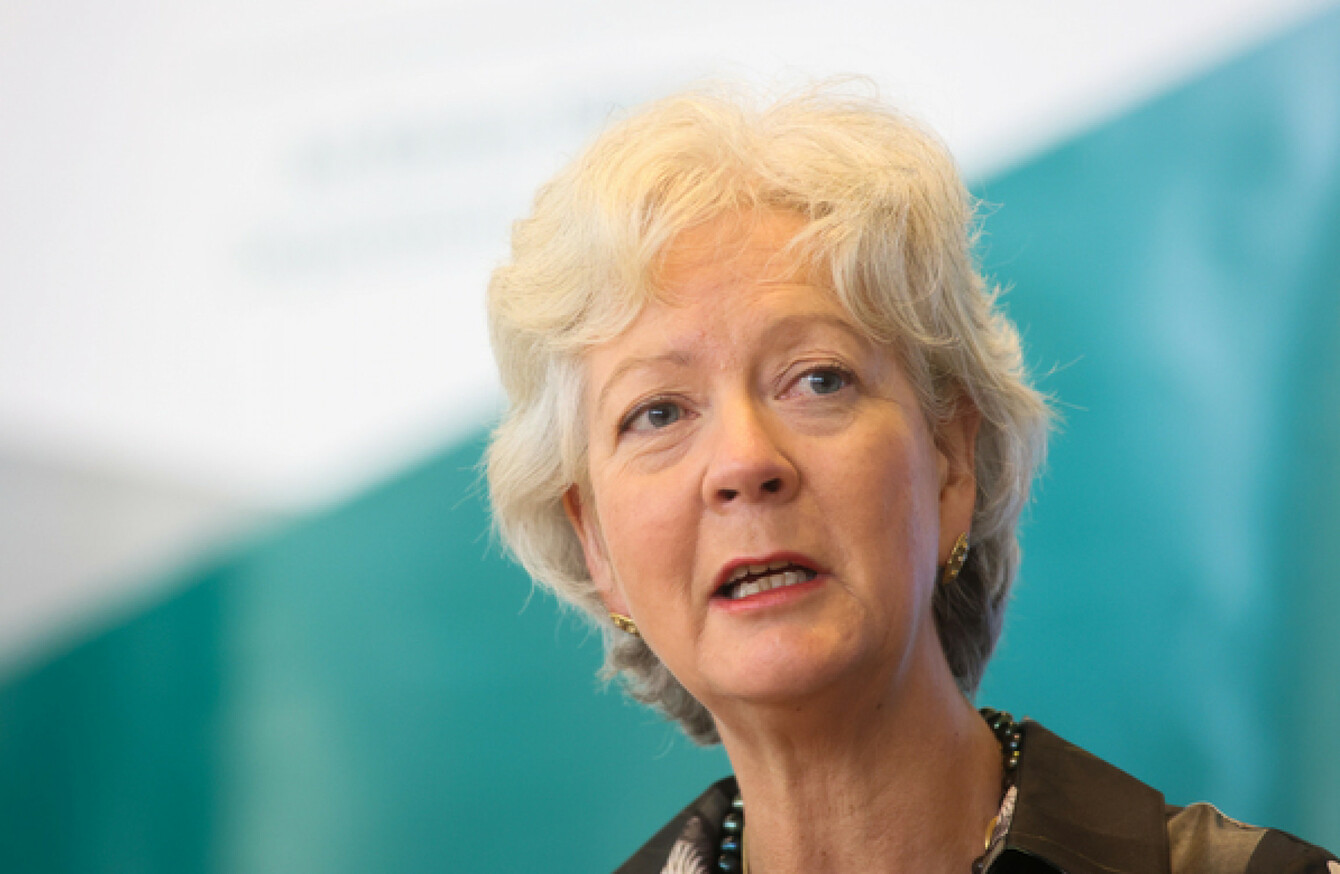 Professor Karina Butler, Chair of the National Immunisation Advisory Committee.
Image: Sam Boal
Professor Karina Butler, Chair of the National Immunisation Advisory Committee.
Image: Sam Boal
Updated Jul 28th 2021, 7:25 PM
NIAC HAS SAID it recommends to parents of children with underlying conditions that they avail of a Covid-19 vaccine as soon as possible but that all parents should equally consider vaccinating their children. 
Cabinet yesterday approved that children aged between 12 to 15 are to be offered a Covid-19 vaccine.
Speaking at a Department of Health briefing this afternoon, Chief Medical Officer Dr Tony Holohan said the roll-out of vaccines to that age group could happen "reasonably quickly" but it may not be completed before the start of the school year. 
Despite this, Holohan said that a child not being vaccinated from Covid-19 is not a reason for them not to go to school as there are "many other protections" within the school environment. 
The CMO was speaking after Health Minister Stephen Donnelly earlier reiterated that children would not have to be vaccinated against Covid-19 to attend school. 
Speaking to RTÉ's Morning Ireland, he said it was "absolutely not on the cards and won't be on the cards".
At today's briefing, Chair of National Immunisation Advisory Committee Prof Karina Butler said that Covid-19 is "reassuringly for parents" most often a mild disease in children but that some will suffer from severe disease. 
She said that "less than 1-2%" of children who contract Covid-19 are hospitalised and that "very few end up in ICU".
Of those that do, she said the children "generally have underlying conditions". 
She added: 
The other thing that we know about Covid is that there are children, some of whom won't even have recognised that they had Covid, who four to six weeks later end up in hospital with an inflammatory syndrome that is through Covid. Again, that's a rare condition, but it happens, maybe in about one in 20,000 cases of those who actually get it.  
Butler added that there are other factors at play that led to NIAC's advice that all children aged 12-15, regardless of health status, are offered a vaccine. 
She said these included "the impact of the pandemic on children" and how, for example, children may themselves fear passing Covid-19 onto vulnerable people or have experienced older family members "pulling away from them". 
"Taking all that into account, we felt that the benefits of vaccination exceeded any risk associated with vaccines for children," Butler said. 
Asked to summarise her advice to parents who will decide if their child avails of a vaccine, Butler said: 
My message to parents of children of that age would be, if you have a child with an underlying medical condition, absolutely avail of it at the earliest opportunity. If you have a child, for example, living in a household where there are other people who are at risk, absolutely avail of it at the earliest opportunity. For all parents in that age group and parents of healthy children as well, I would say think about it, think about Covid, think about your own situation. Be reassured that this vaccine is very effective at preventing Covid.
Butler said that children may suffer from "the usual risks" associated with vaccines including "a sore arm and fatigue", a side-effect she said is relatively minor. 
Referencing reported instances of heart inflammation from RNA vaccines Pfizer and Modern, Butler said that the risk is "very rare, in the order of about one in 20,000-50,000″.
"For those it has resolved and resolved itself quickly," she added. 
Asked about parents who may choose not to avail of a Covid-19 vaccine for their child, Butler said NIAC would "respect the decisions of parents and what they decide", adding: 
I would feel that when parents get the information and feel informed, most parents want what's best for their children.
On this point, Deputy Chief Medical Officer Dr Ronan Glynn said that parents should "prime themselves" for anti-vaccination disinformation on social media over the coming weeks. 
"Do not share anything online or in family WhatsApps unless you know that the data is accurate," he said. 
Holohan reiterated that parents "have decisions to make" but emphasised that he wants to "uncouple" the separate issues of children being vaccinated and the return of schools. 
"The vaccination of children is important but it's not necessary for the return of school," he said. 
Yesterday, The Journal reported that a government spokesperson confirmed that there is "no talk" that children will need to be vaccinated in order to return to school in September.
The government spokesperson yesterday dismissed any suggestion that schools could put their own rules in place, stating that education guidelines for the reopening of schools in September are "blanket guidelines for all schools".
Cabinet was told yesterday that antigen pilot programmes are being run in childcare settings and third-level colleges. These pilots will be assessed and feed into how such rapid tests might be rolled out in schools in the new term.
Parental consent
Taoiseach Micheál Martin said today that "parents will have the choice of course", adding that he did not wish to place any pressure on parents.
He added that the roll out of the vaccine to children was "an important step forward". However, he acknowledged that it was down to "parental consent".
Martin said he believed many young people will want to take the vaccine.
Vaccines are safe and effective and offer protection against Covid-19, he said.
#Open journalism No news is bad news Support The Journal

Your contributions will help us continue to deliver the stories that are important to you

Support us now
Tánaiste Leo Varadkar said parents will be given all the information and the government will answer any questions they may have.
He said it is true to say that for children, Covid-19 is a "mild illness" and rarely results in hospitalisations or death.
However, children can get sick from the virus and will have to isolate for a number of days as a result, which means they miss out on school, sporting and social events, he said.
Not under consideration
Mandatory vaccination for children so they can go to school, while done in some other regions, "is not something we have really ever done in Ireland", said Varadkar.
"Despite what conspiracy theorists may think, it is not something the medical profession or politicians are enthusiastic about doing in Ireland," he said. 
- With reporting by Christina Finn