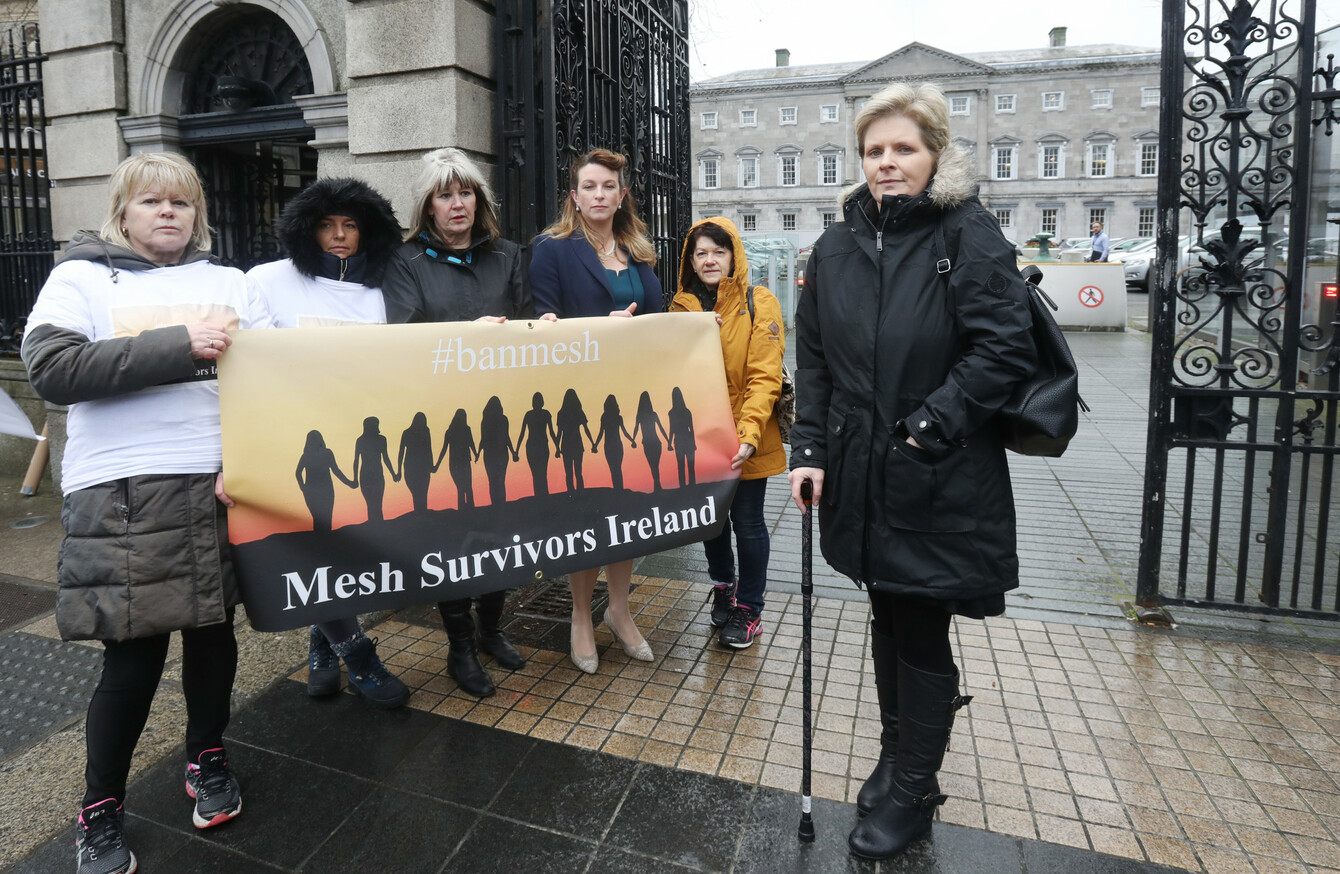 Lesley-Anne Stephens (right) with other campaigners outside the Dáil.
Image: Leah Farrell/RollingNews.ie
Lesley-Anne Stephens (right) with other campaigners outside the Dáil.
Image: Leah Farrell/RollingNews.ie
THE HSE HAS told doctors that women who are due to undergo vaginal mesh procedures should be informed of the possible severe complications like longterm pain and erosion of the device into the bladder.
A learning notice was issued to hospitals on 26 June, following a meeting between Minister for Health Simon Harris and three women who have experienced complications from these surgeries.
One of the women who attended this meeting and who shared her experience with the minister, Lesley-Anne Stephens, told TheJournal.ie she was "pleasantly surprised" by how empathetic he and his officials were.
She was 36 when she had a procedure to address urinary stress incontinence. Now, at 39 she is in constant pain and has to use a walking stick for support.
"We were initially only given 30 minutes, so we had four minutes each to tell our stories but when we got in there he just told us we had as long as we needed, he was going to give us his time, so that was absolutely unbelievable," she said of her meeting with Minister Harris. "They really listened to us, so we were extremely happy when we came out."
Vaginal mesh devices are used in procedures to treat stress urinary incontinence and pelvic prolapse, conditions woman can suffer after childbirth.
There has been global scrutiny surrounding the devices because of serious complications suffered by some women and a partial ban on their use was issued in the UK at the end of last year. Campaigners in Ireland are pushing for a ban in this country until a full assessment of the risks and complications associated with the devices is carried out.
Lesley-Anne Stephens has had two partial removal operations in Ireland but she was still experiencing pain so she recently travelled to England for treatment by a specialist in this area, Dr Sohier Elneil. She performed a full removal but also had to perform a urethroplasty and a full vaginal reconstruction.
"I was damaged so badly from the mesh that she had to just fully reconstruct me inside. Those are separate operations for most people. She couldn't tell me for sure whether it was all gone or not, she was extremely honest with me – because it was broken into tiny fragments inside my body she couldn't be sure. There was a piece of it stuck into a lump of my muscle, she said it was like taking hair out of chewing gum."
'The ability to treat complications'
The notice issued to Irish doctors last month stated that controversy about the use of mesh devices "is not unique to Ireland".  It advised doctors that mesh procedures for stress incontinence should be reserved for patients who have been assessed in an appropriate uro-gynaecological/urological setting and in whom conservative measures have failed.
"Surgeons must ensure they have appropriate facilities and training plus the ability to either treat the patients who develop complications themselves or an approved, appropriate pathway to refer on to another," it stated.
The notice also addressed the procedure for telling patients about possible complications, including the "uncommon complications" such as erosion into the bladder and longterm pain.
It noted that the NHS has a 16-page leaflet on these procedures and said a national consent form is now being prepared by the HSE. The Chief Medical Officer is also preparing a report on these devices for the minister.
In the meantime, doctors have been told to make patients aware that complications may necessitate the removal of the device and that this may be "extremely difficult".
This is because the mesh device is designed to allow tissue to grow in and around it, so it can act as a supporting wall for nearby muscle or organs.
'I cried all the way home'
Seven weeks on from her major surgery, Lesley-Ann Stephens is finding her recovery slow and difficult. And she is disappointed that she had to travel to another country – and pay €15,000 – to have a device that was inserted under the public health system here removed.
"You should not be able to have something in this country put in and then not have anyone here who can remove it.
At the airport on the way back, they pulled me aside because I beeped in security so I gave them the discharge letter from the hospital – they gave me this letter to give to the airport security. They said they couldn't accept it, so they took me into a room and I had to strip off all my clothes and let them see the catheter up inside me. If I'd had any dignity left at that stage it would have been out the window.
Her flight home with her husband Darren was then delayed.
"When I got in the car at Dublin Airport I just cried, and I cried all the way home. I think it's disgusting for any woman to have to go through that in this day and age. We surely mean more to people than that."
The 39-year-old said she does not know if she will ever make a full recovery.
"I'm in a different state of mind now, I feel like I just have to accept what's happened to me. But what this has done to my family and other people's families is disgusting. I'm not fighting for myself anymore, this isn't about me, I want it stopped so that no one else has to go through this."