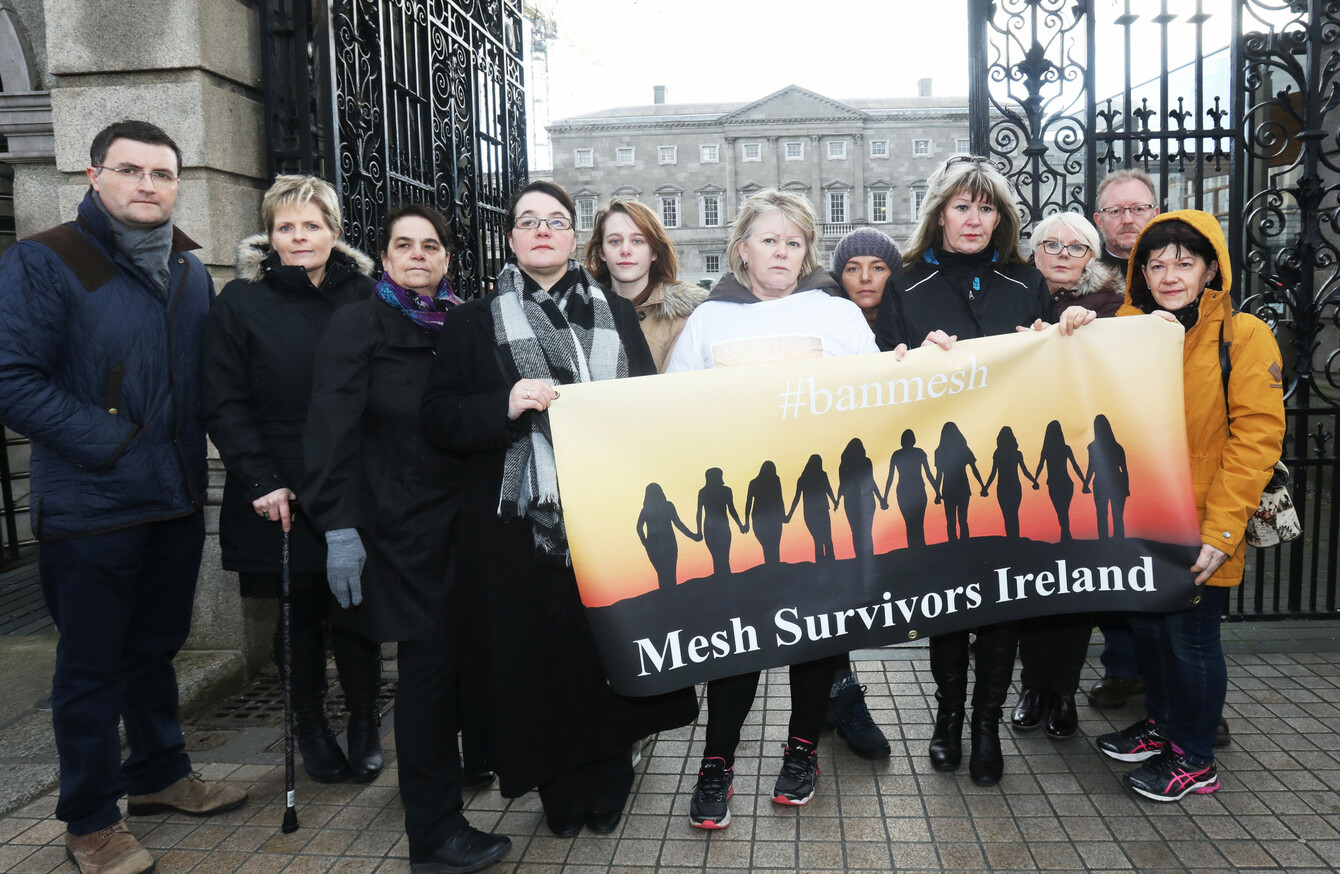 Members of the Mesh Survivors Ireland support group at Leinster House in January.
Image: Leah Farrell/RollingNews.ie
Members of the Mesh Survivors Ireland support group at Leinster House in January.
Image: Leah Farrell/RollingNews.ie
NEW RESEARCH BY a Trinity College professor has concluded the failure rate in some surgical mesh treatments is 'unacceptably high' and further experiments should have been conducted to properly assess how these products behave in the body.
Professor of Materials Engineering David Taylor conducted a review of around 20 studies – involving thousands of patients – on vaginal mesh devices and associated complications. There has been controversy around these devices in several countries, including Ireland, as women have reported life-changing complications like recurrent infections and chronic pain.
Mesh devices, which are made of polypropylene – a type of plastic – are used in procedures to address pelvic organ prolapse and stress urinary incontinence, conditions women can suffer from after natural childbirth and in their later years. It is known now that the devices, most commonly used in a tape form, can move inside the body and become embedded in other organs or tissue.
"Many of these women have been condemned to a lifetime of pain and discomfort because the mesh has caused damage to surrounding organs and tissues, and it cannot be removed," Taylor notes in his article on the topic, published in the Journal of Mechanical Behaviour of Biomedical Materials. 
The use of vaginal mesh devices has been suspended in Ireland pending a review by the Chief Medical Officer. 
This new academic review considered the findings of a variety of scientific and medical sources, from material test reports to clinical case studies.
"The use of surgical mesh to treat pelvic organ prolapse and urinary incontinence seems to provide another example in which new products have been developed that expand the use of existing materials without conducting the necessary experiments to properly understand the material, and how it will react in its new application," Taylor said.
Surgical mesh has been used for over 50 years in the repair of hernias and surgical sutures are made from the same type of material. But it is only since the 90s that medical companies expanded the use of this material to products for the pelvic region.
Very severe consequences can result from mesh erosion, when the mesh material damages the surrounding tissues. The prolapse products caused mesh erosion in over 10% of cases, rising to almost 30% in some studies, which I concluded was unacceptably high.
In the case of urinary incontinence products, erosion occurs less often, around 2% to 3%, so my opinion is that patients should be given more information to allow them to make an informed decision about the risks involved.
Speaking to TheJournal.ie, Taylor said even with a 3% complication rate for stress incontinence procedures, there should be a discussion around "what is acceptable risk".
"Take for example different products for hip replacements. There is an understanding that, if in ten years, failure rates are less than 10%, that's considered to be reasonable. It's not nice if it fails and you are in pain and have to get another operation to replace it again," he explained. 
"With mesh, a person considering this urinary incontinence procedure could be told it's only a 2% failure rate and think that's fine. But what happens if the risk is that they could be in pain the rest of their lives?"
He said his main message is that patients need to be given all of the information before they have these procedures so that they can make an informed decision.
In January, Taylor took part in a presentation at Leinster House to brief politicians about the research around these devices. He said some women only had slight incontinence problems before they had the procedure and they now have life-changing complications. 
"If they were told beforehand of the potential consequences, they might have felt that actually they could live with it for a while, maybe not take the risk and look at surgery later down the line if it got worse."
Professor Taylor said he will be continuing his research in this area and he is now hoping to establish the reason the devices are failing – something he said he was not able to find in any of the studies he looked at.
"Lots of the clinical studies involved a patient with a problem, so the surgeon took out the mesh and there was no further follow-up to investigate why it happened, the mesh just went in the bin."
He said it is possible these devices are reacting differently in the pelvic area because it has a different chemical environment. 
"We have one piece from a patient and we are hoping to get more so we can do tests to compare them to new pieces of mesh and find out if they are broken and how they came to be."
Treatment pathways
In July this year, Minister for Health Simon Harris asked the Chief Medical Officer to review the use of these devices here. 
Documents released to TheJournal.ie through a Freedom of Information Request revealed some of the initial findings of this review. They include:
There is no set description for consultants of what constitutes appropriate patient selection, appropriately trained personnel, or appropriate facilities;
There are also no systematic approaches in place to make sure patients have the full information about risks and complications before they give their consent;
No information is collected about patient outcomes;
There are no agreed treatment pathways for women who suffer complications.
#Open journalism No news is bad news Support The Journal

Your contributions will help us continue to deliver the stories that are important to you

Support us now
The review also found that no clinicians have reported complications to the Health Products Regulatory Authority. 
A representative group for surgeons working in this area said members will not have submitted reports as the rate of serious complications they were seeing among their patients was not higher than the expected rate deduced from prior studies.  
Dr Susmita Sarma, president of the Continence Foundation of Ireland said their "evidence based" position on the use of these procedures is that "alternative surgical treatments, which date back 60 years, are more invasive procedures associated with more complications and are less effective".