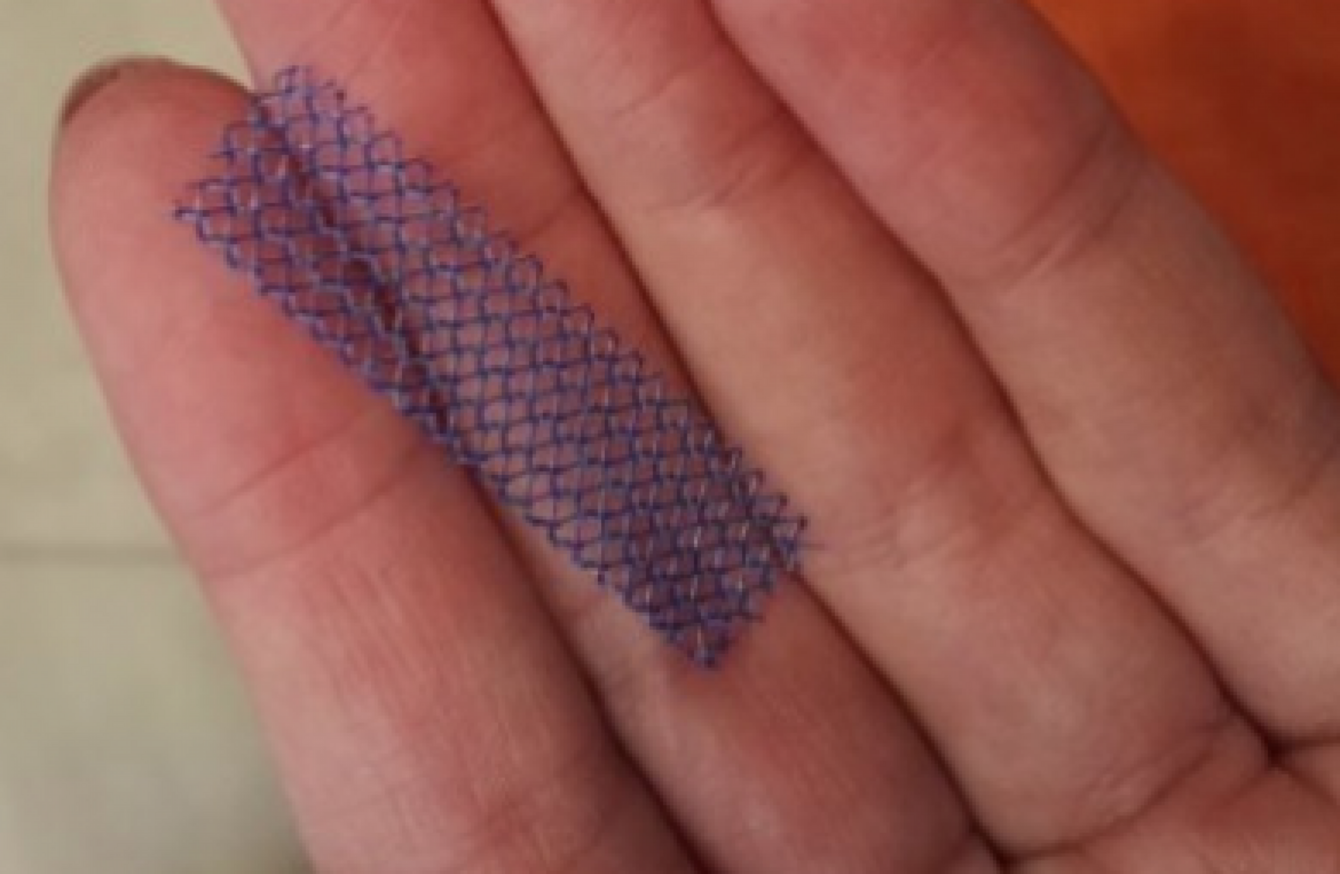 IRELAND'S HEALTH WATCHDOG has not received any notifications from surgeons about issues with vaginal mesh implants, despite reports of serious complications by some women who had these procedures.
The watchdog has received 76 reports in total about these devices, but all of these were from members of the public, TheJournal.ie can reveal. Surgeons working in this area have said the Health and Products Regulatory Authority's guidelines recommend reporting of incidents involving a medical device which might have led to the death of a patient or to serious deterioration in their state of health – particularly if the frequency of complications is higher than expected.
A representative group for the surgeons has said its members, therefore, will not have submitted reports as the rate of serious complications they were seeing among their patients was not higher than the expected rate deduced from prior studies.  
However, in July this year, Minister for Health Simon Harris announced that the HSE had been directed to stop the use of all procedures involving vaginal mesh devices in public hospitals. This pause covers the management of stress urinary incontinence (SUI) and pelvic organ prolapse (POP), two conditions women can suffer after natural childbirth or in their later years.
The mesh devices, usually in the form of a thin tape, are made with polypropylene and are designed to strengthen the surrounding muscle and tissue, as it grows into and around the device.
In recent years women in several countries, including the US, Australia, the UK and other European countries, have reported painful complications after their procedures. The device can break up inside the body and move, embedding itself in other organs or tissue – in some cases poking or cutting through the vaginal wall.
Irish women have reported suffering chronic pain and recurrent infections for a number of years and some have had to have multiple surgeries to try to remove the device. Because of how the implant works, these removal procedures – many of which women have had to travel to the UK for – are complicated and have been described by surgeons as "like taking hair out of chewing gum". 
Now it has emerged that despite complications reported by women to their doctors and follow-up treatment – including surgeries – they required, not one clinician in the country notified the Health and Products Regulatory Authority (HPRA). 
This was revealed in documents released by the Department of Health to TheJournal.ie through a Freedom of Information request. 
Investigations
In November last year, Minister Harris asked the Chief Medical Officer (CMO) to compile a report on the use of these medical devices.
In a briefing note to the minister in May, before the CMO Tony Holohan requested the suspension, his office outlined a number of preliminary findings from his scoping review. One of these findings was that 76 reports in relation to these devices had been made to the HPRA, "all from members of the public". 
"No reports have been received from implanting surgeons to date," it noted. 
Reporting issues or concerns to the HPRA is through a voluntary system, but the watchdog says increased levels of reporting from healthcare professionals "may help in the early detection of adverse trends or safety issues".
In response to a query about the lack of reporting by clinicians, Dr Susmita Sarma, president of the Continence Foundation of Ireland said:
"The mid-urethral sling was developed in the 1990s to treat female stress incontinence and has been extensively researched with over 2000s papers published in this time. The known complications of mesh erosion and mesh extrusion have been well documented with a rate of 4% in these papers.
The HPRA in the guidelines recommends reporting 'any incident which has occurred during use of the medical device which might lead to or might have led to the death of a patient, or user or of other persons or to a serious deterioration in their state of health'.
"Whilst reporting is encouraged by the HPRA especially if the frequency of serious complications is above the expected reported rate, if an individual consultant was not experiencing an increased erosion rate above the expected reported rate, there would not be an indication to report same."
Sarma said the foundation's "evidence based" position on the use of these procedures is that "alternative surgical treatments, which date back 60 years, are more invasive procedures associated with more complications and are less effective".
She said the same nonabsorbable material is used in some of these older procedures.
Our goal is to provide holistic care for informed women and give them the choice. Once governance issues relating to TVTs have been resolved we aim to return to providing what medical evidence has repeatedly found to be the safest and most effective treatment for women with stress incontinence. This country has recently voted that women's choice is paramount. This is also the opinion of the Continence Foundation of Ireland.
'Sexual, bladder and bowel difficulties'
The memo to the minister also revealed representations have been made to the Department of Health by more than 40 women in relation to mesh-associated complications. 
"Several of these women have reported significant complications affecting their quality of life following mesh surgery including pain, incontinence and erosion of mesh causing sexual, bladder and bowel difficulties. Women have also reported difficulties in accessing appropriate aftercare for complications."
Source: TheJournal.ie/YouTube
Melanie Power, founder of the Mesh Survivors Ireland group and a solicitor who represents around 100 women taking legal action over complications, said the majority of women she has spoken to claim their doctors never mentioned the possible serious complications before their surgeries. 
Many of those affected have also said their issues post-surgery were dismissed by their doctors.
"The standard thing is 'your problems aren't mesh related, it's the menopause' and that could be someone who went through the menopause 10 years beforehand. 
Another that has been said quite a few times is 'you need to break through the pain barrier', like a professional athlete. That was in relation to sex: 'If you're having painful sex, the need to break through the pain barrier.' I heard that a few times from three or four different people.
They were told they need to manage their pain – as if pain is something that is acceptable. People were being discharged from clinics with undiagnosed pelvic pain, left with nowhere to go but down the pain management route. Life as they know it is never going to be the same because they're completely out of it. 
Power said when news reports about mesh complications first appeared, some women spoke to their doctors about them. 
"They were told 'don't believe what you read in the media' or 'the mesh in the news is not the mesh you have', and in all cases it was the same mesh."
She pointed out that while there is no mandatory obligation on clinicians to report complications to the HPRA, they are required to report issues to the HSE's National Incident Management System (Nims). 
"I did a Freedom of Information request myself last year and by November 2017 there were only two incidents reported to Nims."
There are over 400 women in the Mesh Survivors Ireland support group with Power saying it is still growing. She said rebuilding the trust between impacted women and their doctors will one of the main challenges now. 
"I have heard the things they have said to these women and it's disgusting but for all the wrongs they have done, they are the ones with the expertise and they have to be the people who save these women at the end of the day," she said. 
We went from a situation where we were told there was no need for anyone in the country to have full removal and that the HSE had no knowledge of anyone with the specialism to do full removal surgeries. Consultants were telling women they couldn't do it. When the situation here changed, those very same clinicians were telling women they were able to do full removals. 
"They need to be honest now and acknowledge that they need to engage in further training and rebuild the relationships with their patients."
Paternalistic
Last week, Dr Gabriel Scally, who lead a scoping inquiry into the CervicalCheck scandal  said there was a need for the health system to review its attitude towards women's health issues.
In speaking with women and families affected by the scandal, Scally said one key point that surfaced was the paternalism in the healthcare system. Some of the comments from women featured in the report include:
Why does it always happen to women?
I think there is a history of looking at women's health services as being secondary.
Women and women's rights are not taken seriously.
There were also examples of clinicians dismissing or downplaying the gravity of failing to disclose the findings of the CervicalCheck audit to women.
Speaking at the launch of the review Scally described how the family of one woman, who is deceased, was told "nuns don't get cervical cancer". That the same consultant highlighted the woman had been a smoker multiple times during the meeting. 
"It's verging on misogyny," Scally said of those comments. Another woman was told by her consultant that he "had seen I had had a hysterectomy and decided I didn't need to know".
One of the recommendations in Dr Scally's report was that the health minister give consideration to how women's issues can be given "more consistent, expert, and committed attention" within the health system. He also said a new emphasis must be placed on the candour with which healthcare professionals speak to their patients.
Disputed figures
The CMO's briefing document into the use of vaginal mesh devices acknowledges mesh can be "difficult to remove because mesh devices are designed to be permanently implanted". 
 "All synthetic meshes are associated with some risk of mesh erosion, reported in some research studies to occur in 4% of SUI procedures and 4-19% of POP procedures. 
However these figures have been disputed as there is a recognised lack internationally of comprehensive long-term, follow-up data. Also, some of the complications women are reporting occurring several years after the implant may be difficult to distinguish from evolving symptoms of the underlying disease.
According to the interim findings, the evidence continues to support the use of current vaginal mesh devices in Ireland in appropriate cases when done by trained personnel.
However there are a number of deficiencies in the system, including
There is no set description for consultants of what constitutes appropriate patient selection, appropriately trained personnel, or appropriate facilities;
There are also no systematic approaches in place to make sure patients have the full information about risks and complications before they give their consent;
No information is collected about patient outcomes;
There are no agreed treatment pathways for women who suffer complications.
One of the principal challenges in compiling the report has been "poor quality of data available to measure and describe the extent of the problem".
Data is lacking at national level as to the total number of women who have received mesh implants or the numbers of women who have had or are awaiting mesh removal procedures.
Urgent recommendations
Writing to John Connaghan, acting director general of the HSE in July, CMO Tony Holohan requested an immediate pause of all procedures using these implants for stress urinary incontinence or pelvic organ prolapse.
The pause should remain in place pending confirmation of implementation of three "urgent recommendations".
Surgery should only be carried out by appropriately trained surgeons on the specialist registrar who have undertaken relevant subspeciality training. HSE should establish a list or registry of persons qualified to undertake them.
Develop appropriate patient information material and consent material.
Develop and maintain data collection of all mesh procedures in HSE hospitals. Holohan referenced safety concerns about other devices such as breast implants and hip prostheses and the need for long-term monitoring.
He requested the HSE put in place a data collection system to ensure that information about numbers, locations and types of uro-gynaecological mesh procedures carried out in HSE-funded hospitals is routinely collected and centrally collated.
Holohan's final report to the minister is likely to recommend that the suspension is not lifted until all of these recommendations have been implemented, as well as the delivery of appropriate aftercare for women with complications.