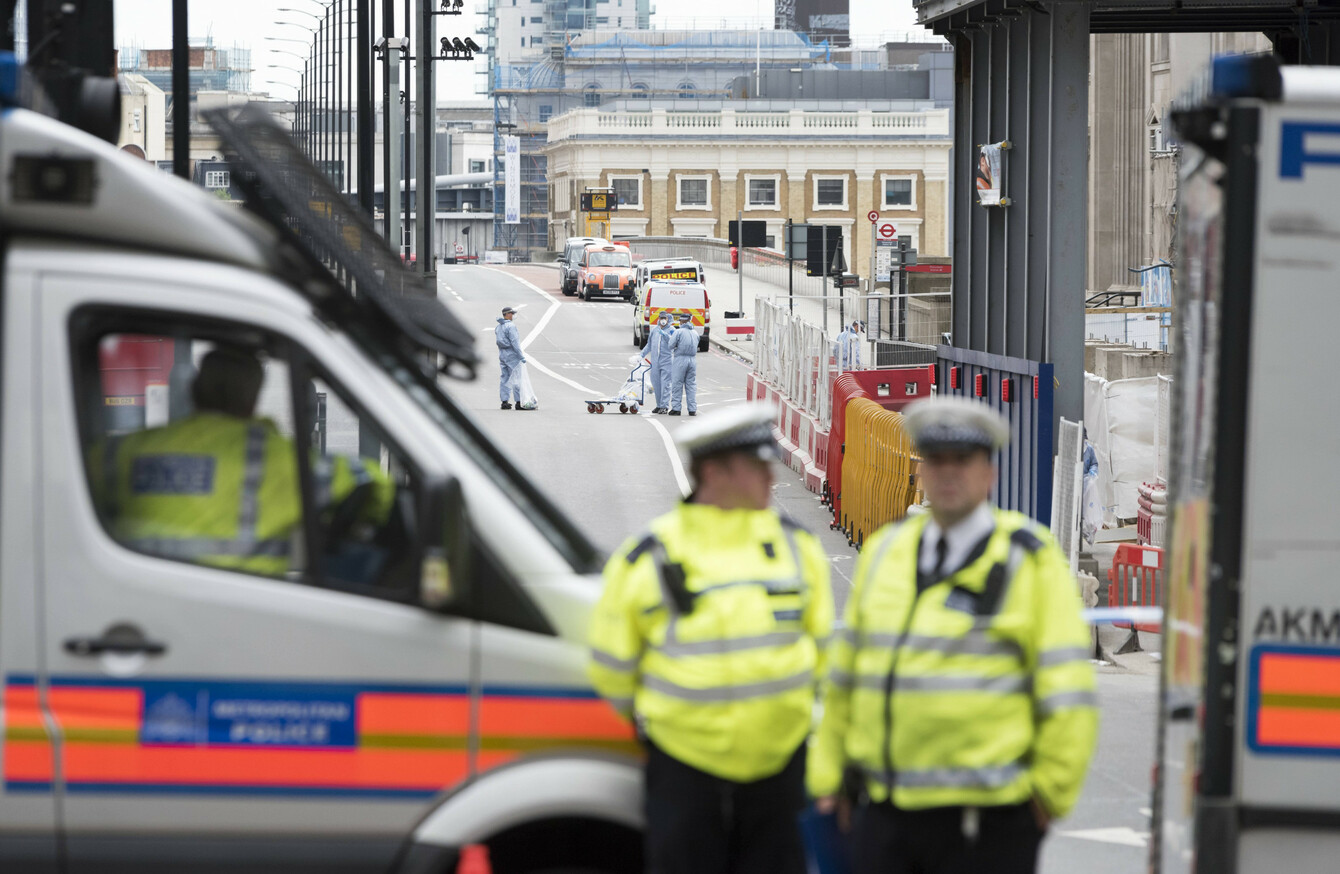 Forensics at London Bridge the day after the attack.
Image: Ik Aldama via PA Images
Forensics at London Bridge the day after the attack.
Image: Ik Aldama via PA Images
VEHICULAR ATTACKS ARE becoming one of the most common tools that terrorists use, according to the Counter Extremism Project (CEP).
Following on from the tragic incident in Barcelona yesterday where a van rammed into crowds on a busy shopping street, killing 13 and injuring over 80 people, CEP says that since 2006 it has documented 31 terrorist attacks that used vehicles.
It also said that it has noticed an increase since 2014 in the number of attacks carried out using vehicles.
The CEP is a non-profit body that was originally set up in the US. It now has a base in six American and European cities, including Dublin. Its purpose is to counter extremism in practical ways.
It says attacks using vehicles resulted in the deaths of at least 170 people and the injuring of at least 909 others over the past 11 years.
According to CEP, the recent increase seems to be largely down to explicit calls from ISIS to use cars as weapons.
It said that in mid-November of last year, Islamic State published an article on its online magazine, Rumiyah, calling for its followers to carry out vehicular attacks.
The article specified the ideal type, weight, and speed of a car needed for terror purposes, and encouraged attacks on "large outdoor conventions and celebrations, pedestrian-congested streets, outdoor markets, festivals… parades, [and] political rallies".
Unrelated to Islamic State, this week also saw an attack in which a car was used: a woman named Heather Heyer was killed in Charlottesville in the USA by a car that ploughed into anti-racism protestors.
Recent vehicle attacks 
On 19 June, a van ploughed into a crowd of Muslims near a London mosque, leaving one man dead and injuring 10 people. The suspected terrorist reportedly shouted "I'm going to kill all Muslims".
It was the second terror attack in the British capital that month.
Two weeks before that, on 3 June, jihadists used a van and knives to kill eight people enjoying a night out around London Bridge. Three of the victims were French.
During that incident, a white rental van was driven into pedestrians on London Bridge before the attackers went on a knife rampage at pubs and restaurants in Borough Market, the attack happened just before 10pm on a Saturday night.
On 19 June, a car loaded with guns and a gas bottle was rammed into a police van on the Champs-Elysees in Paris. The assailant died in the incident but there were no injuries.
It's understood the attack was carried out by a man who had been on France's security watchlist since 2015 over ties to "the radical Islamist movement".
A van was also used in the Westminster terror attack on 22 March where five people were killed and 49 injured.
#Open journalism No news is bad news Support The Journal

Your contributions will help us continue to deliver the stories that are important to you

Support us now
Khalid Masood, 52, drove a car into pedestrians on Westminster Bridge. He stabbed policeman Keith Palmer to death.
Masood sent a message on WhatsApp announcing his intention to 'wage jihad' minutes before launching his assault.
Attackers tend to use digital platforms before and after the attacks. According to CEP, comments and videos flooded onto Pro-IS social media channels following yesterday's attack in Barcelona.
France
France remains under a state of emergency after the November 2015 attacks in Paris, when IS jihadists killed 130 people at venues across the city.
Previous major attacks targeted the Paris offices of the Charlie Hebdo satirical magazine in January 2015.
A senior police officer and his female companion were both killed by a radicalised man at their home in the Paris suburbs a year ago.
And in July last year, a radicalised Tunisian man killed 86 people as he rammed a truck through a crowd watching Bastille Day fireworks in the Riviera city of Nice.
Additional reporting by AFP.