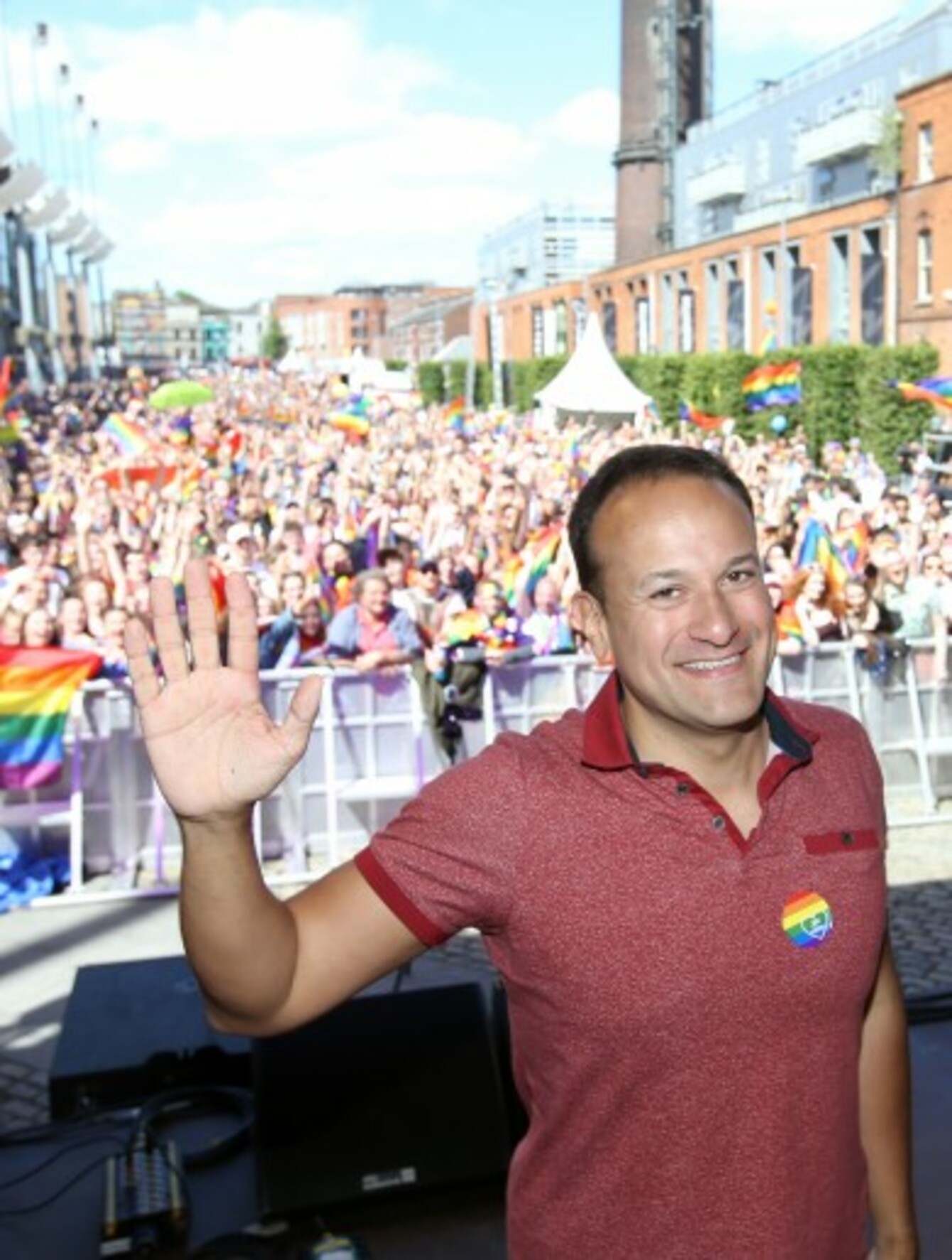 Image: Sam Boal/Rollingnews.ie
Image: Sam Boal/Rollingnews.ie
TAOISEACH LEO VARADKAR joined tens of thousands of people at Dublin Pride today, and told crowds at Smithfield that the fact that Ireland has a gay Taoiseach is not something he would ask anyone to celebrate.
In his speech, he also pledged to advance the cause of LGBT rights at home and abroad while he holds the office of Taoiseach.
He also paid tribute to activist Dr Ann Louise Gilligan, the wife of his cabinet colleague Katherine Zappone, and paid tribute to the movement of people who have made Dublin Pride grow year-on-year.
Progress
The Taoiseach said that he would use his time in office to represent LGBT rights – at home, in the North and further afield.
He said: "I pledge as Taoiseach to use my office, for as long as I hold it, to advance the cause of LGBT rights, to press for marriage equality across Ireland, to speak up for LGBT rights around the world where they are under attack, and to push for the implementation of the sexual health strategy here at home at a time when it is more important than ever."
Varadkar said that "sometimes people are surprised that not all LGBT people support [his] policies, or celebrated [his] election as Taoiseach".
This, however, is a "healthy thing", he said. He said that the LGBT community is not a "political monolith" where everyone believes the same thing.
He went on to say that having a gay man as Taoiseach was not something he would ask anyone to celebrate:
But rather we should celebrate the fact that we live in a free country – in a democracy where we have a Taoiseach who happens to be gay. We are able to support or criticise him, due to our own beliefs and principles which to me is true freedom.
A growing movement
Varadkar also paid tribute to the LGBT community in Ireland, for its tremendous progress in recent decades. He said:
If someone had predicted back in 1992 that one year later homosexuality would be decriminalised, or that 23 years later gay and lesbian people would be legally able to marry the person they love, or that two years after that a gay man would be elected Taoiseach of the country, then I think they would actually have been derided.
He praised the movement towards this progress as not being done by any one person, but by LGBT people, their friends, families and supporters.
"I don't think my election as Taoiseach actually made history," he said. "It just reflected it. It reflected the enormous changes that had already occurred in our country.
So, I don't think that I have changed things for you; I think people like you have changed things for me. And for that I am very grateful. Thank you.
Well in excess of 30,000 people attended Dublin Pride this year, which ran from St Stephen's Green to Smithfield.