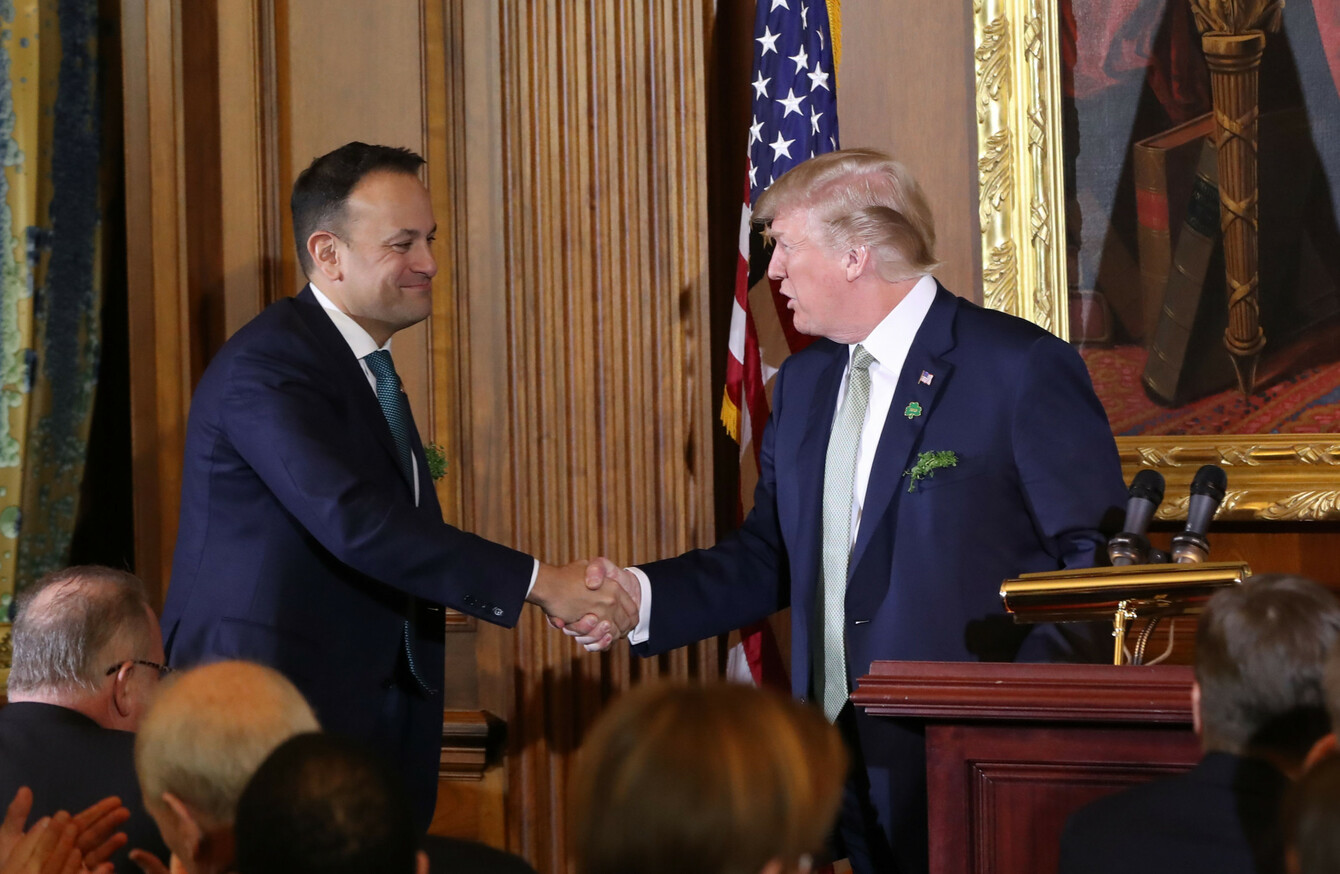 Image: PA Wire/PA Images
Image: PA Wire/PA Images
Updated Sep 7th 2018, 1:40 PM
US PRESIDENT DONALD Trump is likely to visit Ireland on 12 or 13 November, according to Tánaiste Simon Coveney. 
He said while the exact dates are yet to be locked down, he told reporters today in Galway that Trump is likely to stop off in Ireland on the way back from the Armistice Day commemorations in Paris.
It is understood the US president will visit Dublin and Clare on his trip.
Coveney said his department "got signals" a few days before the visit was announced, but added that the government was "taken a little by surprise by it".  
Speaking on RTÉ's Morning Ireland, Taoiseach Leo Varadkar said the Irish government wasn't aware of the details of the US President's visit until it received a notification that he was coming.
"There is a standing invitation for any US President," he said, adding that Trump had just told them when he'd be coming and repeated that it came "out of the blue".
Fine Gael Galway TD, Hildegarde Naughten failed to call Trump sexist, stating that the Irish government respects the office of the US president.
On a separate issue, the Taoiseach was also questioned about housing crisis, and whether his government was failing to get a handle on the problems.
Housing issues dominate think-in
The issue of homelessness and housing dominated the first day of the Fine Gael think-in yesterday.
Varadkar said the government has not failed on homelessness, as added to comments from the Housing Minister that some local authorities are not doing enough on the housing crisis.
He defended the government's performance on housing, despite almost 10,000 people now in emergency accommodation, saying that there is "plenty of evidence of us making progress".
He was asked in particular about the criticism of local authorities made by Housing Minister Eoghan Murphy yesterday, who said he felt that some authorities weren't making significant progress on the housing crisis.
"We don't believe things are happening fast enough," Varadkar said today.
While he wouldn't discuss specific local authorities that the government felt weren't performing to the adequate standard, he said that it's incumbent upon them all to deliver on social housing targets.
Yesterday, a range of trade unions, housing advocates and groups called for a "radical shift" in Ireland's housing policies and accused the government of having its "head in the sand".
Varadkar said that these advocates asked for a massive programme of building social housing and "that is what we're doing".  The government does, however, remain well short of its aim of ultimately building 10,000 social houses per annum. 
The Taoiseach was asked if the ultimate responsibility for the number of houses built lay with the Department of Housing and the government, but he said it was a "shared responsibility". He also denied it was an attempt by government to spin away from its responsibility on the issue.
"We never pretended we could turn anything around like this overnight," he said. 
He also rejected assertions that the government had failed on homelessness. 
"No, to say you've failed is to give up, and we're not going to give up," he said.
Talks with Fianna Fáil
During his interview on radio this morning, the Taoiseach also expressed his wish for Fianna Fáil leader Micheál Martin to agree to talks on extending the confidence and supply agreement, but denied that he was seeking an early election. 
"I set out clearly what I want [in a letter to Martin]," he said. "They're always accusing us of spin tactics and leaks and so on… I want to remove any uncertainty over when the election will be."
The Taoiseach also said the provisions in that letter to Martin that Fine Gael would seek under a new agreement wasn't an aspirational manifesto.
On the issue of the reintroduction of the SSIA scheme of the early 2000s, which saw savers boosted by government contributions, Varadkar said it would have to be given "careful consideration". 
He said that the saving in the original SSIA scheme was followed by a "splurge in spending" which he didn't want to see repeated. 
With reporting by Christina Finn at the Fine Gael think-in in Galway